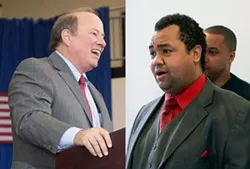 The one and only mayoral debate for the 2017 electoral season took place last week, and there were so many wild swings made the candidates should have worn their boxing shorts for the pugilistic event.
Young decided to make it mostly about race and tried to land a haymaker earlier in the day by releasing the ad from Save Our City Super PAC. The 30-second ad argues that black former mayor Kwame Kilpatrick got a 28-year sentence for rigging bids yet current mayor Mike Duggan is still in office after having admitted to rigging bids.
The kicker for the short ad was stark: "It's as simple as black and white."
The inference is that Duggan has not been jailed because of white privilege. For the record, Duggan denies the accusation. But the narrative of race is embedded in Detroit politics. Even when both candidates are black there is usually a "blacker than thou" moment in the campaign.
Young attacked Duggan again right out of the gate at the debate. His opening statement was full of racial buzzwords for the black viewers. He said Detroit is a "tale of two cities." After reciting a list of black people who have been victims of injustices — including Malice Green, a black man unjustly killed by white police in 1992 when Young's father was mayor. Then he wound up the sentiment with, "It's time to take back the motherland for the people."
Now that was a truly Trumpian moment. It sounds a lot like "Make Detroit Black Again."
Back in the day, among black activists, references to the motherland were specifically about Africa. Apparently now Detroit has been raised to that status. Now, I know that Joel Loving (Coleman Young II's birth name) may think of Detroit as a distant and legendary place. He was born in Royal Oak in 1982 and raised by his mother in California. Though I'm sure his daddy (who wouldn't admit it until a 1989 paternity test proved it) was a legendary figure to him. Mayor Coleman A. Young will always be legendary to me and many others.
There were plenty of other digs. Young repeatedly called Duggan a criminal (Duggan called Young a liar) and opined that Detroiters don't even know if he is going to jail "after this debate is over."
Duggan name-dropped numerous black people that he works with and got in some pretty good zingers. When Young elaborated on his "two Detroits" theme, Duggan clapped back with a "two Senator Youngs" theme. Duggan said despite Young's criticisms of downtown development as opposed to neighborhoods, just this past summer in Lansing, Young cosponsored five bills to give tax breaks to Dan Gilbert and Mike Ilitch.
Then, when Young criticized Duggan for not coming through with bringing down insurance rates in Detroit, Duggan pointed out that state Sen. Young "ran for office and said you were going to fix it, and 10 years later you've delivered squat."
Here is the thing with politicians. Everybody is for more jobs, better safety, better schools, and saving the future for the children. So then it comes down to the question journalist Chastity Pratt Dawsey asked late in the debate: "Each of you have faced some tough criticism in the pubic and from each other. ... Why should people trust you?"
I don't think either of them gave a satisfactory answer to that question. Young talked about money he's brought to Detroit through Lansing and that he is "unbought and unbossed." Duggan cited his 30 years of public service and passing the Detroit Promise that guarantees all high school graduates two free years of community college, even more for those with high grades.
Duggan has only really been mayor for three years since emergency manager Kevyn Orr took his carpetbag and headed out of town. And Detroit's budget is still under the auspices of the state Financial Review Commission. In early 2016 Duggan told City Council that Detroit would get out from under state oversight this year. At last week's debate, he said it might happen next year. Nobody knows.
Everything takes so damn long. Among other things, Duggan touted the Fitzgerald neighborhood as an example of development in the neighborhood. Earlier this year his administration said the new park inside the neighborhood and the greenway bike path would be done by the end of the year. Then a few weeks ago during a groundbreaking staged as basically a pre-election photo op — during which city officials and a neighborhood block club leader scooped dirt out of a wooden box — it was said that it would be done sometime next year.
I've cruised through the area twice since then and have seen nothing more done at that site. However, the last time through I ran into a brother looking over the area with a drone. He said that he was the landscaper who would be working on the park. So things are happening, but it's slow.
As I was leaving the neighborhood I noticed some contractors working on a building at Prairie Street and West McNichols Road. They told me there was going to be a barbecue and soul food restaurant there. Detroit Sip coffeehouse is across the street from there. That place has been open for special events for the past couple of years but not on a daily basis. It's slow.
Detroit has been on the decline for 60 years; it's not going to turn around in one mayoral term. There are deep problems that need to be overcome, not the least of which is a population that has been terrorized by water shutoffs and mortgage foreclosures the past few years. It's slow.
Yet I believe this administration is sincere in its effort to move development into the neighborhoods. There's no manual of how to do this. Actually, city planning director Maurice Cox said at a meeting some time back that we are "writing the book."
Young's basic criticism is that it's not happening fast enough — and that Duggan is a criminal. If that is true, then justice should take its due on him and any cronies who were in on it. Young also puts a lot of credence in being the son of The Mayor. The first Young was a Tuskegee Airman, and a labor and political activist for nearly three decades before he was elected mayor. His 20 years in office was long enough to leave a real political legacy and people who want to keep it alive. That's what Young II is trying to tap into.

I voted for Coleman A. Young every chance I had, but the father is not the son. This new Coleman Young doesn't seem to measure up. I wouldn't normally say that about somebody. I have my own issues about measuring up to my dad. However, Young II has invited the comparison by regularly evoking his father. He did it a couple of times during the debate.
Young went back there in his closing statement with, "It is time to take back the motherland. It is time to take our freedom back." I don't think that resonates with today's Detroiters the way it once did.
I haven't seen any recent polling, but in the primary election Young trailed Duggan by 40 percent of votes. The only thing that will change that is a haymaker — something like the feds waiting for Duggan after the debate, with handcuffs. That didn't happen.