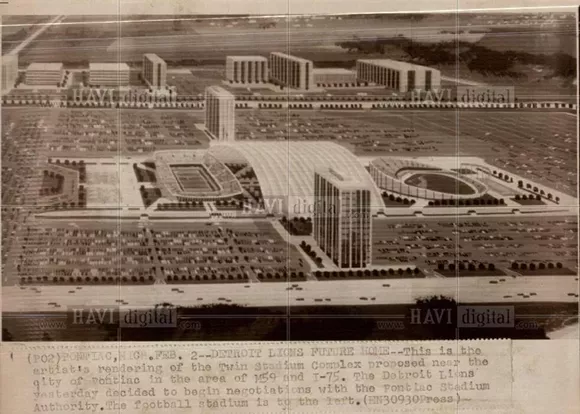 While residents and businesses were leaving Detroit in droves during the 1960s, the Detroit Lions also made arrangements for a new home — in Pontiac. The team eventually settled on the
now-a-complete-mess Pontiac Silverdome
, but, at one point, there was talk of also moving the Tigers to the Oakland County seat. Seen above, an initial proposal floated by architects included a so-called twin stadium complex, with football to the left and baseball to the right. It included plans for a retractable roof, but the costs were eventually deemed incredibly high.
With the Tigers organization not on board, plans for the Silverdome went forth in 1973. A story in the
New York Times
summarized Detroit's feelings about the loss in one fell swoop, saying, "An important hope for rebuilding Detroit's moribund downtown area may have been dashed by the city's most illustrious industrial family, the Fords." Nearly three decades later, the Lions are back in Detroit.
If you have an itch to learn as much as you can about what transpired in the years leading up to the Lions' eventual relocation, a former University of Detroit professor maintains an exhaustive history
here
. Then-Gov. William Milliken apparently tried everything to keep the team in Detroit, even including a proposed increased length of the horse racing season — with additional revenues going to support costs of a new stadium — to keep the Lions in the city.
(
H/T Reddit
)