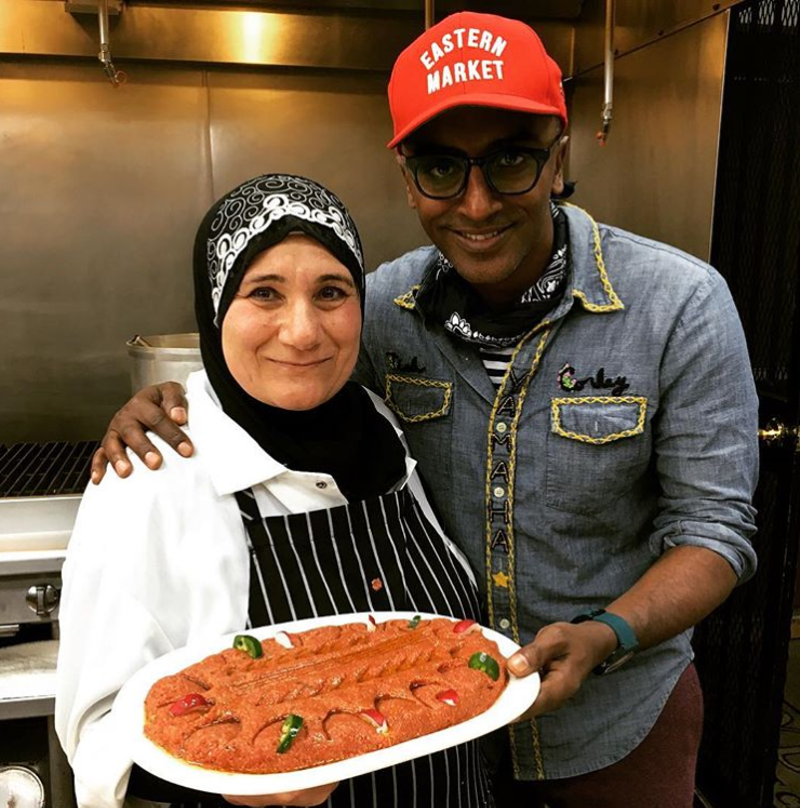 Celebrity chef and
Chopped
judge, Marcus Samuelsson came to Dearborn this weekend to film his upcoming PBS series,
No Passport Required.
The internationally-renowned chef, who was born in Ethiopia and raised in Sweden, is touring the United States to explore the nation's diverse palate.
"Chasing flavors has been my lifelong passion," Samuelsson said. "To now be able to bring viewers on that journey with me to these amazing communities in cities across the U.S. is truly a dream come true. We get to go deep into the markets, pull up to the roadside stands, and be welcomed into homes — all the places where people share and celebrate food together."
Samuelsson chose Byblos, a staple restaurant and banquet hall in Dearborn, to explore the food and culture of the Arab-American population. He made kibbeh niyyeh — a Lebanese delicacy made of spiced raw meat and bulgur — with chef Nahdie Shukr.
"This was definitely an experience of a lifetime," Byblos wrote in an Instagram post. "To be chosen by [Samuelsson]... is an honor and a privilege we will never forget!"
No Passport Required
is a six-episode television series set to premier this year with Samuelsson as host. The series is a partnership between PBS and Vox Media's
Eater
. According to a press release from PBS, the series will "celebrate America's diverse cultural mosaic as Samuelsson travels to under-explored parts of American cities to showcase the people, places, and culinary flavors of immigrant communities."
Miriam Marini is an editorial intern at Metro Times. She is a sophomore at Wayne State University studying journalism and women's studies.