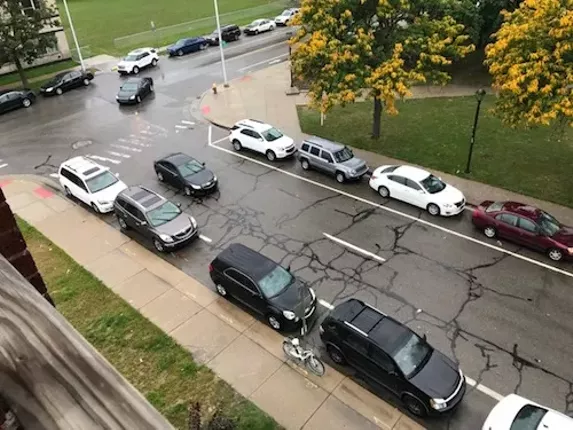 When Kristen Huston and her husband moved into Cass Park Apartments about eight years ago, it was the culmination of a romance with Detroit. Along with her husband, a student at Wayne State University at the time, the couple spent so much time exploring the city that they finally became hooked and decided to make it their home.
"We fell in love with it," Huston says. "Detroit was going to make a comeback and we wanted to be here. We believed in Detroit and loved the city vibe and wanted to live down here. We moved."
To hear Huston describe their life at Second and Ledyard, it sounds like it's mostly been smooth sailing, with the exception of the occasional parking problem. When they first moved in, she says they were given an opportunity to park in a nearby lot owned by the Masonic Temple, until the lot was sold to the Olympia organization. Since then, they've been parking on the street, which sometimes gets competitive. Huston says that special events sometimes make street parking difficult, as when Slow Roll met at Cass Park last week, or when parents drive up to pick up their kids from Cass Tech, a jam-up that she calls "a complete nightmare."
"But it's temporary. I know they're here for 15 or 20 minutes picking up their kid," she says, "And I can deal with that."
But she did wonder if her neighborhood could deal with the traffic Little Caesars Arena would bring when it opened this month.
That why she says, about a month and a half ago, she began reaching out to Olympia, the Detroit Parking Authority, and her building management trying to ensure the neighborhood was ready for all the parked cars drawn by the new development. She has been persistent but polite, eager to work with the Olympia organization to find a mutually satisfying solution. But as the weeks before the opening dragged on, Huston felt like she was left hanging, as no understanding was reached.
"It's just been one delay after another," she says.
This week, after six nights of performances by Kid Rock and the restaurants related to the complex open, Huston's Detroit love story is taking a decidedly rocky turn. She and other residents now have a problem finding anyplace nearby to park.
"Now with the arena open, a lot of the employees from the arena are parking on our street, so it's impossible to get a spot. I come home all different times during the day due to my job, and I can hardly ever get a spot. We feel like prisoners in our home — because if we leave, we are screwed."
Huston says arena employees have off-site parking at another lot, and can use a free shuttle service to get to their jobs. She says that the employees are encouraged to use the off-site lot and shuttle, and discouraged from using street parking in the nearby neighborhood, something a source at Olympia confirms. And yet many of the arena's new employees would rather park near Huston and her neighbors, sometimes right in front of their apartment building.
"I've talked to a couple people parking here," Huston says. "I say, 'Aren't you given parking?' and they say, 'Yeah, but it's more convenient for us to park here.'"
Huston is no firebrand, and says she's not interested in getting into ugly confrontations about parking or even antagonizing the people at Olympia. She insists she has been polite and courteous to everybody she contacts. She's just doing what any resident in other communities would do, trying to arrive at a solution.
But she does find it strange to look out her window and see a 100,000-square-foot, Olympia-owned lot with new fencing and landscaping that often has scores of empty spaces. Huston says she's had discussions with Olympia representative about renting approximately 10 of the lot's parking spaces for the residents' cars for a monthly fee, which a source at Olympia confirms.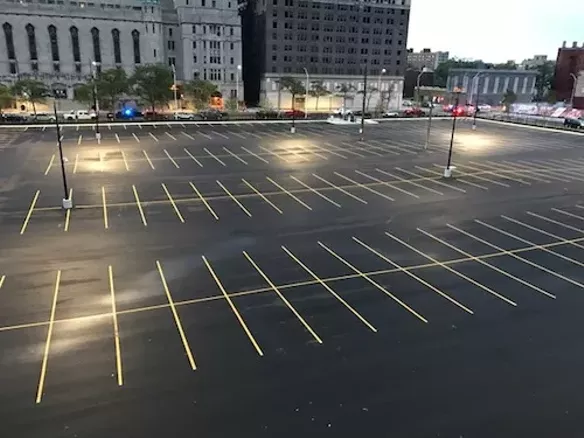 "They said, 'We really want to help you. We know it's an issue. This is one of our top priorities to not make you guys feel like you're being pushed out, but we have to wait until after the Kid Rock concerts are done, because we're still working out kinks.'" While she's encouraged to hear this, she has been unable to reach any agreement with Olympia, and the delays are proving frustrating.
"They'd say they know it was an issue," she says, "but there'd be a big 'but' at the end of the conversation."
Repeated emails and calls to Olympia were not returned.
Despite all the misery of finding a place to park in her changing neighborhood, Huston insists she's never been rude or personally angry with anybody. She says she's been negotiating with Olympia in good faith, and hopes she and her neighbors finally arrive at a long-awaited resolution with the development and entertainment company.
"We know it's going to grow down here," she says. "We know it's going to get busier and we welcome that, but I still want to live here. I still love my apartment. I really don't want to get pushed out."