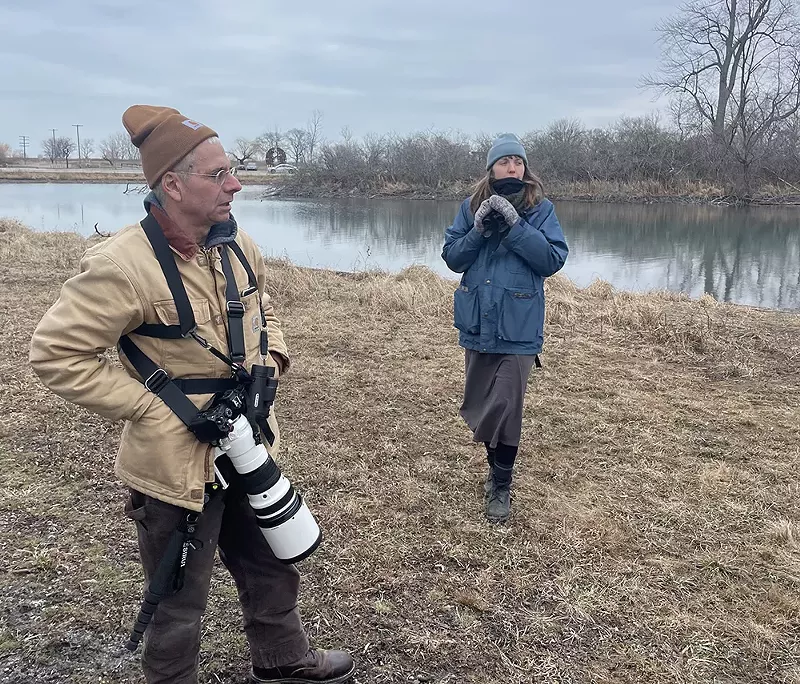 Clouds hung in the sky over Belle Isle on a chilly January morning as a crowd gathered to look for new friends: birds.
"You never know what you're gonna see, so may the gods bless us today," Detroit Audubon volunteer Evan Deutsch tells the eager group bundled up in hats and scarves.
Birding may seem like a springtime activity, but Detroit Audubon hosts bird watching field trips throughout the winter season.
Perhaps the gods were taking a quick nap when we met the group for a bird watching outing on that dreary day.
We were hoping to catch a glimpse of Belle Isle's majestic nesting eagles, which we've seen on other occasions. Instead, we saw a downy woodpecker jabbing at a tree in search of bugs. A tree full of what the group guessed were robins watched us as we walked past the Blue Heron Lagoon and onto the Ralph Wilson Gateway trail.
Even with binoculars, the gloomy overhang sometimes made it difficult to determine what exactly we were looking at. Nevertheless, the group trudged on with anticipation.
Though winter can be hit or miss, it's a good reason to get outside instead of being cooped up in the house all winter. Plus, birding can be beneficial for your mental health.
Before we set off around the island to look for our winged friends, one attendee asked a burning question that had been on our minds, too: Wait, aren't birds supposed to fly south in the winter?
"Birds move where the food source is, so some don't migrate because they don't need to," Deutsch, who is retired, tells us. "Robins, for example, we always think about them as a classic one that goes south, but they can eat dried fruit, so some stay here. And some of the birds we'll see have migrated. Some go from Canada to [Detroit], some just go 100 miles down the road."
He adds that winter's bare trees make it easier to see bird nests.
"Winter is a great time to see eagles because the nest is huge and you can see them better in the barren trees," he tells us. "These trees are great for the raptors because they can perch and find their next meal."
We don't spot eagles or any other raptors, or birds of prey, that day, but there are a few mallards swimming in the canals and a kestrel.
Deutsch carries a camera with a massive lens on our walk as he combines two of his hobbies, birding and nature photography. He's only been part of Detroit Audubon for a year but has dabbled with bird watching since the early 1990s.
"I dunno, I just really dig nature," he tells us before stopping suddenly because he thought he heard a bird nearby. After glancing around briefly he returns to our conversation saying jokingly, "Guess I didn't hear anything. Must be the voices again."
Birding is an activity that takes patience, time, and lots of curiosity, but it can be rewarding in the moments you spot a rare species or connect with like-minded folks.
"Birders are really passionate and interesting people, so I really like coming out and talking to people who are so excited to see an indigo bunting," says Sarah Peterson, who became a Detroit Audubon member less than a year ago. "When I see someone who's 50 years old jumping up and down and clapping because they just saw a bird that I didn't know was rare, all of a sudden now I'm excited too."
Peterson tells us she's seen an osprey and a spotted sandpiper on the island before.
"There's something really special about Detroit's location with the Detroit River being this strait between two great lakes," she says. "It's also a major flyway. So in this city that's very built up with lots of pavement most of the natural ecosystem has really been destroyed and taken away. But, especially along the river, it still exists and birds can just fly over the sprawl, so it's just this fascinating way of knowing there's this larger natural world, even in a city."
Beyond Belle Isle, Detroit Audubon has winter birding trips at locales like Elmwood Cemetery, Kensington Metropark, Pointe Mouillee, and more. They provide binoculars, just make sure to dress in warm layers, listen, and look up.
As we wrap up the field trip, Deutsch suggests a drive around the island in hopes of seeing the eagles, but after two hours of freezing in our boots, we decide to head home.
If you want to try finding the eagles yourself, check Central Avenue near the Belle Isle Center where their nest is. No guarantees, though.
For more information and upcoming events, see detroitaudubon.org.
Coming soon: Metro Times Daily newsletter. We'll send you a handful of interesting Detroit stories every morning. Subscribe now to not miss a thing.

Follow us: Google News | NewsBreak | Reddit | Instagram | Facebook | Twitter