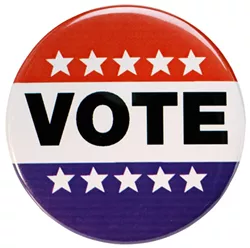 1. It's on Tuesday, March 8 (but you knew that already, right?) and polls are open from 7 a.m. to 8 p.m.
2. You must already be registered to vote. You can check if you're registered
here
, and if you're not, you can still register to vote in the November general election.
3. You can only vote at your designated polling location. Don't know where that is?
The State of Michigan
can help with that, but if you're feeling sassy, you can also
find your f*cking polling place right here
.
4. It's a good idea to have an accepted form of photo ID, but not absolutely necessary. If you don't have an ID, you can sign an affidavit. More info on that
here
.
5. You don't have to be a registered Republican or Democrat to participate, but you will need to select one party ballot (see a sample of one
here
) to cast at the polls. Your party choice (not which candidate) will become public information, and your mailbox will probably start to fill with political scrap paper.
6. You will see
names of candidates
who are no longer in the race on the ballot because hey, who can keep up?
And one bonus tip: be kind to the workers at your polling location. It's a thankless yet necessary task. Also, don't forget to wear your sticker with pride! Isn't that why everyone votes anyway?