More than one in five Michigan kids were living in poverty in 2015, according to the latest data from the Kids Count Profile.
The yearly report found 22 percent — or 486,000 children — living in poverty in the state that year. The national average was 21 percent.
The number of Michigan kids living in poverty is up 16 percent from 2008 — the final year of the Great Recession. The Kids Count puts the poverty line at about $24,300 for a family of four.
According to the report from the Baltimore-based Annie E. Casey Foundation, African-American kids in Michigan were more than three times as likely to live in poverty than their white counterparts, at 47 percent. The poverty rate among Latino kids in 2015 was also above the state average, at 30 percent.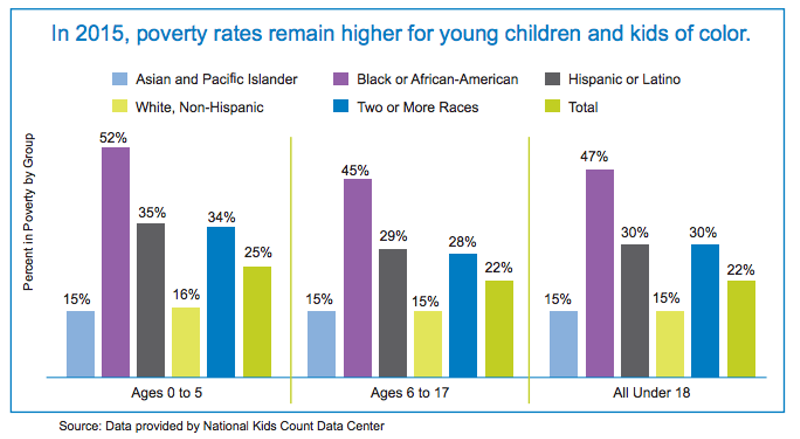 The report also found that in 2015:
- About 32% of Michigan kids lived in households where parents lacked secure employment.
- A parent with a family of three working full-time at minimum wage was living $1,700 below the poverty line.
- The cost of child care consumed 38% of 2016 minimum wage earnings.
- The state eligibility level for child care assistance is among the lowest in the nation, with less than 2% of children under 12 receiving child care subsidies.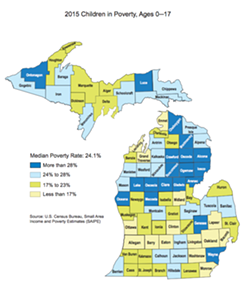 Children growing up in poverty are more likely to experience stress and deprivation that hampers their development, the report's authors say. They recommend ensuring access to child care by expanding income eligibility levels for subsidies and reforming the current system to improve the reimbursement structure and increase provider rates.
The report's authors also advise strengthening policies that support work like the Earned Income Tax Credit (EITC). They call the credit that helps low-wage workers keep more of what the make "a proven poverty reduction tool" that "has been shown to benefit children in education and health."
The report also recommends creating and maintain good jobs in disadvantaged and forgotten rural and urban communities.