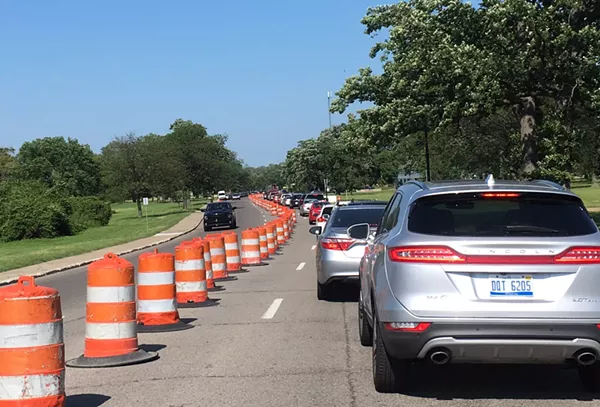 There's nothing like summer on Belle Isle — music from park goers using the beaches and pavilions, the smell of charcoal smoke and barbecue, the sun starting to dip behind the horizon, and the panic of an ambulance driving the wrong way down a one way road.
On Sunday evening at around 7:30 p.m., firefighters responded to a call on the island and arrived within nine minutes, while EMS arrived two minutes later. Though those response times aren't too much out of the ordinary, already congested traffic lanes were forced over into one right lane to allow emergency vehicles to safely pass. It was, in a word, chaotic.
And the situation is part of the
ongoing problems
on Belle Isle. After a chilly start to June, Michigan finally graced us with our first warm weekend, but residents trying to enter Detroit's largest public park were met with delays of over 40 minutes at peak times. That was too much for many motorists, some of whom turned around on the MacArthur Bridge, bailing out of their attempt to relax on the island.
A single lane of traffic headed into Belle Isle is currently being directed away from the park's west side where barricades, grand stands, fencing and temporary pavilions from the Grand Prix still block roads.
On Monday, an official at the Michigan Department of Natural Resources office on Belle Isle told the
MT
that its west side should reopen by June 20. However, nine days after the race, there are no discernible signs that the temporary structures that race organizer Roger Penske's team quickly built in April are being taken down.
"Not only is access to an entire portion of the island cut off, the single lane access results in long lines to enter and leave the island," says Moira Fracassa, who visited Belle Isle on Monday. "It should be a bustling project. It can be done faster, and it should be."
Each year, more people are protesting and raising concerns over the three-day event, which leaves a large portion of the public park restricted during the season's peak times. This year set up started in mid-April, and — if you're counting — that's nine weeks of construction, congestion, and detours so far. It's worth once again noting that the Detroit Grand Prix has the longest set up and breakdown timeline of any street race in the world.
The traffic is part of a long list of park users' concerns over race's the island's usability, the construction and breakdown's length, and the impact on its ecosystem. Those concerns have been voiced in protests, online forums, in the media, and at meetings with park and state officials.
The contract between the city and Penske that allows the Grand Prix to use the island for up to 11 weeks doesn't expire until 2018, but a new contract between the DNR — which leases Belle Isle from the city — and Penske is being negotiated.
"Those in the positions of making decisions related to Belle Isle and the Grand Prix are prioritizing private interests over public good," says Fracassa.
The next public forum will be held from 9 a.m. to 11 a.m. on June 15 at the Belle Isle Nature Zoo.
Isabella Hinojosa is an editorial intern at
Metro Times
and a graduate of Wayne State University's journalism program. Between 40oz. pots of green tea, she follows Detroit's public transit and electronic music scene.