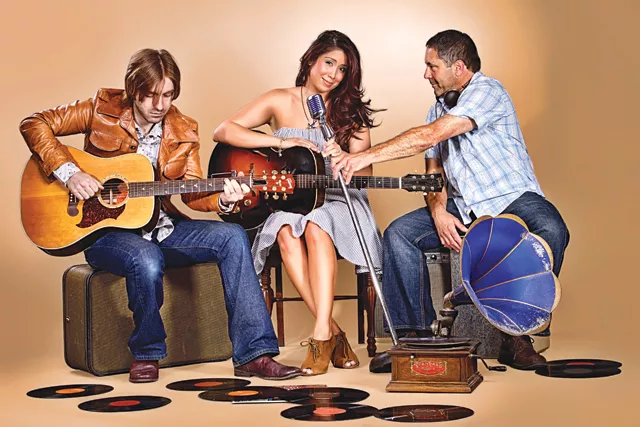 When it seems there are more musical genres than bands (maybe not, but you know what I mean), what does Americana mean anymore? At face value, it's not just a lazy riff anymore on Gram Parsons, Steve Earle and Yo La Tengo. Wikipedia calls it "an amalgam of roots musics formed by the confluence of the shared and varied traditions that make up the American musical ethos; specifically those sounds that are merged from folk, country, blues, rhythm and blues, rock and roll, and other external influential styles. Americana is popularly referred to, especially in print, as alt-country."
Many Detroit bands in recent years have at least incorporated elements of Americana into their sound, from Ethan Daniel Davidson and the Deadstring Brothers to Doop & the Inside Outlaws and Ty Stone. We can now add the Flutter & Wow to the list.
The Flutter & Wow got City Slang's attention a few weeks back when they sent in their debut EP for review. It's barely been out of the player since. The four songs, with vocals shared between the husband-wife duo of Tasha and Brian Lord, are stunners in many ways. You get that they're feeling it, as if there's nothing else that's more important at that precise moment. Only good songwriting and shared experience can do that. That's a very Detroit thing too — but in contemporary Americana and country, not so much.
Tasha Lord can entertain. Despite that she once abused her larynx fronting metal band Jiva and that she is, in fact, the niece of the late, great Dave Gilbert, the Rockets' dead frontman who sang their hits. Her enthusiastic on-stage sexuality is innate, and often funny — she's not shy with the self-deprecating raps between songs.
It's obvious here that she's unaccustomed to being musically interrogated by a perfect stranger. Still, her unrestrained glee at the situation and her willingness to open up shows passion. She speaks about her music and her husband-partner in a way that can only be described as "sweet." You can picture a cartoon bluebird landing on her shoulder.
"I always say that I'm more country than any American," she says, giggling. "My grandmother is from the Philippines. She worked on a farm in the summer in order to pay for school. In return for work, they gave her a pig. She raised the pig all summer and then took it to slaughter, and then with that money went to school. That's pretty 'country.'"
Indeed. The raven-headed Lord is lovely in a natural way, a willowy mix of high cheekbones, light russet skin and graceful limbs — an exotic tinge of an Asian bloodline and hints of folky rural America.
Tasha also defines F&W's Americana like so: "Really, it's folk music," she says. "It sounds the same in the UK as it does here. But the word 'folk' has connotations, like it's a four-letter word. But Americana is a four-letter word too, so people shouldn't worry about that."
Except that, in fact, "folk" really is a four-letter word. Tasha says the Flutter & Wow rose through her and her husband's musical explorations.
"We do 99 percent of the writing and playing the instruments and what-not, especially on the album. There's a benefit and a drawback to being in a band with my husband. Brian is in potentially the most popular cover band in the Midwest [Fifty Amp Fuse]. They work 200-plus dates per year and he's booked through 2012 for the most part. That makes it difficult."
Tasha describes the Flutter & Wow sound as modern Americana or vintage roots. "A lot of our stuff we haven't had a chance to record yet, but once in a while we delve into a little bit of a Tom Waits-y style, but not quite as extreme and dark," she says. "If you have any better descriptions, I would be so pleased to hear them. As for influences, Alison Krauss I've been listening to forever. Steve Earle I discovered through my husband. First song I heard was "I Don't Wanna Lose You Yet." That songwriting, that philosophical blue-collar sound. It's hard to explain. I've been interested in roots music for a long, long time. For over 10 years I played alternative metal and hard rock, just because 1) I'm Asian, and 2) I'm from Detroit. I never really had the balls to try Americana. I just thought I'd be laughed at. Lucinda Williams is one of my preachers in life since I was a kid. That's really the music I wanted to play forever. Thing is, it's a big scary world out there, and this music gives you some roots. I know that sounds weird, but then I'm weird."
Tasha's a bag of joyful, nervous energy, with an enthusiasm that's completely unjaundiced. She often loses her breath answering a question, her mouth not capturing the words fast enough as transmitted by her mind, or vice versa. Musically, she's a sponge for inspiration.
"It's strange," she says. "The Metro Times did a review of one of my CDs a long time ago when I was doing the hard-rock thing, and they said that the lyrics speak like a diary of mental anguish. That was Jiva, who I was with for six years. It's definitely changed since then. Now, I move from political disturbance to girl-power happiness. I soak it all up. When writing a song, it sometimes starts with typing lines in my phone. Brian puts together conceptions of music. We come together, compare and contrast what we have, and go from there. We work on them pretty much separately until the end, when we polish it off."
Asked what movie the Flutter & Wow music would best serve as a soundtrack, Tasha thinks about it for a minute before revealing that there are no TVs in her house, and she has seen three movies in the past five years. "I'm terrible. I get all my movie suggestions from my friends. I just write and play guitar. An odd couple we are, I know."
If that's odd, more couples should be so odd. This band is ostensibly an extension of what appears to be a working marriage between two beautiful people. A revolving door of musicians completes the F&W lineup, depending on the night, which can sometimes includes Takashi Iio from the Bob Mervak Trio on upright bass, the Orbitsons' Larry Labeck on pedal steel, Juilliard-trained Sonia Lee (who has worked with Paul McCartney and Rod Stewart) on violin, and lots of others who, Tasha says, "we are lucky to work with. The goal is to eventually have a more static group. But when you want to work with players of such a high caliber, and artists of high personality quirks, flexibility is a must until you have some really strong financials behind you."
And the band name?
"I'm a huge Elvis Costello fan," she says. "His songwriting is just mind-blowing to me in terms of just being clever. I recently figured out how to do songwriting as a happy person. 'The Flutter and Wow' by Elvis Costello, I'm pretty sure it's the only happy love song he ever wrote. It's a really clever tune. I thought it would be a good way to start off the group, with those kind of high aspirations."
The Flutter & Wow's self-titled EP is out now. They play Dylan's on Nov. 27, 15402 Mack Ave., Grosse Pointe Park; 313-884-6030.