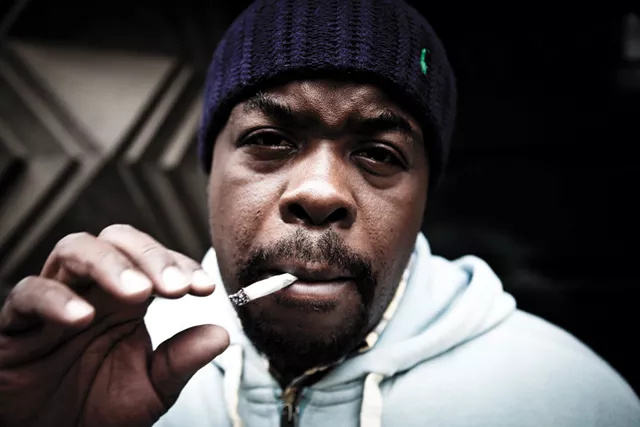 Ronnie Watts is a rapper, not your average line cook lyricist — not even close. His fans know him as Phat Kat, and so do most of your favorite rappers. Soaring under the radar, Phat Kat has maintained a reputation for murdering microphones for more than a decade. He's Detroit through and through. Collaborations with the prodigious producer J Dilla and Slum Village embossed his name on the slate of rapper's rappers. His more current cuts — produced by Black Milk, Nick Speed, Jake One and, recently over beats by an 18-year-old kid from London called Agor — keep him incredibly close to the top of that list.
Sharing a track with Phat Kat is a hard task, and it's sometimes just not in the best interest of lesser emcees. He's got it like that. He doesn't drink. He doesn't smoke cigs. He can't be found popping bottles in a booth in the back of the club, after hours. His hustle is too tough. His mind is too sharp. Dude is up at the ass-crack of dawn every day, even on tour. Devoted to a disciplined regimen, Watts is a highly remarkable — and more often than not remarkably high — rapper
Heavily blunted. Stoned. Weeded. Faded.
Watts subscribes to a set of early-riser rituals. At 6:30 in the morning, the alarm clock wakes him. Soon after he washes up, a pungent and familiar fragrance permeates his apartment in downtown Detroit.
The source of the earthy-sweet aroma is an open glass jar, like a bulk-sized pickle jar but with a lid that buckles to the side, like the Grolsch beer bottle. And much like the taste and smell of any green-bottled Dutch pilsner, the smell from his jar has a skunky waft.
Before long, his fingers are busy breaking up buds of top-grade marijuana, which Watts has plenty of. His fingers are sticky.
Listening to instrumental hip-hop beats with a pack of RAW brand double-wide rolling papers at the ready, Watts reverts to muscle memory and twists up a joint, lickity-split, the first spliff of the day is sparked.
Then it's off to the gym, and it's not even 7 in the morning.
Yes, you could say Ronnie Watts is a seasoned herbologist: a connoisseur of the chronic. But he's most definitely not your average stoner.
"Ritualistic is one way to put it," says Watts. "I've always gotten up early. And I've been enjoying a little weed in the morning for a minute. But a couple years ago, I shot a video, and when I saw myself, I was like, 'Damn, man, you gotta get your ass in that gym.' It got folded into the routine."
Regular weed smokers are split on the pre-workout puff. Some get paranoid, thinking that everyone in the gym probably knows they're stoned and thinks they look weird on the elliptical. Others say they get freaked out once their heart starts beating very hard, because you can really feel the sonic resonance of its pounding in your chest. Then there are those who say that with an increased heart rate and more intense breathing rhythm, the high is multiplied or takes on a different nuance altogether.
When Watts is back home from the gym, showered and whatnot, it's time for the morning's second smoke session.
"That's right around 9:30," he says. "Between then and noon, I get pretty much all the day's business taken care of: calls, e-mails, all that. The rest of the day is all mine. When I finish the last bit of business, yeah, it might be time to roll something up."
Pot has a rich history as being used as a social sacrament. Long before "Phat Kat," when Ronnie was around 15, he and a handful of cousins packed into an uncle's van. His uncle sat in the front and put a flame to a blunt and it was passed around.
"When it came to me, I hit it. I didn't mind it. But I didn't really get it. It made me laugh a lot, so that was fun. But it wasn't till a few years later that it really hit me, like, damn — I am in love with Mary Jane."
Watts says he must have been about 18 years old when it became apparent that he was to be a devoted consumer of the sweet green leaf.
"I was sitting up in bed, listening to either EPMD or Big Daddy Kane. I had a record cover on my lap and used it to break up and sort out the weed. Probably had some Zig-Zags. I had this joint, started smoking it and was really listening to this music — like, really listening to it — listening to every little part. Focusing in on them one at a time. I went deep into the music, smoking that joint. It hit me. I was all about it."
And the more things changed, the more they stayed the same.
"The weed's gotten a whole lot better since then, but I'm still that guy who's smoking with friends and there's music on in the background and I hear something, or at least I think I hear something, and it gets me, and then I want to rewind it and see if it's something only I heard or if everyone can hear it. Did ya'll hear that sound right there? Right there! Hear that? Yeah, man. That shit's crazy right there."
Any number of strains might be found inside Watts' ganja jar at any given time, O.G. Kush, Strawberry Cough, Cheese, Trainwreck, you never know. But the rapper does indeed have a favorite flavor. "Man, that Sour Diesel is on some other shit — for real. For me, it's different than any other strain out there. It's just different: tastes a little different, affects you different. It's Diesel, man."
Watts can talk about marijuana like European hip-hop heads can talk about Phat Kat. One of his many monikers (Obi Ron Kanobi, Ronnie Cash) is Ronnie Euro. It's fair to say he's generally way more popular in, say, London, Paris, Berlin, Amsterdam or Brussels than he is stateside.
"The euro fans are crazy students of the music," Watts says. They know the lyrics inside out and can recall very specific lines and question what they mean in the context of the song at any given moment, so when you're there, you have to be that much more on your game about your own songs. They know."
And they know Phat Kat. They love Phat Kat. They want to keep him happy. And part of doing that is hooking the man up with the premium product their town offers. For Phat Kat, finding good pot abroad is not a problem.
"Quality, quantity, whatever, when we're coming through on tour, they know what's up," Watts says. "It's not ever difficult in the slightest. The only hang-up, if you can call it that, is that a lot of these dudes in the UK like to roll tobacco with their weed. That's not me, man. I don't smoke tobacco. One time, at a show in London, I go to hit a blunt between a song, my boy has one lit on the side of the stage, and I take one puff and immediately my lungs were on fire, I didn't know what to do. There was tobacco in that shit, and it fucked me up, man. Didn't feel right for a second. Then I hit some shit that was just weed, drank some water and was back at it."
His connections overseas go far beyond locating good herb. The work with Agor is incredible; in August, Phat Kat collaborated with London rapper Iron Bradyz, cousin of UK rap icon Dizzee Rascal, for the track "The Dobermans."
In December, Watts will fly to Kenya for a few gigs he recently booked through a new Toronto acquaintance. "Ronnie International, man" Watts laughs. "I've fucked with some African weed before and it's good — really sweet, like Australian stuff. Man, Australia has some fire. Melbourne — man, that shit was crazy."
And speaking of fire, Phat Kat Launched his latest project in September. Dubbed the Katakombz, it's a yearlong project that sees Phat Kat releasing one song and a correlating music video each month for the next several months, maybe a whole year. "The videos will tell one big story," he says. "The songs speak for themselves."
In the meantime, though, it's early morning rituals. Up early, smoking down joints on either side of a trip to the gym. All business handled by noon.
A highly functioning hustler with a proclivity for pot, Ronnie Watts is a highly remarkable, globally known rapper. And, more often than not, he's also remarkably high.
So, pack that in your bowl and smoke it.