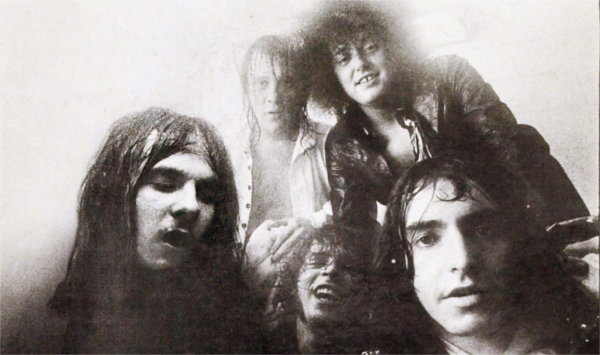 First a clarification about that "shock headline." Lots and lots of people care about whether the MC5 are inducted into the Rock and Roll Hall of Fame. Love it or hate it, the Cleveland museum's pantheon has become a one-stop validation station for rock, pop, and even rap greats down the years. And if the MC5 finally get inducted this year, on their third go, many will rejoice.
But please allow me digress for about 1,000 words before arriving at my point.
As the oldest and longest-serving member of
MT
's editorial department, I can tell you we've had a number of "spirited discussions" about the Rock and Roll Hall of Fame and its posture toward Detroit rockers. That's largely because a number of MC5 superfans have passed through these offices down the years. Brian Smith looked like one of the boys. Holdship saw them with Teagarden & Van Winkle, Mitch Ryder, Chuck Berry at Saginaw Civic Center as a (very) young teenager and thought they stole the show. Brett Callwood
literally wrote the book on them
, with some thanks to Smith and Holdship. Down the years, again and again,
MT
's music scribes took every opportunity to write about the MC5, as well as Iggy Pop, as well as the way the Hall of Fame toyed with the idea of inducting them.
Alas, I was no superfan. I was more into British punk than its home-grown innovators. For years, I thought
"Looking at You"
was
a song by the Damned
. (Probably less forgivable, I thought
"1970"
was by
G.B.H.
) Yes, when the MC5 grabbed me, it never let go, but it happened too late to make me one of those lifelong fans. Youthful conversions are the most powerful ones.
But there were so many fans of embryonic Detroit punk at
MT
that some early December water-cooler discussions packed a wallop. There was a lot of love (obvious in the high hopes that the HOF would induct MC5 and other Detroit rockers) and hate (snub-induced speculation that those in charge of the HOF wouldn't know real rock 'n' roll if Little Richard bit them on the bippie).
You can trace the crests of expectation and the chasms of disappointment in
MT
's music coverage, starting when the MC5 was first nominated, and then not inducted, in 2003. (But Rolling Stone publisher Jann S. Wenner was?) Was it any coincidence that, the year after,
MT
's
Hit Singles column practically giggled
that the High Strung abandoned their tour van near the steps of the museum? Or that the music section gave a headline vamp to Mitch Ryder's dismissal of the HOF?
The 2004 story
quoted Ryder at length, discussing the mystery of "why the fools in New York don't let the fools in Cleveland induct Mitch Ryder and the Detroit Wheels into the Rock and Roll Hall of Fame"
Ryder had suggested to
MT
his many snubs were the result of a vendetta: "There's six members on the board of directors and three of those men are my enemies. So what are my chances of getting in there? … I came out of Detroit with a sense of self and, when I came to New York, that's what they tried to destroy. And not being highly educated, I reverted to street tactics and that included calling some very rich and powerful people terrible names in the press." Gee, I wonder what other Detroit acts might share that punk-as-hell attitude?
Another glimpse at
MT
's views on the Hall of Fame would be
Bill Holdship's lively column on Iggy Pop's triumphant speech
after he and the Stooges were finally inducted in 2010. It's worth rereading, as Holdship senses crap being flung at
Rolling Stone
honcho and HOF main man Jann Wenner. Holdship noted that it took "eight ridiculous tries for the band to finally get into the stodgy institution," but that the Igster gave "the greatest acceptance speech ever delivered by anyone at the Rock and Roll Hall of Fame" by "showing up to accept the award and then basically telling the honchos to go fuck themselves."
He also noted Pop's kind words for the MC5, and his remarks aimed at industry executives having a lavish party for music invented by poor people. Holdship quoted Pop as sarcastically saying of late bandmate Ron Asheton, "He was
pissed off
that you didn't induct him while he was alive. But I imagine Ron is up in heaven right now, sitting at a table with Brian Jones, drinking martinis and flicking cigarette ashes on all our heads."
Another nomination for the MC5 came last year, by which time Mike McGonigal was in the music editor's chair. Though McGonigal called the MC5 "one of the solar system's finest bands,"
he seemed weary of the Hall of Fame, writing
, "Some people care about this stuff a lot. I personally find the museum itself and the process of various acts being allowed into it, or not, a whole load of absolute malarkey." Beginning to see the excitement over HOF induction fade? McGonigal even ably predicted that the boys would be snubbed again.
So here we are, 14 years after the MC5's first nomination. Who else has made it into this hard-rockin' pantheon since then? Oh, plenty of fired-up, distortion-fueled hard-rocking mutants, I'm sure.
Herb Alpert
(2006),
Madonna
(2008),
ABBA
(2010),
Hall and Oates
(2014),
Chicago
(2016), and
Joan Baez
(2017) to name a few. (What? No room for
Air Supply
?) It's almost calculated to make an MC5 fan start to wonder after a while whether the honor has been diluted by all the other honorees.
And even if "the third time's the charm"
as some have speculated
, looking around the office, I see that all the superfans have moved on. Brian J. Smith is back in Arizona. Callwood is out in Los Angeles. Bill Holdship is up in Bad Axe, although he says he still hopes the band makes the grade. But there are only two original members of the band left. It's been more than 50 years since the Grande opened. Members of the band's original cohort are dropping like flies.
Even
Billboard magazine
noted that the band's history of nominations and rejections "has long been considered one of the great snubs in the Rock Hall's induction history." It also quoted Wayne Kramer as saying that "it seems as if the people that kicked the MC5 out of the music business are some of the same people that run the Rock Hall." (Sound a little similar to Ryder's comments?) Even Kramer doesn't seem to want to get his hopes up anymore.
So who cares? Well, I know plenty do, but I don't. And that's not intended as another snub at the MC5. It's a statement directed at the high priests of rock 'n' roll, punk, pop, whatever you want to call it. Rock 'n' roll started out as novelty music, made by poor people, marketed by oblivious executives who quickly realized they'd stumbled into a gold mine. Nothing wrong with that, I guess.
But as for the ensuing generations of experts, commentators, gatekeepers, and award-givers, could anything be less "punk" than them?
If being inducted does please my old colleagues, and the surviving MC5 members, I am happy for them if they get their long-overdue nod. But it's worth taking a few minutes to consider that rock 'n' roll isn't something you'll find in a museum, under glass, or behind a rope.
Rock 'n' roll is in your heart.