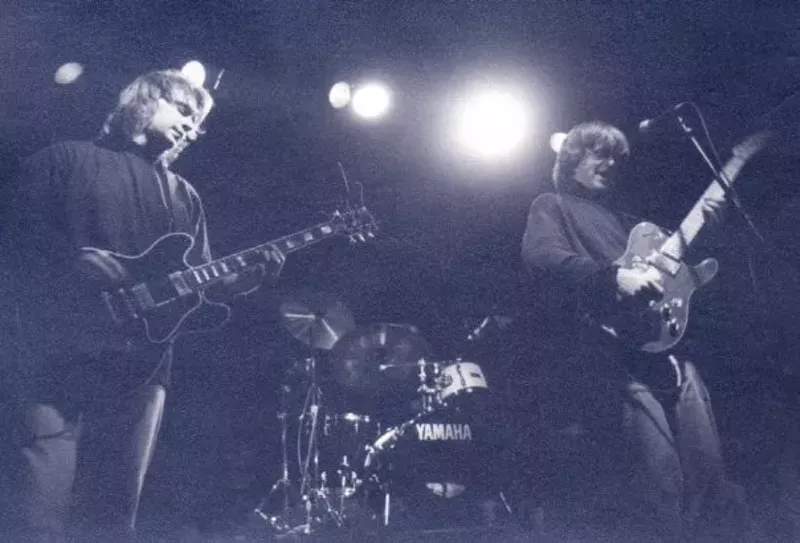 It's been a hell of a decade for the Detroit hardcore punk sound. Negative Approach, the loudest, fastest, and most aggressive-sounding of those bands, has
played more in the last 10 years
than it ever did in the 1980s. The scene was given the oral history treatment in 2010 by author Tony Rettman, about the same times the pages of Detroit punk zine Touch & Go got
a swell re-issue
. In 2014,
the YouTubers of Detroit Punks
began releasing their mini-docs.
But if you were there, you'll remember how evanescent that first burst of hardcore punk was. As one person has joked about the first wave: "That was a cool 18 months." By 1985, a newer generation of suburban punks were streaming into Detroit looking for bands that had already broken up, grown out their hair, and were much more experimental than the kids now screaming and thudding out speedy, thrashy 4-4 punk.
What those first-wavers did next, however, has never really gotten its due. John Brannon's Laughing Hyenas or Easy Action never eclipsed the near-mythic fame of N.A. More people recall the Necros, the Ohio-based punks who often played shows in Detroit, than Barry Henssler's Big Chief, which was arguably a better, tighter, more high-octane band. Part of that is because, after that first brief burst of innovation, Detroit's punk scene became backward-looking, frozen in 1982. When the Flaming Lips played at the Graystone in the summer of 1986, a little more than 100 people showed up. A year later, the club's chief promoter, Corey Rusk, moved to Chicago.
Into this backward-looking scene came Chris Moore's Crossed Wire. Moore, the one-time drummer for Negative Approach, got out from behind the drums and in front of the mic for a band that was more melodic. Mixing the sounds of Americana with power pop, the band developed an alt-rock sensibility that was ahead of its time. Moore would move on to the East Coast, where he lives today, and takes an acoustic, singer-songwriter approach to music.
Local writer Peter Markus, a contemporary of Moore's who
recently interviewed him for a Brooklyn-based magazine
, puts it this way:
Some of us kids harbored secret affections for bands like the Beatles and Big Star and Neil Young, and were writing slower songs with an ear leaning more toward the melodic. Here the band Crossed Wire was born, and I soon found my true tribe, a sound that was closer to the authenticity of my own experience and feelings for the world. Angsty, yes, what music isn't? But here the edges were easier to navigate, not so jagged, more guitar-jangly, and there was a kind of youthful optimism behind the songs.
It's one of Detroit's enduring ironies that the noisy, slapdash music Moore pounded out a beat for is known around the globe, but the melodic band he fronted is so under-appreciated.
Luckily, a reunion show later this month offers another chance to appreciate the band. It's also a fundraiser for
InsideOut Literary Arts Project
, where Markus is a senior writer. Frankly, it's also probably a reunion for a whole bunch of people who came of age back in the early 1980s. Come on down.

Crossed Wire appears with Audra Kubat and Catfish Mafia, at the Loving Touch, 22634 Woodward Ave., Ferndale; 248-820-5596; doors at 7 p.m., tickets $13; thelovingtouchferndale.com.