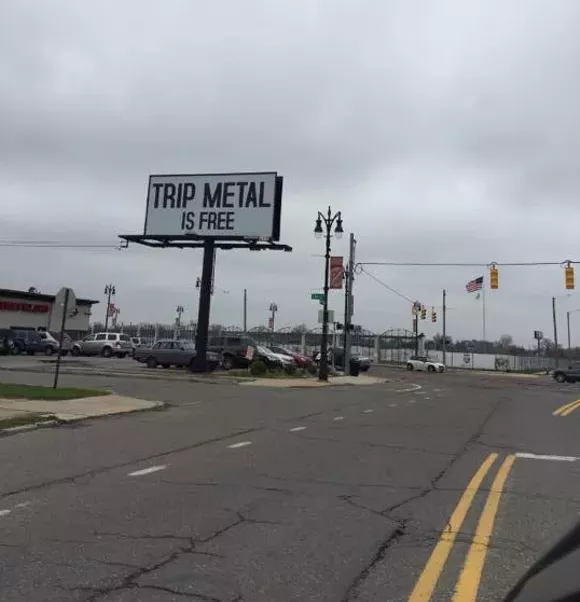 We'd heard from multiple sources last week that the
inaugural Wolf Eyes-curated Trip Metal Fest
, slated to occur on Memorial Day weekend, was going to reverse its initial decision to charge admission, and instead be free. This is great news for fans of experimental music. Some performing highlights include Marshall Allen and Danny Thompson with Hieroglyphic Being, Morton Subotnick, Wolf Eyes, Grux from Caroliner, Tarpit, Andrew WK, Lexie Mountain, Nautical Almanac, Creode, Viki Viktoria, and many more.
Confirmation on the radical shift in price for the fest came via social media from co-organizer Nate Young, who posted the above image of a billboard that allegedly physically exists right on the corner of Trumbull and Michigan. We've yet to see it in person yet, but it seems aimed right at anyone who just shopped at Hello Records, or ate a refreshing crepe. We went to the event's website, and all of the ticket purchasing links are missing, except for the
separate screenings by Everything Is Terrible!
, which was always a separate activity.
You may have questions, like:
What if I've already bought tickets? How do you make sure you get in, now that anyone can attend? What's going on? Is there a corporate sponsor now? Which corporations might be Trip Metal Approved? Did Quicken Loans, an energy soda that tastes like stale bubblegum, or perhaps the church of Scientology pay for this thing? What if I'm not trip metal enough to know the proper t-shirt to wear when I do attend? Who am I?

Fret not. More will soon be revealed. Again from Young's Facebook we are told: "All ticket holders will get a full refund and automatically get RSVP VIP status. Stay tuned. This will all be officially announced in the press and by email. Go sign up to our email list.
http://tripmetalfest.com
"
We seriously can't wait to run over and see that billboard later today.