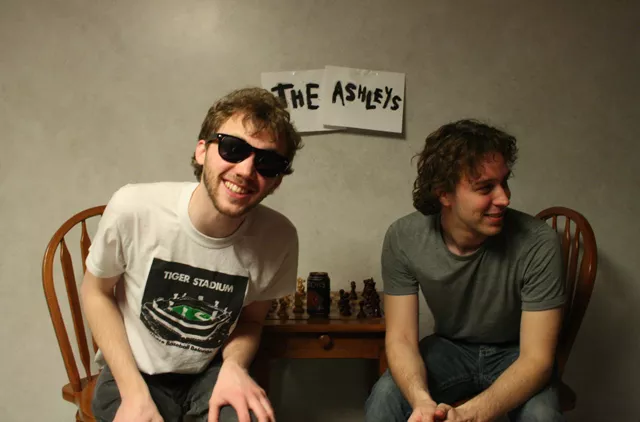 From Bantam Rooster to the White Stripes and, more recently, the Jehovah's Witness Protection Program, even Dale Earnhardt Jr. Jr., or the Thornbills, the rock 'n' roll two-piece has become less a novelty and more an acceptable band format in these parts. Whether it be the simplistic garage-blues attack of the Stripes or the Rooster, or the loop-filled approach of JWPP, or the popist mash-up of DEJJ, or the psyche-folk of the Thornbills, the rock duo has evolved in the Motor City since the days of the Flat Duo Jets, or such earlier acts as old T. Rex or even Simon and Garfunkel.
The Warren-based Ashleys are the latest pairing ready to buck conventional thinking when it comes to what two musicians are capable of.
Tom Bahorski (vocals and guitar) and Steve Olshove (drums) are cousins who've been playing music together for as long as they've been playing music — since middle school, actually. They played with Kory Kopchick and another guy called James Brown, now of Citizen Smile, and for a while in a band called Amidon's Army (after a substitute teacher's name and Elvis Costello's "Oliver's Army") without making impact. When that group simply withered, the cousins went "duo."
Over beers at a Ferndale bar, the Ashleys come clean about their whole two-piece thing, which is completely independent of the current two-piece phenomenon.
"A year and a half ago, we started playing shows because we couldn't find any other members," Olshove says. "I really wanted to get a band going, so we decided to do it as a two-piece. It was like Spinal Tap, where all the drummers die ... we had that same thing with bass players. Except they didn't die. They were just lame or not good enough or they kinda disappeared. That's basically why we're a two-piece. We couldn't find anyone that fit in with us."
It's true, fitting in is a matter of taste. The boys sport appropriate rock 'n' roll 'tudes, like a socially awkward Pete Doherty or an ADD Gallagher brother. Both are rather twitchy and nervous, very self-deprecating — but with that all-important air of arrogance.
They agree that their sound is very "Detroit," meaning it's dirty and rough but ultimately charming. "That's very fair," Olshove says. "We want to be loud and obnoxious. We want to force people to listen to us. We're like sex in a Dumpster. Dirty but kinda romantic, or at least, romantic as long as the Dumpster sex is with someone you love."
"I don't actually know what we sound like," Bahorski adds. "Simple, but not hyper-simplistic. We're not minimalist. We used to call it 'caveman rock,' just banging on drums and riffing away. Two notes. We've talked about using loops, but I don't think we're good enough to keep time with a loop. We tend to speed up and slow down as needed."
After years of writing and playing together, and developing their gloriously messy style, the Ashleys have an abundance of songs written and demos recorded, and they're gearing up to record their debut EP in the new year.
"Hopefully, by spring of 2011, we'll have an EP," Bahorski says. "It all comes down to cost. ... We're gonna record it in two days, so we'll see what we've got. It might be another disaster."
One must wonder, when considering that, much like the Ramones, neither Ashley is actually called Ashley.
"There's a bar in Ann Arbor called Ashley's," the frontman says, grinning. "When I was going to school, at the University of Michigan, I used to get drunk there. Steve suggested that we should come up with a name like the Smiths, that's like a name. As I was walking out of the bar one day. ..."
Putting Morrissey references aside, how much racket can two people really make? Truth be told, they've been giving PA systems around metro Detroit a real bashing since forming a year and a half ago.
"You can actually make a lot of noise with just one person, like that scene in This Is Spinal Tap, where he's playing the solo and kicking the violin," Bahorski says.
"You can make as much noise as the PA system can put out," Ashley Olshove adds.
True to honest Detroit rock 'n' rollers, the Ashleys are eager to point out that they are well aware of the masters who came before them. Respect is there.
"There are a lot more poppy groups now," Bahorski says. "I'm not sure how much they look up to bands like the MC5. Everybody likes the MC5 and the Stooges, but I think people are specifically trying to do something different. I don't know how much. I can only speak for myself. I think everybody has a sense of the musical history of the city. Whether everybody looks up to those guys is up in the air, I guess."
The two Ashleys are looking forward to what should be a fairly respectable 2011 "We'll have something recorded for people to purchase, I hope," Bahorski says. "We might play a gig in Philadelphia because someone offered us a place to crash there; we can see the place where they make the cream cheese. We'd really like to play the Blowout; last year we missed the application deadline by a day — we've already put in the application this year."
"I'd be happy if a fan came who we don't know," Olshove says — with no irony. "They know of the Ashleys, but we don't know them personally. They just came to see us. That would be great. Just one is all I ask."
Maybe they need a gimmick to be heard, to earn a fan or two?
"I'm going to play naked," Olshove says, deadpan. "I'll tuck my wiener in and do the Silence of the Lambs thing, playing the drums."
Bahorski's expectations are far less lofty.
"I'll be wearing a new shirt."
Saturday, Jan. 15, at the Belmont, 10215 Joseph Campau, Hamtramck; 313-871-1966. The show includes Citizen Smile, Patrick Davy & the Ghosts, and Lee Majors.