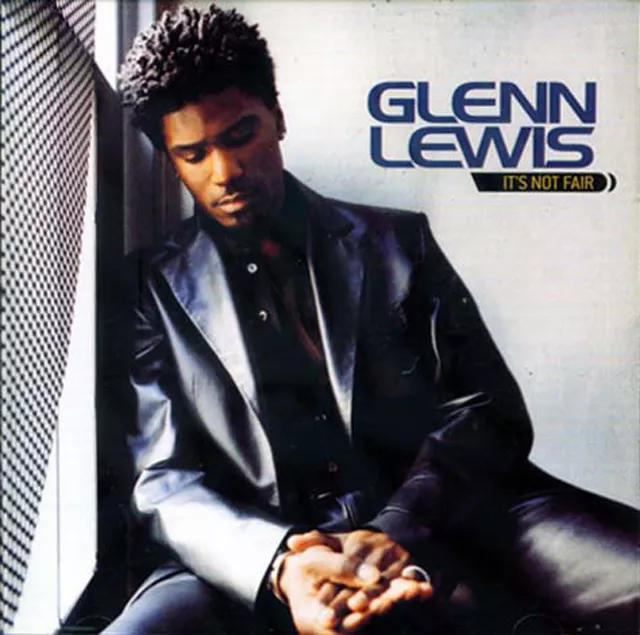 FRIGHT FROM THE BINS
Glenn Lewis
It's Not Fair
(2002)
It's Not Fair: Let's list the reasons for Glenn Lewis' feelings of unhappiness and inequity posed by us but unfairly attributed to Glenn himself:
1) "According to Wikipedia, Stevie Wonder is my biggest influence and yet I'm cursed with sounding exactly like him. If I had sounded just like Bob Seger or even Michael Buble, no one would've put two and two together."
2) "Unlike Stevie, I can see me not winning any Grammys. I got a fuckin' Juno. No one gives a shit about Junos. Everyone thinks I got some teenager pregnant."
3) "I let someone talk me into posing by a grated window so I look like I'm listening to people's confession. And they're confessing 'Bless me, Father Glenn, but I've never heard of you.'"
4) "I have records out this century, yet I'm keeping company with Mitch Miller and the Mormon Tabernacle Choir at the Salvation Army!"
5) "At least I've got enough soul in this sea of Anita Kerr albums to impress that Dusty Springfield LP over there. I think I'm slowly wearing her down to where she'll let me stack up beside her. What's that? She's a what? Hey, just leave me the fuck alone, OK? It's just not fair, man." —Serene Dominic
SCHOOLYARD VERSE
I want to hear a song that sounds like a firework
on a hot sunny
pitch black night.
— Joedy Williams, 6th Grade, InsideOut Literary Arts Project, Golightly Education Center
ON THE DOWNLOAD
Murder Mystery — "Kiddo"
Detroit's Murder Mystery is led by tweak-out frontman Adam LeRoy, who freaks when the guitar's slung over his shoulder. MM plays heavy-happy noise rock, and LeRoy's like a less urgent, less punk version of Child Bite's Shawn Knight, but Byrne-ishly uneven. Download this gem and see them Jan. 15, at Northern Lights Lounge. — Travis R. Wright