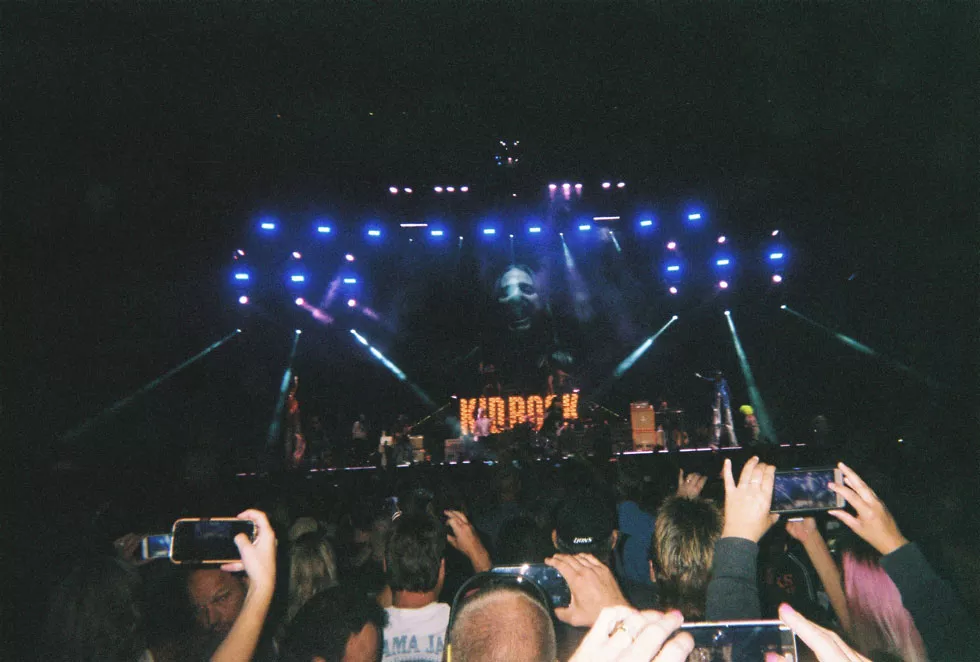 Let me be clear: This is not a matter of taste.
"You should be vaccinated," a friend warned. "You should be institutionalized," suggested another. "Why the fuck would you do this again?" my father asked. It was a reasonable question. After all, this wasn't my first rodeo — but for the love of God was I hoping it would be my last.
Two years ago, I described walking into my first Kid Rock show as feeling like a disoriented and wounded gazelle staggering into the lion's den. I planned to attend all 10 of Kid Rock's shows at DTE Energy Music Theatre — a sort of travel diary from the heart of American kitsch. But I was without the support of a publication or an editor; the piece ultimately went unpublished, and I had little to no faith that what I was doing at the time meant anything. To this day, I remain unconvinced.
I promised myself that I would never endure another Kid Rock concert again. (Especially after I was urinated on in the cheap lawn seats. Don't ask.)
A lot can change in two years.
On July 12, a mysterious website kidrockforsenate.com surfaced. Kid Rock took to Twitter to confirm that the site was in fact real, and teased a major announcement in the "near future." The site — featuring a portrait of the stoic rocker perched beside a taxidermic deer, with the caption "Are You Scared?" — offered apparent campaign merchandise, ranging from T-shirts to lawn signs, donning a red, white, and blue "Kid Rock '18 for U.S. Senate."
Was he serious? On the one hand, we live in a country with a President Donald Trump. (Kid Rock was a staunch supporter, selling pro-Trump merch in 2016. He was later invited to the White House.)
But by August, the entire national mood somehow got even more surreal and paranoid. In Charlottesville, Virginia, a clash over the removal of a Confederate monument turned deadly when a white supremacist drove his car into a crowd of protesters, and the nation's racist underbelly of neo-Nazis, Klansmen, and the alt-right were not only made visible but seemingly were emboldened.
When the Detroit Red Wings' logo appeared as an alt-right insignia in Charlottesville, the team was quick to issue a statement denouncing its use by hate groups. But online commentators were quick to point out an apparent double standard: Kid Rock — who had previously drawn criticism for performing with a Confederate flag — was opening the team's new taxpayer-subsidized Little Caesars Arena the next month with a string of six dates.
Soon there were calls to protest. "Kid Rock is a disgrace. Why is he first act of Little Caesars Arena?" Bridge magazine asked. "Having Kid Rock open this arena is erecting a sturdy middle finger to Detroiters — nothing less," wrote the Free Press' Stephen Henderson. "Kid Rock is the musical icon of the white supremacy movement," National Action Network political director Sam Riddle told Fox 2.
On Sept. 11, the day before his Little Caesars Arena christening, Rock issued a defensive, rambling rant, calling out the Free Press, fake news (while also falsely claiming he had sold out his six shows in January), national anthem kneelers (he has uttered "fuck Colin Kaepernick" onstage), and "piece of shit criminal" Riddle, and then ending with an unintentionally comic post-script: "P.P.P.P.P.S. I LOVE BLACK PEOPLE!!" (He also maintained he was still merely "thinking of running for office." Watchdog groups have pointed out he could be fined for breaking campaign finance law by failing to properly register.)
In one final act of pettiness, Rock's camp denied the Free Press' and Metro Times' media credentials without as much as a copied and paste rejection. But that didn't matter. We bought tickets to all six shows.
The hope was that by the end of this masochistic marathon, we'd have an answer to whether Kid Rock was really running for Senate, and to maybe understand the politics of potential Kid Rock voters. If we're at all lucky, the answer will not be the least bit entertaining.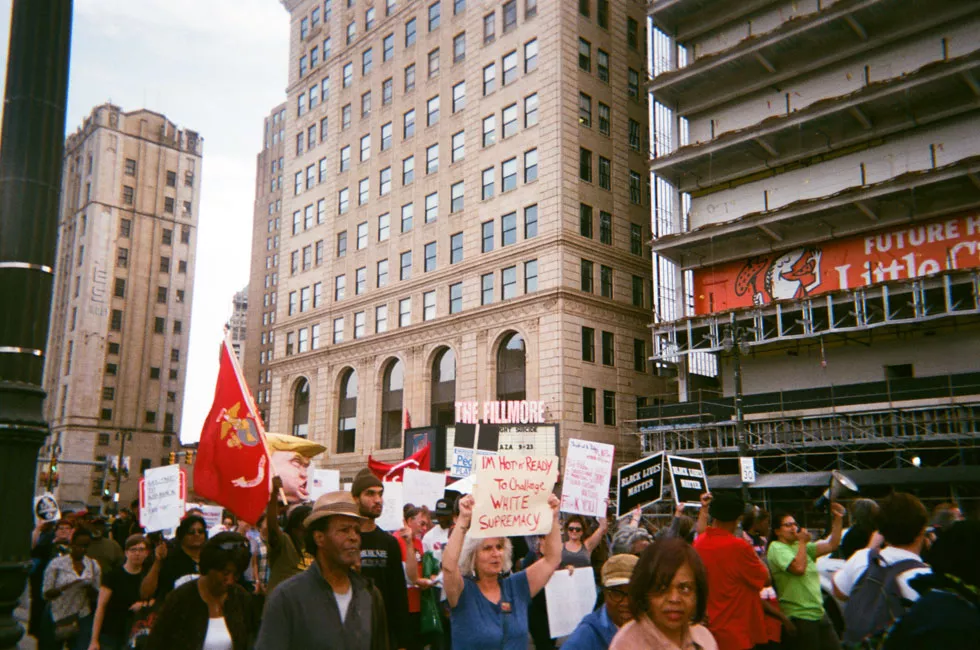 Day 1: Both sides now
It was hard to believe this would be my 11th Kid Rock show in two years. By this time, I had seen Kid Rock perform more than any of my favorite bands. I mean, I've only seen Radiohead twice. Twice!
The first of the shows was met with a protest, organized by the National Action Network. A group of some 200 march from Grand Circus Park up Woodward Avenue, chanting "No justice, no pizza." I follow them along the curb, balancing in an attempt to blur my role as participant and spectator.
"Go home! No one wants you here!" a gaggle of impassioned Kid Rock fans shout from Hockeytown Cafe's rooftop bar, apparently both pre-gaming and lazily counterprotesting.
"What are they even protesting anyway?" a woman says as she followed the march with her cell phone. "Who cares?"
"Kid Rock is a traitor to this city, don't you get it?" a guy in a blue button-up says, putting his face much too close to my face as I trip slightly on the QLine tracks.
Once in front of the arena, we are asked to take a knee as a man with a megaphone sang a shaky version of the national anthem.
The march loops in front of the arena and made it's way south, back toward where we started. I trail slightly behind as I mapped the perfect moment to slip into character and into the very event I was protesting.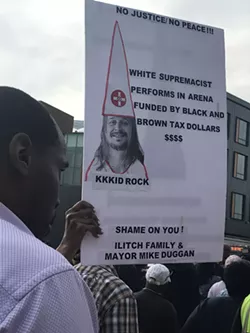 Before I can slip away, a steady stream of motorcycles barreled down Woodward. It was a parade of leather-clad bikers — Bikers Against Radical Islam, Bikers for Trump, the Detroit Highwaymen, and others — counterprotesters revving their engines in intimidation.
For the first time during the protest, I'm uneasy. Threats of violence seemed unavoidable as an antagonizing tweet went viral just hours earlier: "You wanna block traffic? Get run over. Your choice." Based on the recent events in Charlottesville, there was plenty of reason to worry.
It was time to get this show on the road.
Once inside, I'm greeted by a wall of smiling greeters passing out handfuls of miniature American flags. "God bless America, and enjoy the show!" they say as I take a flag. A curious start.
Upon entry, I needed to pick up my will call ticket. An LCA staffer leads the way, guiding me through the growing crowd. While we walk, the LCA staffer asks about the protest outside. "What were they protesting?" she asks. She seems to not have heard anything about it, despite the fact that it got plenty of media coverage in the weeks and days before.
I tell her it was about Black Lives Matter. "Oh, that's bullshit," the staffer says. "I think it's being fed by the media and people are buying into it way too much."
She continues guiding us through the arena's main concourse. "I've worked in Detroit for years and there's never been this much racism," she says. "Everyone is so angry."
In it's official statement to the Kid Rock backlash, Little Caesars Arena downplayed Rock's politics as just those of one of many performers. "Kid Rock has been a consistent supporter of Detroit, and the marketplace has responded accordingly to his appearances," the statement said. "Performing artists' viewpoints in no way represent an endorsement of those viewpoints by Olympia Entertainment."
This would be an easily digestible point if it was a one-off concert, instead of six. However, Kid Rock isn't just a performer at Little Caesars Arena. He is also something of a partner. The venue hosts Kid Rock's Made in Detroit restaurant, where I decide to start my night with Kid Rock's very own Badass Beer.
Suddenly, a crowd appears on the street in front of the restaurant. It's the counterprotesters — dozens of leather-clad bikers chanting "USA! USA!" One waves a Kid Rock "Made in Detroit" flag alongside others wielding American flags — as if both were equal emblems of patriotism.
It seems that by the time the counterprotesters parked their motorcycles, the original protest group had dispersed. It's hard not to feel as though a potentially violent clash was narrowly avoided — by mere minutes.
I return to my Badass Beer transaction. While waiting, I encounter a woman who is excited for her sixth Kid Rock show, and just as excited to be the first crowd to ever grace Little Caesars Arena. "It's special," she says.
When asked if the protest got in the way of her being able to get in early, she wasn't even aware that there was a protest. "What were they protesting?" she asks. I shrug and tell her a condensed, one-sentence version. "Oh," she says, shaking her head as if the idea of anyone being upset would tarnish her vibes. She doesn't get it. This seems to be a recurring theme among the people I talk to.
"The show is going to be amazing," she says, changing the subject. "He's better now. Now he's more country rock [than] the dirty, sleazy rock from before. You know, the Pam Anderson days."
As it turns out, my $20 seat is bad. Like, really bad. However, I have to find the beauty in my cockeyed view of the backstage area from the near-to-last row.
The show begins with the image of a giant projected "Fuck Tank" gauge and a long mashup of Kid Rock songs, that one Journey song, some Motown jam, and unsettling revving engine noises as the gauge's dial toggles between full and half-full, until it reaches its final resting position on empty.
Fittingly, Kid Rock starts his set with a literal circus — an explosion of flares and fireworks complete with a flock of Uncle Sams on stilts, a fire-breather, and a dwarf dressed as a clown.
"Love you when you hate us," Rock proclaims with arms spread. "Welcome to the greatest fuckin' show on Earth." Midway through, a butler presents Rock with a joint on a silver platter that he proceeds to light and smoke as he continues the song. A total rockstar move, considering LCA is a nonsmoking venue and does not offer any designated area (let alone re-entry) for smokers.
As the song ends, Rock bids us "goodnight" as he bows and runs off stage as the stadium goes black. "Is he coming back?" I hear someone say. "He fucking better!"
In true cliffhanger fashion, a few minutes pass before a voice erupts over the loudspeaker. "Please welcome the next senator of the great state of Michigan, Kid 'motherfucking' Rock!" Rock then takes to a podium with a modified version of the presidential seal as "Hail to the Chief" plays.
He then gives a quasi-rhyming "stump speech," seemingly made up entirely of vague statements built around buzzwords gleaned from Fox News. Each couplet is punctuated by a guitar and drum blast — and elicits an eruption of applause from the some 20,000 fans.
What it lacks in substance, it makes up for in context, and is worth sharing in its entirety:
What's going on in the world today? It seems the government wants to give everyone health insurance, but wants us all to pay.

And to be very frank, I really don't have a problem with that, since God has blessed me and made my pockets fat.

But a redistribution of wealth seems more like their plan. And I don't believe you should save, sacrifice, do things by the book, and then have to take care of some deadbeat, milking the system, lazy ass motherfucking man.

Now, the issue of struggling single parents is an issue close to my heart. But read my lips: We should not reward those who can't even take care of themselves but keep having kid after fucking kid.

Of course, we should help them out. I don't want to stand here and sound like a jerk. But let's help 'em out with child care, job training, and find them a fucking place to work.

And you deadbeat dads, who refuse to be a man, who refuse to be there for your sons, to raise them up to be good men? You no-good derelict sperm donor wannabes? I say lock all you assholes up and throw away the fucking keys.

And if you want to take a knee, or sit during our "Star-Spangled Banner," call me a racist, because I'm not PC, and think you have to remind me that black lives matter.

Nazis. Fucking bigots. And now again the KKK? I say fuck all you racists. Stay the hell away.

And why these days, is everything sooooo gay? Gay rights, transgender this and that. I say let gay folks get married if they want, and I'm not even close to a death trap.

But things shouldn't be this complicated and, no, you don't get to choose. Because whatever you have between your legs should determine the bathroom that you use.

It's no secret we're violent, and we all should take some blame. We should be ashamed, because we all seem scared to call Him by His name.

So please, almighty Jesus, if you're looking down tonight, please guide us with your wisdom, and give us strength to fight. To fight the tyrant evils, that lurk here and abroad, and remind us all we are still just one nation under God.

And I do believe it to be self-evident, that we're all created equal. I said it once, I'll scream it again: I love black people. And I love white people, too. But neither as much as I love red, white, and blue.

If Kid Rock for Senate has got some folks in disarray, wait 'til they hear Kid Rock for president of the U.S.A.

Wouldn't that be a sight to see? Kid Rock in Washington, D.C.? Standing on the desk of the Oval Office like a G. Holdin' my dick ready to address the whole country.

We'll look 'em straight in the eyes. The eyes of the nation, live on TV. And tell 'em you never met a motherfucker quite like me.
And... that's it. The podium is wheeled offstage and Rock breaks into "You Never Met a Motherfucker Quite Like Me" and suddenly we are tuned, once again, into Kid Rock's confused and genre-less spectacle.
Turns out Rock is using his 2017 tour as an opportunity to hodgepodge all of his selves into one long montage of lowest common denominator music, bouncing between genres and their appropriate costumery — a tracksuit and ghettoblaster for his old school rap song, a fur coat for the rock song, and a leather suit embossed with crystals in the shape of flames for the Southern-revivalist track (obviously). At one point, his DJ takes a moment in the set to taunt Rock for his ever-changing styles and middle-aged softness, clicking through a slideshow of photos for demonstration. At various other points, Rock summons best friend Uncle Kracker not once but twice, and invites a backup singer to fill Sheryl Crow's spot for their 2001 ballad "Picture." And yes, the pole dancers of Rock's Pam Anderson-era yesteryear have returned, too.
But of all these colorful moments of contradictory glitz and grit, it is Rock's piano intro into his '99 hit "Cowboy" that was his most eyebrow-raising. While striking the keys in a bucket hat-fedora combo, he sings, "If anyone's going to protest tonight, they can protest these nuts." This prompts my row to start a modest and dim attempt at a "USA" chant. (And one single voice yelling "Trump!") Rock laughs and admits that it wasn't a nice thing to say and adds, "What a good fucking job the Detroit police did tonight, give it up for them."
He finishes his new take on an old intro and bursts into "Cowboy" which includes the chorus, "I can smell a pig from a mile away" — another example of Rock's confounding duality as both patriot and menace. (Like how he can both wave the Confederate flag while also criticizing national anthem kneelers.) A devil without a cause.
Before Rock departs and goes into his back-to-back encores, he takes a moment during night one to dish out some thank yous from a piece of paper, shouting out the "folks who built this place" — Olympia's owners, the Ilitch family; the "whole city of Detroit and its taxpayers for the investment in our great city"; and concluding, of course, with "all of you — the greatest rock 'n' roll fans in the world."
As we filter out into the streets, the Trump Unity Bridge — a mobile shrine to Trump, which has recently been amended to now feature Kid Rock's name — rolls by and fans riotously cheer. I stand still, for a moment, as I did earlier with the motorcycles, this time my hands over my face. It was all happening... or was it?
One down. Five to go.