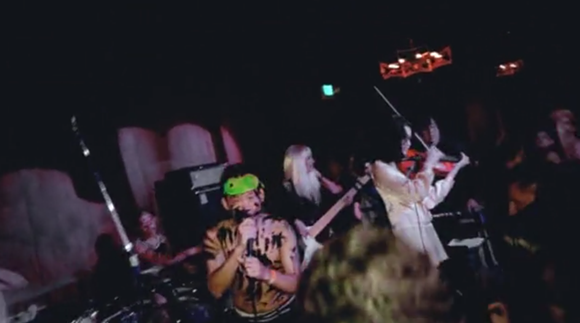 Famed artist and multi-millionaire David Choe will once again descend upon the city of Detroit this spring to perform with his band Mangchi, according to Choe's Twitter and Instagram accounts.
The last time Choe was in town, it was to host a segment for the HBO series
Vice
. In addition to reporting on the city's illicit scrap metal trade, the artist generated controversy when he hid $10,000 cash and encouraged Detroiters to search for the money scavenger-hunt style, via Twitter.
Choe originally appeared before cameras in the mini-series
Thumbs Up!
for fledgling internet channel VBS, in which he and his cousin Harry scrounged, squatted and hitchhiked across the United States. But he would receive international media attention in 2012, when the $60,000 in company stock he received in exchange for painting the Facebook offices was valued at an estimated $200 million.
The band Mangchi – which is Korean for "hammer" – is itself an outgrowth of the artist's podcast DVDASA, which he co-hosts with adult film star Asa Akira. The podcast has spawned a bizarre range of spin offs and side projects, including "Hong Dynasty," a sort of surrealist soap opera originally released as a series of 200+ Instagram posts.
Mangchi has been no less elaborate, perhaps owing to the rather extensive resources of its co-creator. Their music ranges from a sort of primitive hardcore, to noise, to hip hop, and has been accompanied by the release of several short films.
The 15 minute short released last month on YouTube (embedded above) documents the band's career so far, and features live footage (including a cameo from Ninja of Die Antwoord) interspersed with interviews, animation and ultra-stylized montage shots. Videos for "These Are My People" and "Mangchi Anthem" are similarly produced – sometimes reminiscent of Richard D. James – and often visually interesting, though they rely heavily on graphic violence and sexual imagery. Musically, they are, well…
Last weekend,
Choe posted on Instagram
that Mangchi would be embarking on an East Coast tour this spring, and were still looking for venues to perform in a handful of cities, including Detroit. When
Metro Times
exchanged messages with Choe's bandmate Dylan Fujioka, he said that Mangchi hope to perform on April 2nd of 2016.
Choe has instructed his followers to submit venue suggestions to Dylan
via Instagram
.