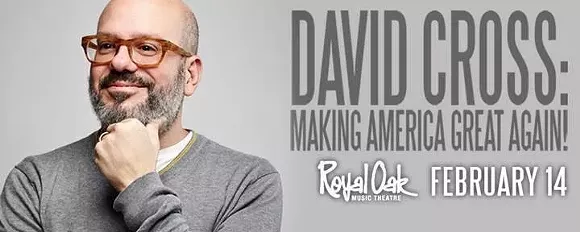 What could possible be more romantic than seeing David Cross do standup? If your answer is "almost anything else on this Earth or beyond," you're probably right. But that doesn't mean we don't love the acerbic comedian a lot — I mean hey, we were watching
Mr. Show
before anyone else, just the same as you. We bought Cross' first Sub Pop CD, man (back when we bought CDs) and were pleasantly surprised by
Mr. Show
's recent resuscitation in spirit, if not name.
Anyway, as he announced the other night on the Daily Show, this is called his 'Making America Great Again' tour, and he brings it to the Royal Oak Music Theatre on Sunday, Feb. 14, with tickets $34.99 in advance, $40 day of show. See you there!
Tickets go on sale this Friday, January 8 at 10 a.m. Here is a handy
link
with which to purchase them.