PANIC! AT THE DISCO THREATENS THE PALACE WITH A GOOD TIME
The Palace was at least three-quarters full by the time Saint Motel hit the stage at the Palace on Friday night, and they were nothing short of amazing. Featuring a stage setup that included a keyboard affixed to a television set, the band, sounding something like the union of New Orleans jazz and modern power pop, powered through a set of songs that all sounded like hits. They may have all been hits, and they all sounded like they could have had easy commercial placement, not because they were generic, they were just catchy. The group had an insanely synchronized accompanying video on the megatron featuring fifties in-flight boarding program videos and noir art, and out of the three bands who performed during the night, Saint Motel had the most intriguing stage setup. I had heard of them previously through one of my past Tinder matches, as she told me to check them out. The second opener, Misterwives, were also good, with the set sounding like a spaced-out Griswolds set, solid, although Saint Motel would've made a better, and more immediate, choice for direct support.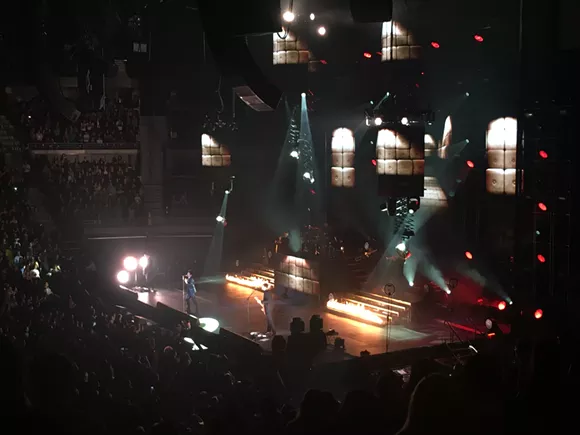 A countdown clock graced the screen at ten-to-nine, and fans erupted in the stadium, leading me to imagine what the noise level would be like once the band hit the stage. If this amount of hype was given while nothing was happening, I could only imagine the noise that would ensue, as the excitement was palpable. When the clock ran down, the band launched into the riff from B-52's "Rock Lobster," which is sampled in the leading track from Panic's new album,
Don't Threaten Me With A Good Time
. Urie jumped on stage in a slick gold lame overcoat and slicked back hair, looking like a reincarnated Elvis- seriously, this was some
'68 Comeback Special
stuff. Vocals started out crisp and choppy, soon evolving into something wholly unique and recognizable.
With Panic's stage setup obviously centering on the drummer, horns, particularly sax, trumpet and trombone, rounded out the sides of the drum set. For a seven-piece band, remarkably, the band was clearly able to replicate the sounds that Urie created in the studio with 2016's
Death Of A Bachelor
album, which was widely written and performed by Urie himself. Particularly with the group's older tunes, like "The Ballad Of Mona Lisa" and "Nine In The Afternoon," the crowd was excited, and easily so, these kids quite literally grown up with these tunes — anthems for the rejected and outcast.
Strangely, Panic's set included a cover of Billy Joel's "Movin' Out," which was as unique and straightforward as one would hope. Pulling some Taylor Swift-esque staging, Urie moved to the crowd onto a b-stage, consisting solely of a revolving piano. By this time, Urie had changed into a black overcoat, marking a change in the show's direction. Performing a song solely by himself on piano, Urie's vocals were strong and fascinating, leading me to hope for an album of pure piano ballads without any possible pop punk gimmicks. Walking through the crowd, Urie then launched into the title track from Panic's latest album,
Death Of A Bachelor
. While singing the verses, Urie was obviously humbled by the crowd, stopping to greet fans and take pictures in lieu of lyrics. On the tune "Crazy=Genius," drummer Dan Pawlovich launched into some Gene Krupa-esque beats, and through it, the swing tune jived.
Launching into the song "Girls/Girls/Boys," an anthem for the LGBTQ+ community, members of the crowd held up their phone lights, with gay icons being pictured behind the band on large screens. Immediately after the song, Urie stopped, obviously stunned by the fans in the crowd, asking an assistant to take a picture of the crowd from the stage. As featured on the recent Suicide Squad soundtrack, Urie held together a rousing rendition of"'Bohemian Rhapsody," and he could pull off every note. Why isn't Urie fronting Queen instead of Adam Lambert? This is definitely today's first world problem.
The band grouped together again to play, as Urie jokingly said, "a new song," which was, in fact, "I Write Sins Not Tragedies," perhaps the group's most well-known tune. It was a quick ride, and the excitement continued into the show closer "Victorious," featuring a red-tinted graphic sequence on the screens, fire on stage, and streamers and glitter being launched into the crowd. The stage experience was unique and exciting, and it certainly marks a positive change from Panic's previous stage shows.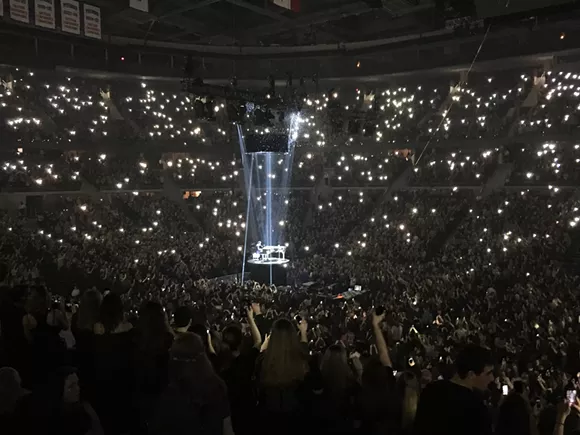 Though I previously saw Panic! At The Disco during their co-headlining tour with Weezer this past summer, it was certainly nice to see them pack in droves of fans for last night's sold out show at the Palace in Auburn Hills. Sure, I expected there to be droves of wide-eyed teenage fans, though I didn't expect such wide age range of fans at the show. Seeing middle-aged couples dancing along to these songs along with teens and tweens was heartwarming, and it only further shows the evolution that Panic has made, particularly from an emo-pop-punk career in the mid two-thousands to a more evolved, even operatic, career, strengthened by singer Brendon Urie's incredible vocal range and ability to shift from extreme falsetto to a steady tenor in record time, keeping the audience on their toes for the length of their invigorating set.