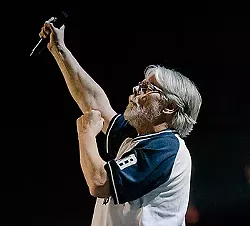 Bob Seger & the Silver Bullet Band
Dow Event Center, Saginaw
Tuesday, March 29, 2011
Saginaw was originally supposed to be the opening show of Bob Seger's current, relatively whim-of-the-moment tour, which concludes with three shows at the Palace in mid-May. A Toledo show was then added three days earlier, due to scheduling conflicts with the arena — but several people who attended both shows say that Toledo was more like a "dress rehearsal" in comparison. So let's just consider Saginaw the legitimate opening night. After all, as close as Toledo might be to the border, it's not Michigan. And the Saginaw concert took place less than a mile from the GM plant. Which is fitting because though the emphasis has been more on the punk-roots influences in recent years in most discussions of Michigan rock, Bob Seger remains about as Detroit as they come.
And even though it became annoying in the mid-to-late '70s when damn near every other song on Michigan FM radio was a future Bob Seger classic, for those of us who grew up in Michigan, that music is now part of our DNA. One can't escape or deny it. And at this point in history, just when this reviewer was convinced that he could live without hearing, say, "Old Time Rock 'n Roll" or "Rock 'n Roll Never Forgets" ever again — thanks to their ubiquitous role in popular culture and being played by damn near every mediocre cover band in America for decades now (that's not necessarily an insult; one could say the same about never wanting to hear "Louie, Louie" or "Twist & Shout" ever again as well) — Bob's live renditions, coupled with the reaction of the 6500 people in the auditorium, was a minor revelation. They both rocked in this environment. But as much of a revelation as they were, it was still no match for "Night Moves," the first song of his final two-song encore, which — thanks to Bob's poignant delivery, on a stool with acoustic guitar, backed by his stellar Silver Bullet Band (which includes Grand Funk drummer and rock-star-in-his-own-right Don Brewer as well as longtime saxophonist Alto Reed and which has been augmented to 14 members via three female backing vocalists and the four-piece Motor City Horns) — was enough to give you goose bumps, if not tears in your eyes. During the song's final break, the audience roared for what seemed like five minutes, reveling in the sadly beautiful glory and relevance of nostalgia now turned reality, before the singer could finish the song.
It's interesting in retrospect that Seger was exploring the theme of aging already when he was still a relatively young man. All three of those aforementioned songs are about that universal situation, after all; "Sweet 16 has turned 65," he joked during "Rock 'n' Roll Never Forgets." Once upon a time, when the song was new, 31 was thought of as old in rock 'n' roll terms. And one of rock 'n' roll's longest-running questions is: Can one grow old gracefully in the genre? (This reviewer saw Muddy Waters only months before he died, so that was answered for me long ago — but the question remains.) Of course, Sex Pistol Steve Jones has argued that one must be at least 45 to be able to play real rock 'n' roll these days because an entire generation or more virtually grew up without it. I wouldn't take it that far (ladies and gentlemen, I give you the Jim Jones Revue!). But after experiencing the Saginaw show, a case could be made for Seger as one of the most gracefully aging rock stars around. The guy doesn't embarrass himself by dying his hair. He has more of a visible paunch than he did back in the day. So what? So do most of us ... and so probably will you if you have the privilege of growing older. He doesn't care — and that's about as rock 'n' roll as you can get! It's also all part of the innate charm (especially since, to these ears, the voice hasn't let him down one iota), as is the totally unassuming way that he takes the stage, along with the rest of his band — most stars of his stature need to make their entrance — which all is as Detroit and as Michigan, as Midwestern and as working class (kudos to Bob, btw, for not charging more than $70 a ticket for this show) as the Detroit Tigers shirt he wore on his back for the first set, with Harley Davidson making an appearance for the second.
As for the music, it was a mixture of what you might expect. He didn't go back to the real early days, beyond a rousing "Ramblin' Gamblin' Man" and he threw in a cut, "Gets You Pumpin'," from the recent Early Seger, Volume 1 compilation. A cover of Chuck Berry's "You Never Can Tell" and, of course, Ike & Tina's "Nutbush City Limits." A number of obscurities, including the first-ever performance — he didn't do it in Toledo — of "Shinin' Brightly," and the band did exactly that. In a word, magnificent. But even those '70s classics are "the real early days" at this point, and as suggested above regarding "Night Moves," the ballads, including "Mainstreet," "Turn the Page" and the "Travelin' Man"/"Beautiful Loser" duo, have all taken on new found beauty with age. But it was the rockers, especially "Betty Lou's Gettin' Out Tonight," the also more-amazing-sounding-than-ever "Hollywood Nights" and the closing "Katmandu," that proved that these dudes, beyond a shadow of doubt, can still ... well, rock.
First time I was in the Saginaw Civic Center (much like Pine Knob, I refuse to refer to it as Dow; it's a little disconcerting to see a rock 'n' roll show in a building hosted by the manufacturers of napalm, after all), not long after it opened, it was for a multi-bill featuring the MC5, Detroit with Mitch Ryder, and Chuck Berry backed by Bob Baldori & the Woolies. The last time I was there, prior to this show, it was for one of Elvis Presley's final concerts. Bob's show leaned closer to the former, but I couldn't help thinking, being back in that arena, that Bob is now almost 24 years older than the King was at the time of his death — and yet is so much more vital at this point in his career. Actually, the last time this critic saw Seger perform was in the late '70s — and this show seemed much more entertaining. At least it made me appreciate him in a whole new light. Bob was obviously having fun and the audience followed suit. He may be a gray-beard rocker — but he's our unapologetic gray-beard rocker, God bless him.
Bob Seger & the Silver Bullet Band appear May 17, 19 and 21 at the Palace of Auburn Hills. Tickets are available for all three shows.