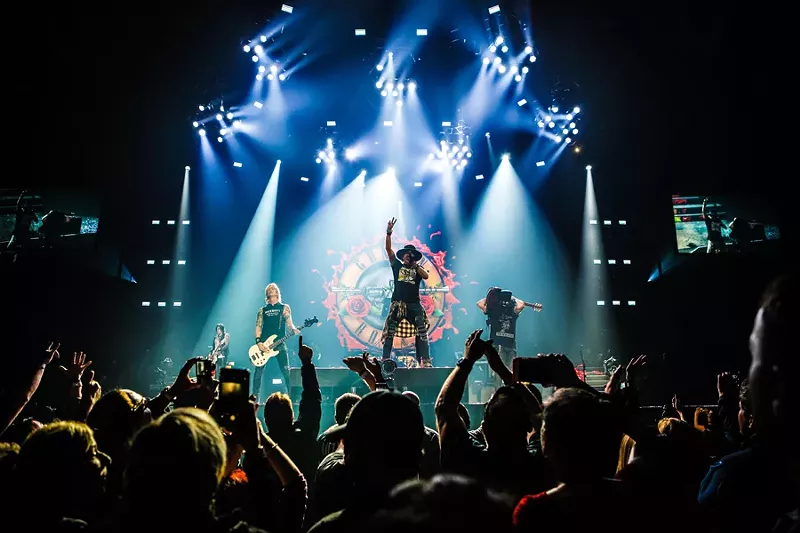 Leave it to an alt-weekly to show up late to a Guns N' Roses show. In that way we are more GNR than GNR. But we weren't alone. A band known for tardiness and unpredictability showed up on time last night to Little Caesars Arena and, as suggested by the scores of empty seats as late as five songs deep into their set, it was clear that we were not going to get the GNR we've come to expect. At least they showed up. At the very least.
As they near the end of their multi-leg, 180-show "Not In This Lifetime... Tour," GNR performed as if they have something to prove. Not to us, but to themselves — which made us wonder if perhaps these gregarious rockers have an appetite for collapse. The boys from Paradise City are in need of a break. And we can't say that we blame them.
As before, GNR delivered a nearly 3.5 hour set (an hour longer than their tour kickoff show at Ford Field last year) that was padded with covers (7 in total, not including their beloved rendition of Dylan's "Knockin' On Heaven's Door") as they stumbled to find their stride. It wasn't until halfway through 1991's
Use Your Illusion II
protest anthem "Civl War" that ushered in a more unified GNR, who struggled to appear as willing compatriots.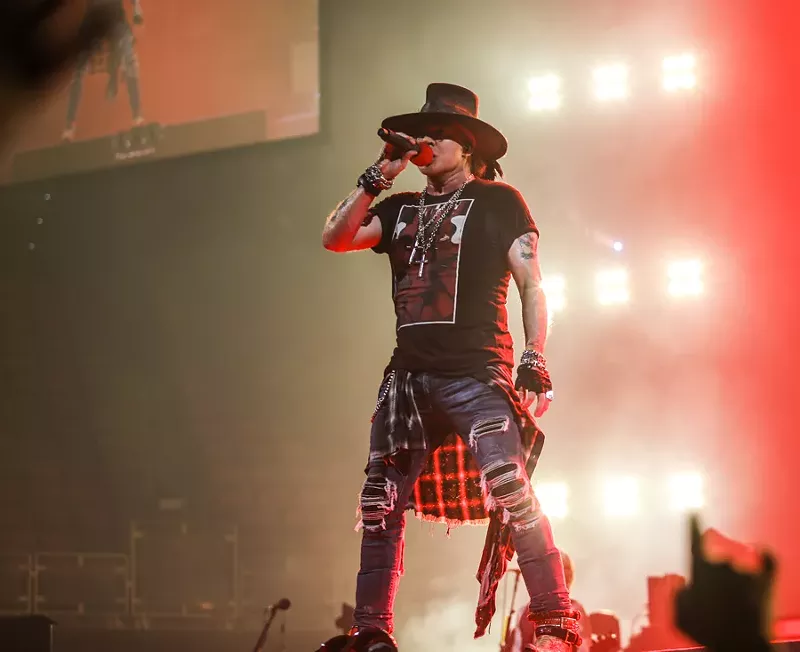 An over-accessorized Axl Rose (looking like your ex-husband who went nuts at a pawn shop jewelry counter) proved, though, that he is a man of many hats (seriously, the guy loves hats), diving fearlessly into GNR's ambitious back catalogue while channeling, to the best of his abilities, the slinky, high-energy Rose of yesteryear.
Considering the seemingly self-indulgent lengthiness of their performance, it still felt as though there was a lot of space to fill. They felt small on stage, not in size but in presence. This was a far cry from the GNR we saw last year. The absence of anticipation and and magic of last year's Ford Field blowout tour launch that reunited Rose, bassist Duff McKagan, and guitar master Slash after a very turbulent 23 years was palatable last night. But to their credit, their cautious adjustments, spacing, and countless Slash and Duff solos allowed for Rose to release his explosive octave acrobatics on bangers like "My Michelle," "Nightrain," and tapping into his deeper, velvet tones for encore ballad "Patience."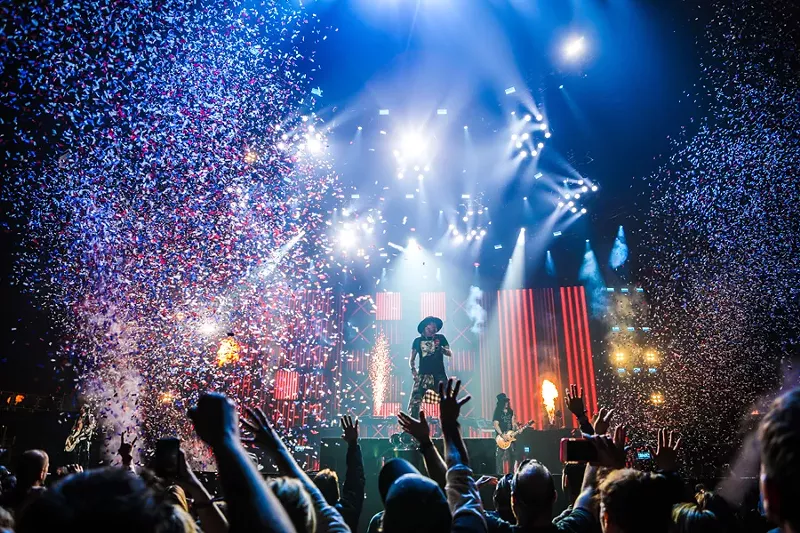 Of course, hearing the opening guitar chords to "Sweet Child O' Mine" still gives goosebumps and will forever make us feel younger than we felt when we were actually young (no matter how old we really are). Criticism aside, we can't help but applaud Guns N' Roses' rattling legacy that has time and time again given us an all-access pass to a jungle where the term "rock 'n' roll" surpasses a description of sound, but encompasses a way of life. Even if you have to coast a little to get there, GNR proves that it's worth the ride.