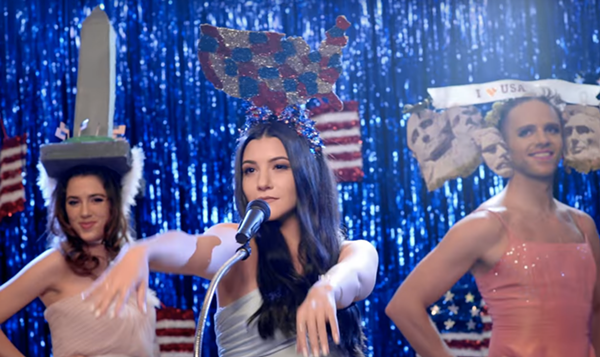 It's been a quiet three years since we last heard from musician and metro Detroit native Alex Winston. Now based in Los Angeles and working independently, Winston's foray back into the spotlight has come in the form of a break-up pop song and an incredibly clever tribute to Drop Dead Gorgeous — the 1999 cult-indie mockumentary centered around a Midwestern town and a doomed beauty pageant.

Winston premiered the video for her latest single, "Tourist," via Billboard on Wednesday. In it, she takes the role of the film's star, Kirsten Dunst and her ambitious mortuary cosmetologist character Amber Atkins as she parades around suburban L.A. with a tape deck before hitting the pageant stage with her competition.

"I was excited to combine my two favorite things: Drop Dead Gorgeous, and driving around Santa Clarita in the back of a pickup truck for 8 hours," Winston told Billboard.

As a nod to the delightfully droll and offbeat patriotic musical number from the film — "My Land is Your Land" during which each contestant explains the reasoning behind their favorite U.S. monument — Winston sports her own red, white, and blue tribute atop her head while calling out a cheating, indecisive lover with "shitty tattoos."

You can check out Winston's star-spangled DTMFA anthem below:

Stay on top of Detroit news and views. Sign up for our weekly issue
newsletter
delivered each Wednesday.