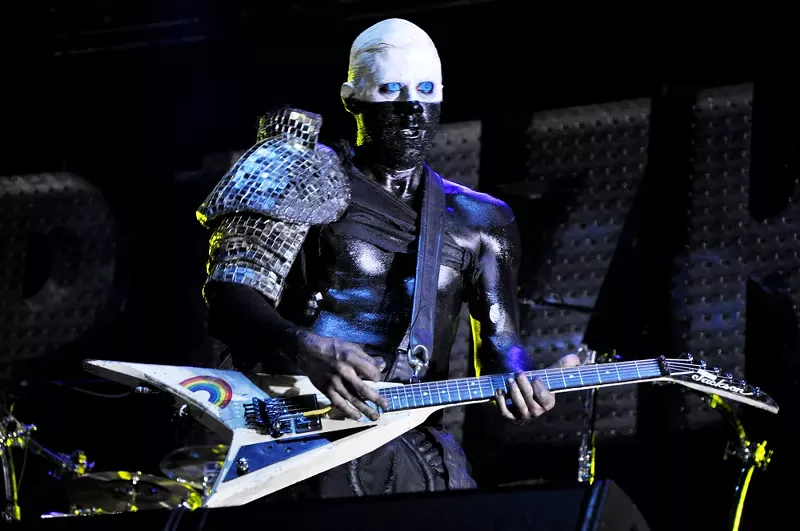 Limp Bizkit guitarist Wes Borland is suing his ex-wife for defamation in Detroit's Third Judicial Circuit Court following what he says are disparaging comments she made about him in the press, a violation of their divorce terms.
In the filing, first reported by Rolling Stone, Borland accused Carré Callaway, frontwoman of indie rock band Queen Kwong, of breaching the terms of their 2020 divorce agreement, which states that "neither party may make speeches, give interviews, or make public statements that defame the other party."
In an interview published by Bandcamp Daily last year, Callaway claimed Borland gave her only three days to leave their home in Detroit's Arden Park-East Boston Historic District, adjacent to the city's Boston-Edison neighborhood. The former couple moved to Detroit from Los Angeles in 2015 to renovate the home for a DIY Network TV show called Sight Unseen.
Callaway told Bandcamp Daily that she and Borland had "rescued and adopted out a couple hundred cats" in the home. But the marriage dissolved, and just weeks after Callaway had been diagnosed with the life-threatening disease cystic fibrosis, she claimed she was given just three days to move out and find new homes for the cats.
"We had seven or eight cats of our own, and when everything fell apart, one thing that made me realize things were really over was his desire to not only get rid of me, but the cats too. There was a disabled one called Daisy. She died a week after he left because he was the only one who could care for her. That's the hardest thing to get over, honestly," she said, adding, "I still have nightmares about it."
According to Borland's filing, "These statements intentionally do what Ms. Callaway was expressly prohibited from doing: They adversely affect Mr. Borland's public image and reputation that he has built over a twenty-plus–year career" and are an attempt at "destroying Mr. Borland's extraordinary and hard-earned professional reputation."
Borland is asking for $5,000 for "costs and attorney fees" and for the court to sanction Callaway. In a statement, Callaway told Rolling Stone that "The TRUTH CANNOT BE DEFAMATORY," and adds, "This action is simply a tactic to bully, intimidate, and silence me. This is an attempt to financially ruin me, exhaust my physical well-being and denigrate my credibility with the explicit intent of causing harm to my career. This is an overall attack on freedom of speech and artistic expression."
Borland's attorney B. Andrew Rifkin told Rolling Stone, "Mr. Borland wishes Ms. Callaway the best in her career. He does not wish to limit her artistic expression, but as part of their divorce settlement, both parties agreed to keep their opinions about their divorce private and refrain from making negative public comments about the other party."
The couple married in October 2016 and filed for divorce in January 2019. Borland listed the home for sale for $899,900 in 2020. They purchased the home, originally built in 1924, five years earlier for $500,000.
Known for wearing outlandish costumes while performing in Limp Bizkit, Borland also played guitar in a touring version of Queen Kwong.
Coming soon: Metro Times Daily newsletter. We'll send you a handful of interesting Detroit stories every morning. Subscribe now to not miss a thing.

Follow us: Google News | NewsBreak | Reddit | Instagram | Facebook | Twitter