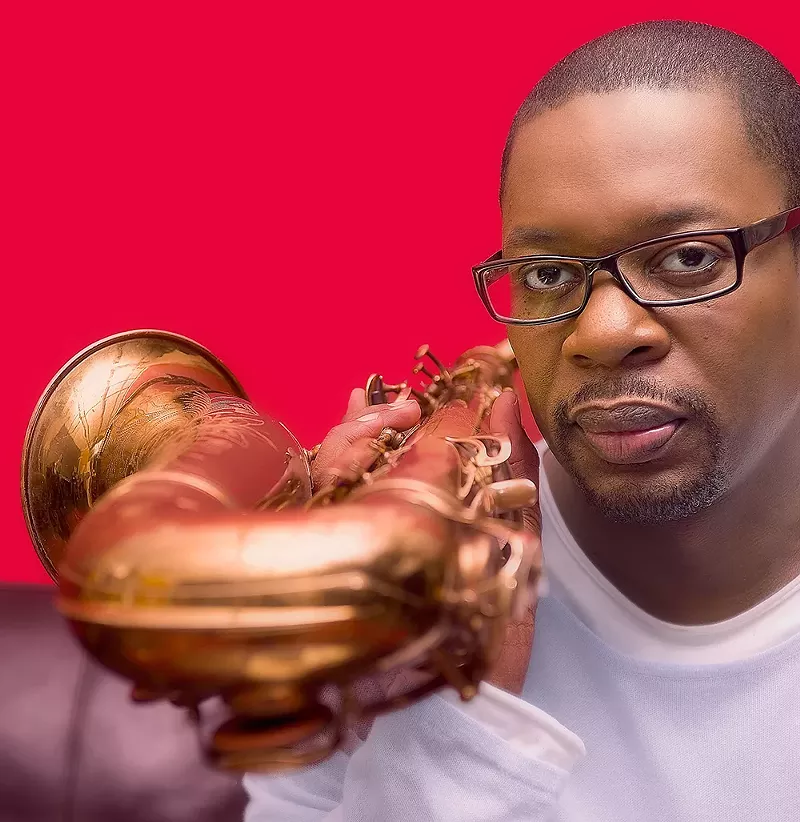 Cosmic music: Grammy-winning saxophonist and bandleader Ravi Coltrane returns to Detroit on Sunday, Jan. 22, playing tribute to the spiritual, singular music of his late parents John and Alice Coltrane. It's particularly special when Coltrane plays in the Motor City, his mother's birthplace where her love for music blossomed early on. During his last performance at the 2018 Detroit Jazz Festival, Ravi Coltrane's Universal Consciousness served up modern interpretations of Alice's timeless compositions to a packed crowd, undeterred by the impending rain in the heart of downtown. When Alice took a 26-year hiatus from recording, it was Ravi who encouraged her to start up again, and accompanied her on the 2004 triumph Translinear Light. A virtuosic composer and horn player in his own right, the audience will be sure to feel the full mythical might of the Coltrane name in Orchestra Hall. This show is also a double bill with Thana Alexander, a jazz vocalist with tinges of world music and contemporary soul. Tickets are available via dso.org.
Dust off your chainmail: In the seemingly never-ending list of metal, punk and hardcore (and everything in between) acts, metro Detroit serves up some of the hardest hitting bands around. Baazlvaat is descending upon Lager House this weekend, touching down from their hometown of Flint, bringing some of the most unique black metal our ears have heard in a while. Fans of the genre will enjoy the usual hard-hitting tropes, mixed with some psychedelic and more straight up hard rock licks. The show is Saturday, Jan. 21, and a rare chance to see this band locally if you don't want to trek up I-75 anytime soon. Also on the bill is dungeon synth act Cloister Shadows, playing in a genre that has been gaining momentum in recent years in the DIY alt-metal space. We're not aware of too many dungeon synth acts in Detroit (send us tips!), so this is a great opportunity to experience it live and maybe sport that chainmail hood you've been meaning to break out. Blood Castle (metal, doom gaze) and AtWater (alt) are also playing. Tickets available at the door or via thelagerhouse.com.
Rockin at The 'Lex: The Lexington opened its doors in the Woodbridge neighborhood in 2020, and since then they've quietly hosted some pretty great local music shows despite a website that has no mention of them. It's kind of a cool "ask around" aesthetic, with shows mainly being promoted by bands on their own social media channels, and the one coming up on Jan. 27 with Dear Darkness, Milk Bath, and Hail Alien might be a great chance to check it out if you haven't already. Dear Darkness is the self proclaimed "sexiest band in Detroit 2014-current," Milk Bath is a Hamtramck staple that has played with bands such as Protomartyr among others, and Hail Alien is "LOUD, BASEMENT, CHUNK ROCK." Sounds like a winner to us.
Orange you glad for SPKR BOX: On Thursday, Jan. 19, a host of Detroit's local standouts in dance music will take over coffee-shop-slash-dance-club-slash-whatever SPKR BOX for a night of movin', groovin', and espresso-based cocktails. Blueprint's own AK is sure to bring the high-tempo energy, and JEM just might join in unless she decides to slow it down for some woozy, atmospheric jams. Techno and House Research Group's Jeff Garcia might just smash the dance floor with an onslaught of italo, or maybe he'll dig into his own crate for his releases with Ceramic, and fellow THRG member Carl Bottles will likely play his copy of "Throw Some D's" by Rich Boy on vinyl. 5th Dimension Detroit's fearless leader RIRKIN is a bit of a wildcard, having down sets that range from pounding techno to groovy house a la Derrick Carter, but either way this power-combo of a party is sure to be a pleasant, wholesome gathering.
Got a local music tip? Hit us up at [email protected]!
Coming soon: Metro Times Daily newsletter. We'll send you a handful of interesting Detroit stories every morning. Subscribe now to not miss a thing.

Follow us: Google News | NewsBreak | Reddit | Instagram | Facebook | Twitter