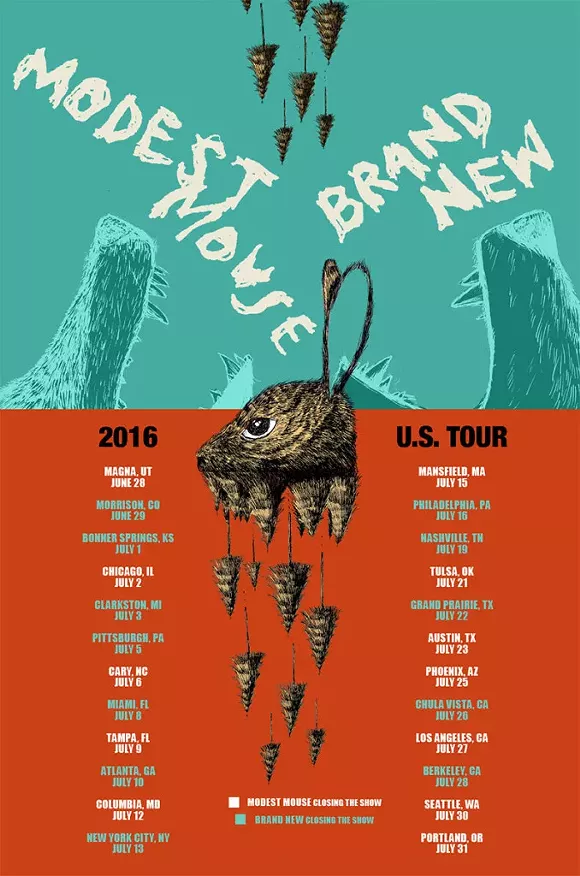 Modest Mouse and Brand New will perform in Clarkston, MI at DTE on July 3. Presale tickets are available right now over at
fightoffyourdemons.com
, with general sale for all shows going live on Friday, January 29.
The bands are swapping who gets to open and who gets to close each night; Modest Mouse is the opener for the DTE show, which is surely a plus for M.M. fans, as it means they can bail early and beat the lengthy traffic jams that accompany the end of a show there. Brand New Fans might hope that this does happen, as that wil mean more of their favorite band for them, and an easier exit. And, to follow my impeccable logic to its conclusion, fans of both bands will just be super excited because they get to see two full shows by two of their favorite indie-rock bands. Can you tell I was never o the debate team? It's true.

Critically acclaimed rock bands Brand New and Modest Mouse have announced plans for a co-headlining tour throughout the U.S. this summer. The tour offers fans an immersive, unique experience with no opening acts and both bands performing full headlining sets. It also marks the first time Brand New and Modest Mouse have toured together, having previously performed at Brewery Ommegang in Cooperstown, NY, and Forest Hills Stadium in Queens, NY.