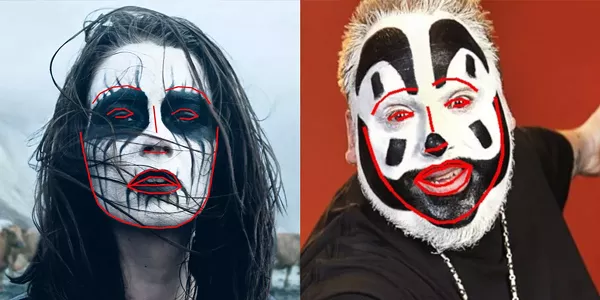 The Juggalos — those jolly fans of the Detroit rap duo Insane Clown Posse —
have taken great pains
to insist they are not a criminal gang. However, it appears that their signature clown makeup can have an unintended effect of allowing them to fly under the radar, so to speak, by thwarting facial recognition technology.
The discovery was made by Twitter user Takhion, a tech blogger for
WonderHowTo
, who posted his findings on Saturday. "If you want to avoid surveillance, become a Juggalo I guess," he wrote.
i made a breakthrough. it turns out juggalo makeup defeats facial recognition successfully. if you want to avoid surveillance, become a juggalo i guess pic.twitter.com/kEh7fUQeXq

— TAHKION (@tahkion) July 1, 2018
Tahkion
found that the clown makeup could trick the facial recognition software depending on how it is applied. For example,
Tahkion
shows how actress Thora Bjorg Helga's jawline is discernable even after applying black metal makeup in the Icelandic film
Metalhead
. However, Juggalos Violent J and Shaggy 2 Dope of ICP black out their faces above the chin but below the mouth, creating a false jawline that confuses the technology.
for anyone wondering why some face changes evade facial recognition and others don't, here's a visualization of how landmarks are placed on a few examples. juggalo makeup is particularly effective as it basically totally redefines what is interpreted as the jawline pic.twitter.com/dFSx5FEGc9

— TAHKION (@tahkion) July 1, 2018
Of course, as Tahkion points out, if a Juggalo really wanted to avoid recognition, they would have to apply their makeup differently each time.
because the makeup and no makeup pictures are so different, even if you had a picture with the makeup it would only match when the makeup is done in the same way. it would also only be linked to the no makeup photo if done manually by a human

— TAHKION (@tahkion) July 2, 2018
ICP insists their fans are not a gang. In 2014, the group
filed a lawsuit
with the ACLU against the United States Department of Justice and the FBI after the DOJ identified Juggalos as a "loosely organized hybrid gang" in its 2011 National Gang Threat Assessment. Last year, an appeals court
dismissed the suit
, though the ACLU
encourages Juggalos to sue
local police over individual cases of discrimination.
Stay on top of Detroit news and views. Sign up for our weekly issue newsletter delivered each Wednesday.