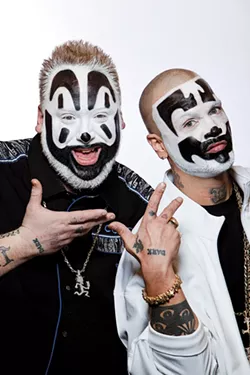 Self described 'Masters of our craft!", Insane Clown Posse talks to VICE about their Canada tour, being classified by the FBI as a "loosely organized hybrid gang", and "bubble-ating" in the underground music scene.
The video seems to be geo-locked out of the US
, but we got you, video linked below.
VICE follows ICP as they make their way to Canada, having been 16 years since the duo last visited our northern brethren, due to issues with their criminal records. That seems to be resolved, for the moment at least, as they were able to bring their dark carnival across the border.
The video is packed with Juggalos spreading love for ICP, Shaggy 2 Dope and Violent J talking how their music won't ever be mainstream, their beef with the FBI, and plenty of concert footage.