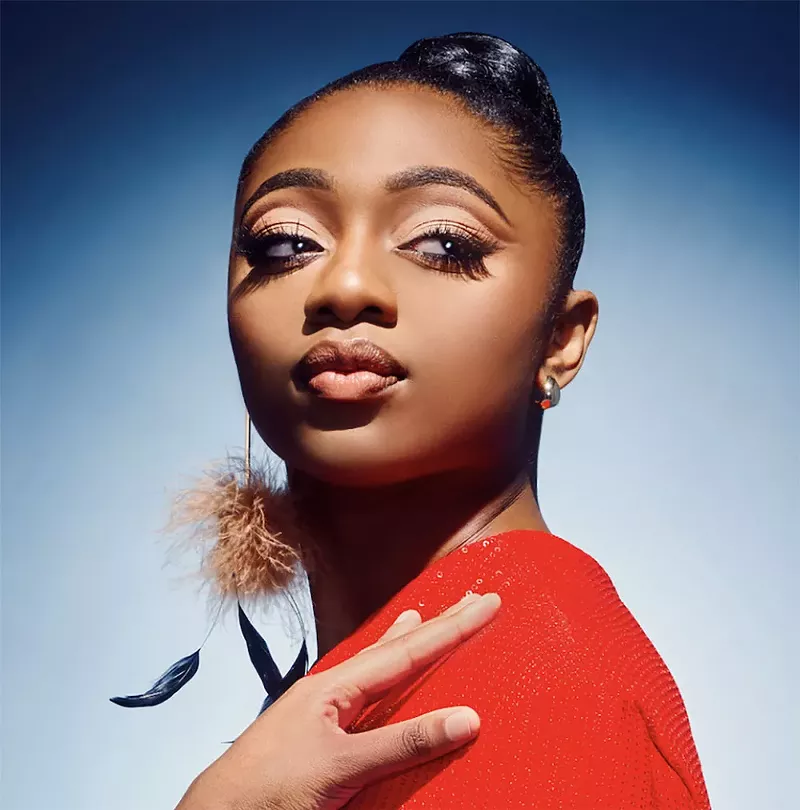 Last month, Bronx-born 23-year-old jazz singer Samara Joy won Grammy Awards for Best New Artist and Best Vocal Jazz Album — thanks to her 2022 release Linger Awhile, which has earned her comparisons to the greats like Ella Fitzgerald, Billie Holiday, and Sarah Vaughan. And this month, there are two opportunities to catch the talented young singer perform intimate concerts inside churches in metro Detroit.
Joy will headline Cranbrook Project's annual Sacred Jazz Concert series, with the first show at 7 p.m. on Friday, March 24 at Christ Church Cranbrook (470 Church Rd., Bloomfield Hills) and a second date at 7 p.m. on Saturday, March 25 at Hartford Memorial Baptist Church (18700 James Couzens Fwy., Detroit). Tickets for the concerts start at $25, and Detroit all-women jazz group Musique Noire will open both nights.
Kisma Jordan, project manager of the Cranbrook Project, calls Joy "an amazing once-in-a-generation voice" and says the organization "is excited to just be able to present her in such a glorious moment in her career." In recent months, Joy has performed on national television on The Late Show with Stephen Colbert and The Kelly Clarkston Show.
Jordan adds, "Her life is going to be changed forever."
It's unusual these days for the Grammy Awards to give such high honors to a traditional jazz artist. The gravity of the accomplishment was not lost on Joy, who is seen in a viral video bursting in tears, running a victory lap, and doing a celebration dance after she found out she was nominated on a train ride home.
The concerts, Jordan says, were fortuitously booked before Joy won the awards. Jordan reached out to Joy Concert after she performed in Detroit last year at the DSO's CUBE at the Max M. and Marjorie S. Fisher Music Center.
"It was just us getting in at an opportune moment," Jordan says. "And it was really just to present good, gifted artists, just good music, and a quality experience."
It's the first time the Cranbrook Project has partnered with Detroit's Hartford Memorial Baptist Church for a performance. The Cranbrook Project was incorporated as a nonprofit in 2019 and funded through a grant from the Erb Family Foundation. Jordan says the church is a perfect venue for the Cranbrook Project to partner with for events.
"The mission is to bridge cities and suburbs — it's a simple thing — through arts programming," Jordan tells Metro Times.
So far, the Cranbrook Project's music programming has largely centered around jazz at Christ Church Cranbrook. Aside from the Sacred Jazz Concert, it also organizes the annual Cranbrook Christmas Jazz event.
The Cranbrook Project has partnered with other entities in Detroit, but Jordan says people should expect more music programming at Hartford Memorial Baptist Church, as well as an expansion into other communities like Pontiac.
"Detroit and Pontiac, they're predominantly Black, and you know, the suburban areas around them are predominantly white," Jordan says. "[We're] just trying to move through some of the demographic barriers that in our world have kind of seeped into our subjective experiences, and we all kind of become nestled in our own little communities, our own little worlds."
She adds, "Part of what we're trying to do is make things as accessible as possible."
Jordan is a native Detroiter and a classically trained opera singer, which she says drives her goal of linked the city and its suburbs.
"If you want to get into Detroit, sometimes you have to have somebody from Detroit," she says of her role. "It's a very unique town, and you have to know how to navigate it so that Detroiters see you and they believe in what you're committed to. People come here, and they want to benefit from Detroit, but they don't necessarily sew into Detroit, and I think that matters. I see the Cranbrook Project has an opportunity to do that and to plant seeds that can last for a very long time."
She says the Cranbrook Project programming has so far centered around jazz — and churches — because of its spiritual element.
"Jazz is a place where I think everyone can come together," she says. "It's just something about jazz music that sounds like a centering or grounding, a beginning."
However, she adds, "It doesn't necessarily have to be just the church, but the church is a rallying spot. And so you start there."
Jordan says she hopes to expand programming into other genres like classical music or folk, and other types of events like panel discussions. And ticket sales from the Sacred Jazz Concerts will go toward expanding a summer arts youth camp for kids in the metro Detroit area, she says.
She hopes that by building bridges, the Cranbrook Project can also expand minds.
"When you're talking about building community, we should be more diverse, we should push ourselves to increase our cultural experiences," she says. "Because ultimately, what that helps us do is it helps us see the world beyond our subjective, beyond just what we know and understand. We get to see what other people know, what other people understand, and that makes us become a better versions of ourselves, whether we know it or not."
Coming soon: Metro Times Daily newsletter. We'll send you a handful of interesting Detroit stories every morning. Subscribe now to not miss a thing.

Follow us: Google News | NewsBreak | Reddit | Instagram | Facebook | Twitter