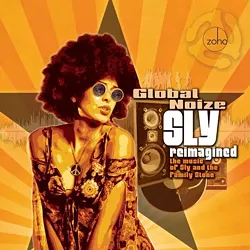 While this is not the first album to celebrate the music of late 1960s power hitters Sly and the Family Stone, it may be one of the best. It has all the right ingredients, with a stellar group of 17 instrumentalists and nine vocalists, as well as a veteran producer, Jason Miles, who's worked with everybody from Miles Davis to Michael Jackson to Aretha Franklin.
Big names also grace this release, with contributions from Roberta Flack, Labelle's Nona Hendryx, jazz saxophonist Jeff Coffin, DJ Logic, Mocean Worker's Adam Dorn — and original Family Stone drummer Greg Errico, among others.
Formed in 2008 by keyboardist Jason Miles and DJ Logic, Global Noize combines world dance music and jazz. "Sly Reimagined" is the band's third release, to date. As its name suggests, Global Noize takes a worldly, border-free approach to contemporary music, drawing on many cultures and styles while maintaining a cohesive sound. Its arrangements on Sly use elements of jazz, blues, soul, funk, electronic and world music.
The diverse makeup of the Sly Reimagined band is what makes the album a perfect environment for the Family Stone's music. Each track features a different group of musicians as they successfully take music from the 1960s and put it into a 2013 timeframe. Nona Hendryx's deep, rich voice on "In Time" provides a strong opening to the album.
With "It's a Family Affair," Roberta Flack's subdued, muffled tone perfectly fits the laid-back groove this song is famous for. This new arrangement also incorporates the Indian vocal styling of Falu — her voice almost curling around the notes with ornamental figures adding an exotic tone.
The album is enjoyable from start to finish. It stays true to the original Family Stone material but respectfully carries the music into the future, perhaps where it's been all along.