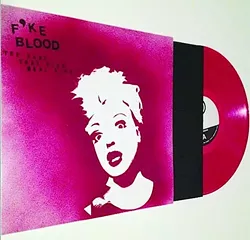 We're listening to F'ke Blood's debut full-length on the actual 66th anniversary of the Roswell, N.M., UFO sighting.
F'ke Blood's surfy, punk pop sound has the cool yet unsettling, aggressive yet groovy style of a classic cult-exploitation movie; jutting an elbow to the gut of rock music with the band's messy melodies, rubbery guitar jangles and yowling, keyed-up vocals.
Their quick cuts are gnarly, sometimes atonal, but beat a bracing kind of boogie. Displayed here is a raw, almost-punk style.
Yes, there are moments you can dance to a tune, but they quickly steer the spaceship off into more confrontational soundscapes, spazzing out with frenetic, cryptic and esoteric lyrics.