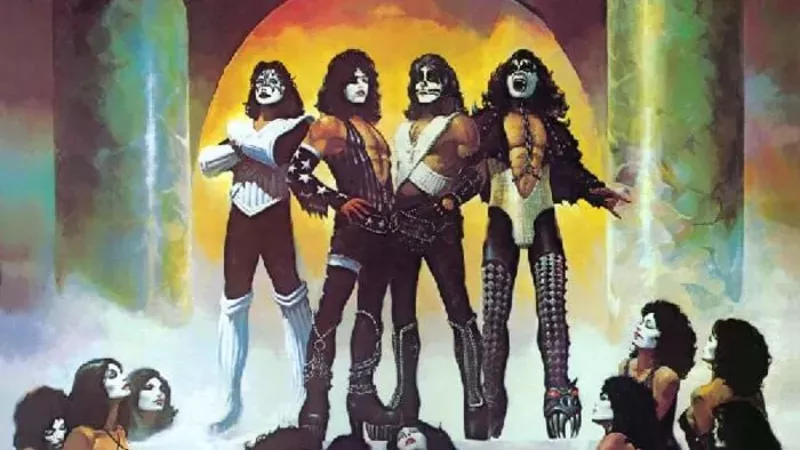 On Jan. 20 and 21, 1978, KISS performed at Detroit's Olympia Stadium. It's probably not the band's most fabled performance in the Motor City — that honor probably goes to the May 16, 1975 show at Cobo Arena, immortalized in a photograph on the back of
KISS Alive
of Bruce Redoute and Lee Neaves holding up their homemade KISS banner.
Who knows what it was that made KISS inspire a literal "army" of fans in Detroit. Was it
our insane love of all things Halloween
? Was it our love of what occupies the intersection of hard-rockin' and horror? Whatever it was, the band sensed it, and not only put out "Detroit Rock City" the next year, but scheduled a three-night stand at Cobo Arena Jan. 25-27, 1976.
As
MT writers have noted
, in Detroit, "KISS, collectively, are past, present and future rock gods." Even Paul Stanley said, "Detroit took us to their bosoms like that. ... It's one of my favorite places."
In 1978, with a two-night gig at Olympia, it was a slightly smaller engagement.
The setlist for Jan. 20
included such songs as "Love Gun," "Shout it Out Loud," and "Rock and Roll All Nite." The three-song encore included the by-now-obligatory "Detroit Rock City" and "Beth."
Not only did the band's work inspire a great deal of worship, they also inspired more than one bizarre Serene Dominic story in
MT
, such as a 2005 whopper comparing KISS frontman Gene Simmons to rapper 50 Cent.
That said, the greatest quote from Gene Simmons to ever appear in
MT
comes courtesy Serena Donadoni.
She quoted the rock mutant as saying
, "Somebody's always trying to figure out what KISS means. ... We are probably everybody's worst nightmare because we don't care. We're probably more like cockroaches, you know? We're going to outlive you all."