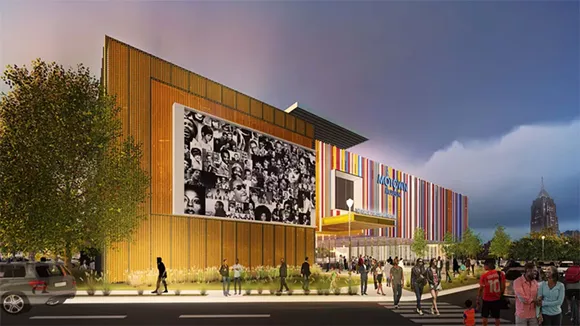 Ford Motor Company and UAW-Ford have been announced today as the lead donors in the Motown Museum's
recently announced $50 million expansion
, according to
a press release
.
The groups will invest $6 million to fund a planned Ford Motor Company Theater. From the looks of the attached architectural rendering, the modern facility will liven up the otherwise sleepy block on West Grand Boulevard that is home to Hitsville U.S.A., Motown's historic original headquarters.
The press release notes that the facility will feature educational and community programming. With the
recent addition of Marble Bar
to the block — a former leather daddy bar that now books eclectic live music acts — it could make for the nucleus of a new music and arts district in Detroit.
In addition, the release says the funding will also go toward "the CARaoke Experience" ... "in which visitors take part in an interactive Ford-branded activity that incorporates music with Ford vehicles." We're not really sure what that means, but the press release also notes that Ford "will be official vehicle of Motown Museum." Corporate synergy.
The project would increase the museum's footprint to 50,000 square feet, and include new interactive exhibits, recording studios, and retail. It should be completed in 2018.