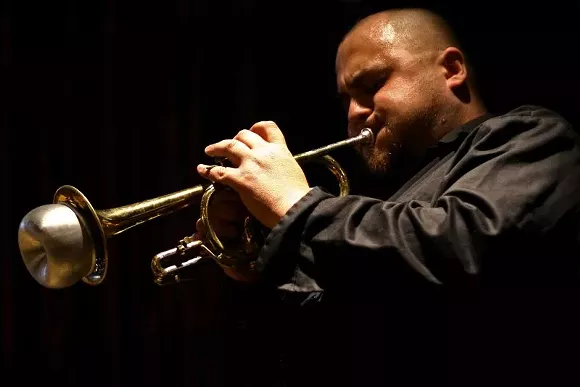 Since the next
Radical Sounds Detroit event, going down at Spread Art this Saturday evening
, Nov. 19, looks pretty great, we checked in with organizer James Cornish for more on this installment. Doors are at 8 p.m., and it costs $5-10, sliding scale style.
"Radical Sounds Detroit is a three-year running experimental music series curated by myself," Cornish says. "It is a no-budget experiment that places dedicated radical musicians in often unusual configurations, concepts or parameters. Whereas funded, academically affiliated "new music" tends to be monochromatic in demographic and temperament, Radical Sounds is root level experimentalism in its most diverse forms. Approximately half of the performers are female, and an emphasis is placed on artistic discretion."
Radical Sounds Detroit gives space to the radically different, the genre-defying and the always challenging hues of creative musical artistry. It is the aim of Radical Sounds Detroit to nurture experimental music in the city of Detroit.

The lineup for Radical Sounds Detroit FA16:

Abby Alwin/Danielle Etienne: Sophisticated multi-hued cellist pairs up with experimental poet.
Danielle has recieved numerous private and public grants, scholarships and fellowships including the prestigous the Loughead-Eldridge Award. Her writing has been featured in Wayne Literary Review, Hobart Print, Dogzplot Magazine, Specter Magazine, Revolution John, and Honeysuckle Magazine.
Her book - Straight To Hell and Astrology - was released in February by Dogzplot Press. She is currently working on a collection of manufactured memories in the form of experimental/abstract prose.

Betsy Soukup/Molly Jones/Ben Willis: A two-bass trio of brilliant improvisers.

John Olson: Legendary noise, sound and free improv artist. A wolfeyes mainstay, his territory is expansive as it is searing.

Zac Brunell/James Cornish: New music percussionist, composer and creator of Detroit Bureau of Sound teams up with veteran wind player.

Motor City Meet the Mountain: A paroxysm of long distance love between MTL and DET.
Ted Crosby - Montréal based saxophonist, clarinetist, composer, and arranger. Co-leader of Canadian ensembles Nomad and Braveheart in the company of some of the north's most sensitive and dynamic improvisers. Matthew Daher - Detroit based improvising percussionist, ambient electroacoustician, and c-section baby.