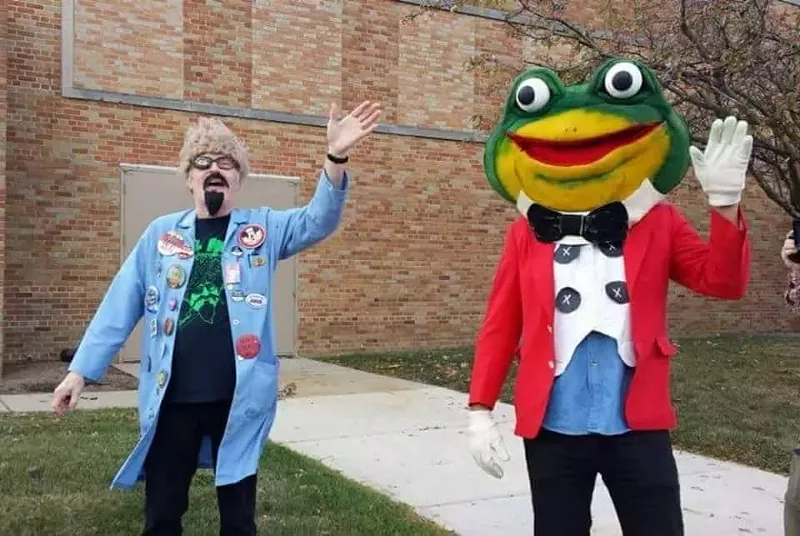 If you grew up as a teenager in the '70s, chances are you've seen or heard of the Ghoul. Ron Sweed, purveyor of the odd, developed his alter ego as the Ghoul back in 1971, as a late-night horror host with shows filled with schlock and politically incorrect humor. As for myself, a millennial born in 1998, I never got to see the Ghoul in his prime — but I was raised on the stuff via age-old VHS tapes and burned DVDs. Coming as a sure relief, I was excited to see that the Ghoul would once again hold his annual Halloween shindig and for the second time at the Token Lounge, normally the home to metal acts and heavy rock shows.
Remarking on the initial years of
The Ghoul Show
, Sweed says that they came to do the twelve-segment show with ideas in mind but unscripted dialogue.
"Whatever happened, happened," he says. "If the set fell we just left it, we liked the spontaneity of it."
Fans of the show's initial unscripted format back in the '70s won't be disappointed. Sweed promises the Token show will showcase skits that have developed into fan favorites over the years. As with last year, the event will show off some local rock groups, interspersed with classic "Ghoul Power" segments like pumpkin explosions and Froggy destruction. Sweed says having bands play allows him to dive into the audience and greet longtime fans and sign autographs. Having bands also allows for artistic touches that the Ghoul and management want to toss in: in other words, they just want to make it a "damn good party," he says.
As for the Ghoul routine's evolution, Sweed maintains that nothing much has changed from the Ghoul Power Army glory days. "I still think, thankfully so, that there's a good majority of the populace who don't subscribe to the politically correct, and I sure as heck won't be politically correct when they see me," he says. The "do what you want" attitude helped Sweed keep his Ghoul character relevant over the past 40-plus years by creating new material while weighing it evenly with the classics.
And Sweed notes that Detroit has been the de facto home for the Ghoul since the beginning. "Right from the start in 1971, Detroit has been crazy about The Ghoul, and the same about the Ghoul for Detroit," he says. A frequent guest at Royal Oak's Thomas Video up until its closure, Sweed visited Detroit from his home base in Cleveland often, even posing for photo ops as "Santa Ghoul" — still having his trademark blacked out glasses, but this time in full Santa Claus regalia. (For me, a 6-or-so year-old kid, going to sit on Santa Ghoul's lap in 2006 was a definitively unique and strange experience.)
In traditional Ghoul fashion, when asked how he gets ready for a show, Sweed doesn't disappoint by saying that before a show, he likes to "smoke a good kielbasa," further remarking that "smoking a kielbasa will take you to places Steppenwolf never imagined on his magic carpet ride." For a boost of instant insanity? "Snort a couple blobs of Cheez Whiz."
As for The Ghoul's legacy? "As long as there's a trash can to spew into, I think we'll be okay," he says. "The legacy will basically say 'mediocrity is our name, kicking Froggy's keister is my game."
The Ghoul performs at The Token Lounge on Saturday, Oct. 21 with musical guests Dirty Deeds, Jackstand, Glocksmith, and host Doug Podell. The event includes a costume contest also, so dress to impress. Advance tickets are $10 advance, or $15 at the door.