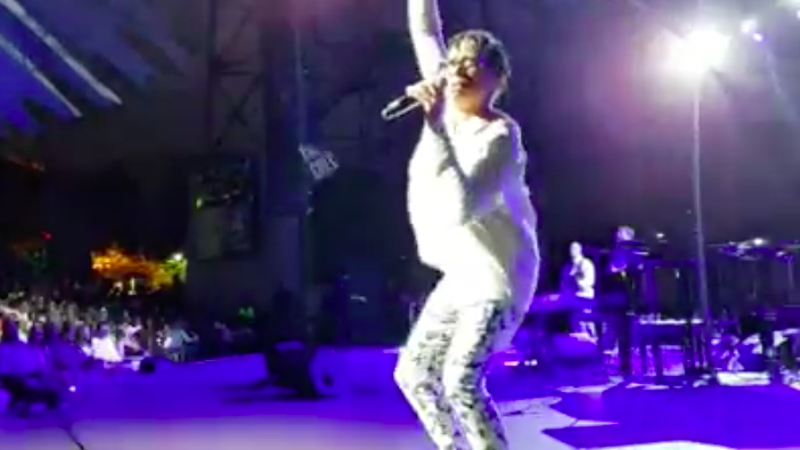 On Wednesday night, jazz vocalist Rachelle Ferrell performed for a full house at Detroit's Chene Park. But from scrolling through social media on Thursday morning, it seems many concertgoers felt her performance left much to be desired, with people reportedly booing and walking out halfway through her set and Ferrell ending the show abruptly.
Fans took to Facebook to call the show "wack," a "hot mess," and "a waste of two hours of my life." Many took issue with the fact that Ferrell did not perform her 1993 hit "With Open Arms," and, well, whatever this is:
Or
this
.
However, Justin From-Finance, one self-described "absolute biggest fan," thinks the problem wasn't with Ferrell, but with the energy of the audience.
"I've never experienced Detroit react in this way," he says in a
Facebook Live video
. "She is not dumb. She is not stupid. She felt the energy, she heard people boo her, and she left early, and I do not blame her. ... I am absolutely disgusted, I am appalled, I am angry, I am hurt that Detroit has treated you that way, and I pray that you come back again."
He elaborated in a follow-up post:
"So yesterday I was tripping...after reevaluating the things that happened at the Rachelle Ferrell concert, I had to remember that art is subjective and everybody won't agree/get everything that an artist produces...and that's ok. I got so offended because I literally credit the foundation of my artistry to her...I worship the ground that this woman walks on...I felt like I understood absolutely where she was coming from, however, I can not be mad that someone else won't agree. Meh, it's tough being a creative sometimes lol"
Chene Park issued a statement when asked for comment:
"At Chene Park, we present authentic, live musical experiences. We select our artists and musical acts based on their bodies of work and artistry.

This summer, we have presented 45 unique concerts and events that have appealed to a wide variety of audiences. While we strive for 100 percent customer satisfaction and will continue to make that our goal, ultimately, it is the artists' responsibility to deliver a professional, quality performance.

We thank our park patrons for an incredible season, and look forward to welcoming them back in 2019."
We reached out to Ferrell's publicist for comment and will update this post if they respond.
For all the disappointed fans, here's "With Open Arms":

Get our top picks for the best events in Detroit every Thursday morning. Sign up for our events newsletter.