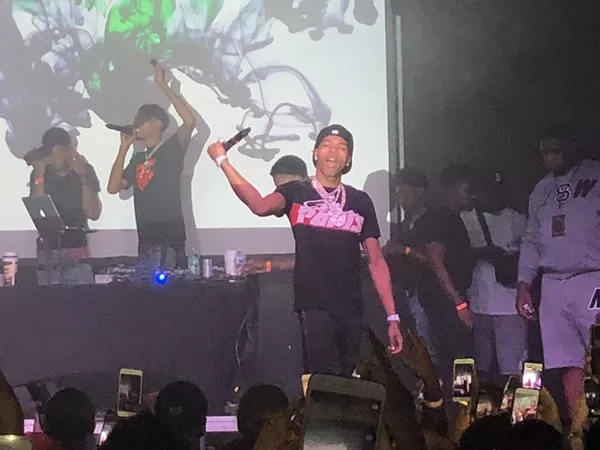 Quality Control's rising star Lil Baby made his way to St. Andrew's Hall on Tuesday night as a part of his "Harder Than Ever" tour. The Atlanta-born emcee has made a name for himself pushing his own brand of southern trap hip-hop, and 2018 has been his breakout year: his album (also titled
Harder Than Ever
) peaked at No. 3 on U.S.
Billboard
200.
The night started with Def Jam's 18 year-old crooner YK Osiris pumping energy into the crowd by preforming a 25 minute set that included songs "Run it Up" and "Timing." He brought a willing young lady on stage and preformed a shirtless and sensual rendition of his melodic single "Valentine," in which let the woman rub her hands across his neck and chest. Next up was the proactive hip-hop group known as the City Girls. Although member JT is currently incarcerated, Young Miami (with the help of two other women) was more than able to give high powered performances of songs "I'll Take Your Man," "Period," "Tighten Up," and closed it out with the vocals from their feature on Drake's "In My Feelings."
Lil Baby hit the stage and went right to work spitting his bars from his hit song with Drake, "Yes Indeed," patrolling the stage back-and-forth wearing black T-shirt, jeans, and a neck full of gold chains as 20 members of his entourage stood in the background.
His energy and focus were on point but not over the top. He knew exactly what the audience came to hear and he delivered. He dropped the bars from "Pull Up" his feature with Kap G, and "Freestyle" from his 2017 album,
Too Hard
. He spent the rest of the night doing whole songs and abbreviated versions of material from his album
Harder than Ever
including "Leaked," "Life Goes On," "Fit In," and "Never Needed No Help."
Overall, Lil Baby's set lasted about 45 minutes, and the thousand or so folks that jammed in St. Andrews left happy.
Get our top picks for the best events in Detroit every Thursday morning. Sign up for our events newsletter.