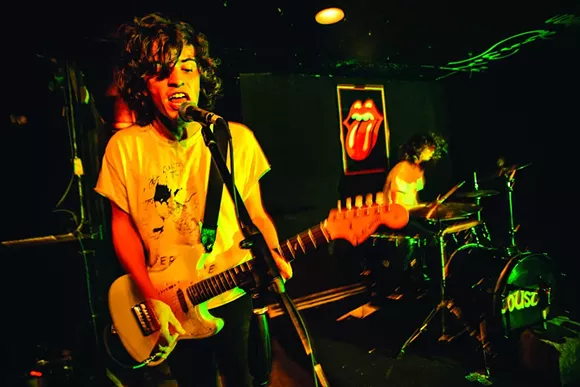 Fake Surfers aren't wasting anyone's time. In a world where so much of our time is wasted, this is nice, even if "nice" is not a word you would ever use to describe their music.
If you've seen them live, you know what I'm talking about. Adam Hunter, on guitar, and Jake Kmiecik, on drums, blaze through their set in what feels like mere seconds, bringing to mind Flipper and early Dischord, as well as more contemporary shit like the Hunches and Useless Eaters. You like your punk on the aggressive, albeit reluctantly catchy side? The sounds of Fake Surfers belong in your life immediately.
Cheap Meat, their latest recording and first LP — just released via Detroit-centric X! Records — is fast and short. A blistering 10 tracks clock in at just under 18 minutes. These songs are disillusionment distilled into its purest youthful essence, careening down a hill covered in trash at breakneck speed, the moments both right before and after you drive your piece-of-shit car the wrong way down the freeway just to see if you can get away with it. (You shouldn't be able to, yet somehow you emerge unscathed, ready to accidentally puke in front of the girl you've been trying to impress for months.)
Fake Surfers on X! is a no-brainer; you might even call them the second generation. Cutting their teeth on a number of bands with X! releases in some form or another, the influence manages to be both obvious and not: obvious because it makes sense that the next crop of weirdo punks would be influenced by those that came before, yet not because most of the other punk on X! isn't as straightforward as Fake Surfers are.
Recorded by Derek Stanton (Turn to Crime), get Cheap Meat at x-recs.com, look for it in your favorite record shops in the coming weeks, and read our interview with the dudes behind it below.
Metro Times:
How long have you been playing in Fake Surfers?

Adam Hunter:
The first Fake Surfers show was November 2010 and we've been doing it ever since.
MT:
You're both in other bands (Growwing Pains, Bonny Doon, Brothels, just to name a few). What do you get out of this band that you don't get out of the others?

Hunter:
This one is the fastest and angriest, sound-wise. I like this band because it allows me to get out a lot of negative feelings in a positive way. Every group I'm in is therapeutic in a different way. Fake Surfers deals with anger and dissatisfaction.
Jake Kmiecik:
This band, for me at least, definitely provides an outlet of unbridled freedom. I play in other bands with a more restrained style, with maybe more intent, but this band allows me to break that barrier and kind of let loose. I like the rawness and unpredictability; it's what attracts me to it and keeps it fresh and exciting.
MT:
What do you like about the Detroit scene?

Hunter:
Who said we liked it? Haha. That's a tough one. My answer would vary any time you asked. For now I'll just say it's cool to live in a place with so many talented people supporting each other. All (or most) musicians here have a general respect for one another, even if they are doing two completely different genres. Punk/indie/techno/hip-hop/blues/folk/jazz/whatever. Everyone is stoked on everyone. Which is also what allows the lines to be blurred on "genre" and opens the door for innovation.
Kmiecik:
I like that it's small enough to just be a huge community or family. Everyone's kind of in it together, and it's all just because it's a fun thing to do.
MT:
What was the songwriting process like?
Hunter: Our songwriting process is pretty standard. Usually I'll think of a riff and a few lyrics, then at practice Jake will write a drum part, and we will figure out how we want to arrange everything. The lyrics usually grow with the song. I'll start with a few on paper, then just try things out and see what works. Sometimes they all hit me right away, but that's less common.
MT:
Where were your minds when you recorded Cheap Meat?
Hunter:
I think the mentality when recording was just to get in and do it, and stay true to what we do live. Keep it simple, no need in adding a bunch of weird crap, just keep it tight. This record is basically our live set at the time we recorded it.
Kmiecik:
I was just very excited to finally record an LP with this band. This is the second band I was ever in, so it's nice to finally have a document of that period of my life.
MT:
How would you describe the new album?
Hunter: I guess the recurring themes are suicide, girls, finding cheap thrills in a crappy world, and just trying to escape from everything.
MT:
What are some of your influences?

Hunter:
Well, all the usual classic punk stuff you might expect: Stooges, Dead Boys, Germs, Screamers, you name it. Bad Brains was a big one. [They were] the fastest, tightest band, and their songs were really well written. Also all the Detroit stuff that is/was going on when we formed. Terrible Twos/Frustrations/Human Eye/Tyvek, etc. Having that going on right in front of us when we were forming was a huge inspiration. I listen to all kinds of stuff, but for this band, that was and remains the main inspiration. Along with adjacent scenes in other towns: Homostupids from Cleveland, the Reatards from Memphis, Wax Museums from Denton, I could go on and on. Now we are into a lot of other things as well, so that is affecting our newest stuff in a cool way. You gotta keep it fresh.
Kmiecik:
At this point I'm more into jazz and experimental stuff as opposed to straight punk. I'm also a huge Neil Young fan, and I think that inspires a lot of my approach to music.
MT:
What's next?

Hunter:
We are playing June 15 at the Precinct with Urochromes from Western Mass, July 4 at Nancy Whiskey, and July 31 at Hybrid Moments with Frustrations. In August, we're doing some shows on the East Coast, and hitting the South and Midwest in the fall. We have a lot of new material I would like to get recorded soon too.