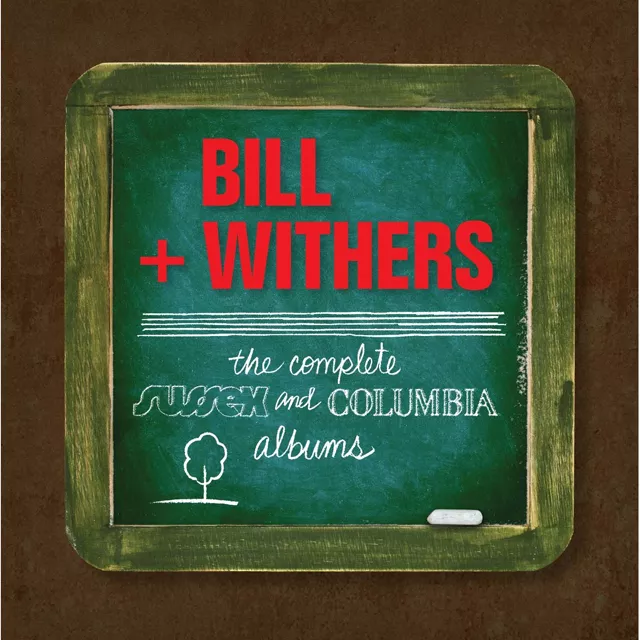 Bill Withers
The Complete Sussex and Columbia Albums
Sony/Legacy
All hail Sony/Legacy for finally bringing back into print, and collecting in one handy little box, all nine albums created by singer-songwriter Bill Withers on the Sussex and Columbia labels. His was a career that fascinates.
By the time Withers recorded his debut, 1971's Booker T.-helmed Just as I Am, he was a well-lived 32-year-old man who had served in the Navy and found work in factories. The album was, without question, one of the greatest of the decade, and one of the greatest, most personal soul LPs ever recorded. Mixing '70s-style singer-songwriter confessionals with '60s Southern soul, it crossed genres and racial boundaries, killing it on both the R&B and pop charts, and defining a moment in early '70s music. The huge "Ain't No Sunshine" drew listeners in only to get hooked on Withers' workaday truths, which populated the other tunes — culminating on "Better Off Dead," where an alcoholic blows his head off after drinking away his woman and life. Yes, his songs are fraught with despair and sadness, sometimes with zero redemptive qualities; they're very vérité in a sense, like life. It's one of those records that sounds and feels like it had to be made, that other options were none for a West Virginian son from a tiny coal-mining town who existed in a world of welfare lines, railroad yards and crooked congregations.
In 1972, Withers released Still Bill, which rivals his debut in every way. In "Lean on Me," you know he means it; he's saying that there are selfless people in life who won't step over you if you're down, where folks actually give a shit about each other. He's from that place, which is, as he themes through the album, all working-class and a mighty long way from the record business of Los Angeles. Conversely, "Use Me" is as simple and sincere a statement of yearning, of male sexual desire, as any you'll ever hear.
"Grandma's Hands" on his 1973 album Live at Carnegie Hall stuns. It begins on a self-deprecating spoken word rap intro about his family and friends in Appalachia: "At the funeral they used to have to tie the caskets down! ... I loved that old lady. ..." Then, with his voice alone, backed by sparse instrumentation, he begins, and you can't escape the sense of his own grandmother as he sings, "Grandma's hands soothed an unwed mother ..." It's a performance that's power without volume, profundity without pretense. Withers' voice, and the album, rises and falls on real-time musical tension, and it mirrors the times and place. Withers and band were absolutely on that night.
His next, 1974's +'Justments, finds the sonics smoothed out a bit, but not the soul and the song, which contain thinly veiled criticisms of his label Sussex Records, which was shorting Withers on royalties. It's a worthy encore to his first three albums, and it happens to contain his most beautiful song in "Liza," just electric piano and voice.
Withers switched to Columbia Records and in 1975 released the unironically titled Making Friends, the most underrated disc in the singer's canon. With its funk undertones — particularly the hip-swiveling "Sometimes a Song" — the entire LP is a love letter to mid-'70s groove, melody and feel. It's thick with musical stimuli, including surprisingly pretty, horn-rich arrangements and understated storytelling (especially "The Best You Can") where Withers gets away with such lines as "I wish you freedom to do all the things you love" without maudlin or preachy afterglows, and you believe him. It's the kind of record Sly Stone wished he had in him at that point. (Note that Detroit's Paul Riser arranged the strings and horns, and godhead Funk Brother James Jamerson played bass on "Family Table.")
The next year's Naked and Warm continues Withers' soul funk-up with a healthy cast of players, with occasional winks to jazz and that unfortunate kind of mellowness that was endemic to Southern California twilights in the '70s — palm trees, light jazz and margaritas — which didn't exactly suit Withers. 
When Withers made his next two, '77's Menagerie and '79's 'Bout Love, he was well-established as the laconic crooner of the working class, the king of juxtaposing deceptively simple lines of truth, beauty and self-realization around tunes that rose straight out of soul, funk and folk. But that stuff stopped selling. Hence, these albums saw Withers softened by a major label to fit radio at a confusing time when R&B was suddenly polished and soulless as a coffin. The albums got a little strung-out on balladry, disco and too-smooth synths and orchestrations. Menagerie went gold but Withers was no fan of it. 'Bout Love didn't sell at all — it peaked at No. 134 on Billboard's album chart. Still, even the overproduced sheen couldn't smother Withers' songwriting. 
The singer-songwriter was so fed up by music biz trash and vaudeville that he eventually bailed for good in the late '80s, preferring instead to raise his family on a quiet farm in the South. But he didn't quit before a fruitful collaboration with Grover Washington Jr., and his final album, 1985's smooth Watching You Watching Me, which was, surprisingly, good, at a time when Olivia Newton John and Whitney Houston were considered soul. 
Drawing from his early-to-mid-'70s sensibilities, his voice is persuasive as ever, even if the overwrought mid-'80s production sometimes derails things. 
Highlights abound, including the title song and "Whatever Happens," which would've snuggled cozily on any Withers album. 
This compact box includes the albums packaged as mini-LPs with original art, each wit judicious mastering that retains the glorious sound of the master tapes, and a 40-page booklet with essays and song facts. It's a complete study of a fascinating career, a collection of albums that shows how a working class Joe handled fame, love, Hollywood, racism, gratuitous self-promoters and ugly, false prophets, all in song. —Art Rambo
Sex Pistols 
Never Mind the Bollocks (two-disc deluxe CD)
Universal
Oasis' Noel Gallagher calls Never Mind the Bollocks the greatest record ever made. His point that it killed everything that came before it and changed everything that came after it — from graphic design to music to fashion to art to film to the music business etc. — is valid. Thirty-five years later, and stripped of context, the 12 songs on Never Mind the Bollocks refuse to age. The songs have the harmonies and progressions of great pop music and the ferocity of four-on-the-floor recordings that stung because they traded in taboos; the album isn't the sound of kids discovering their power, like the Who on Live at Leeds, this is the sound of a band in full command of its power. And they were barely in their 20s. No wonder it scared the shit out of so many people. 
NMTB taught the world that anger has an unwieldy power when it's conveyed in ironic orotundity and sing-a-long choruses. Johnny Rotten wrote "God Save the Queen" and "Anarchy in the UK" when he was all of 20, and it's hard to imagine anyone had the wit, sophistication and insight to pull those words off with such awareness of time and place. You can't finger a more accurate, articulate and ironic mass-appealing dismissal of not only a music scene, but also the milieu of an entire country — social, political, sexual, cultural and otherwise. Is it any wonder the album, which rose from what author John Savage called a true avant-garde movement, altered the course of culture and music in 1977 and beyond?
After demoing songs with various producers (and getting booted off EMI and A&M records), producer Chris Thomas (Roxy Music, Pink Floyd, Pretenders) helped the band create its power-chord wall-of-sound, and rock 'n' roll swagger. Rotten was quoted as saying that Thomas added so many guitar overdubs, and never bounced them down, it left one track for him to do his vocals, which he completed in quick takes. 
The Thomas-Pistols combination was a perfect one. Paul Cook was a gifted drummer who locked in on swing and groove, which allowed Steve Jones the air and space to give his incessant chording a kind of sexual tension, just like any good rock 'n' roll, from Chuck Berry to T. Rex. And while Rotten was a gifted writer for many reasons, and he referenced Captain Beefheart and the New York Dolls here, has anyone ever pointed out that on "Bodies," the Pistols ode to abortion, he lifted tone, melody, and the word "Body" from Alice Cooper's "Black Juju"? He was a phenomenal singer too, as you can even hear on disc two of this set — a live show captured in Stockholm, Sweden, in July '77 — holding down pitch and rhythm while chaos falls around him. 
When the Pistols hit Yankee shores, their intricacies and ironies were lost on American kids. The media squashed their message down to shock-you soundbites, and the shenanigans of a scared junkie bass player, barely 21-year-old Sid Vicious. The band quickly became parody, splitting up in San Francisco, January 1978, never making it back home as a unit. 
This two-disc set features the album re-mastered for the first time from the long-misplaced original master tapes, and it's sonically all there. The set also collects the single B-sides, "No Feelings," "Did You No Wrong," the studio version of the Stooges "No Fun," and "Satellite," all great ditties that could've easily made it to the album. The classic lost Pistols tune "Belsen Was a Gas" is omitted though, instead available on the more expensive super deluxe NMTB sets  and let the swindle continue. –Art Rambo
Led Zeppelin
Celebration Day
Atlantic
Release date Nov. 27
On Dec. 10, 2007, Led Zeppelin reformed for the third time since it initial breakup, except this time it was different. The previous two occasions, at Live Aid and at an Atlantic Records birthday bash, the band was just not up for it. At the O2 Arena in London five years ago though, Robert Plant, Jimmy Page and John Paul Jones, plus Jason "son of John" Bonham, looked like men possessed as they revisited their history for what looks likely to be one last time. Yes, this writer was fortunate enough to have been there, and there was nothing about that historic concert that wasn't spectacular. "Ramble On," "Misty Mountain Hop," "Black Dog," "Whole Lotta Love," even "Stairway to Heaven," and especially "Kashmir" all sounded immense. Thankfully, the whole thing has been captured for posterity and is being released in time for the holidays. There's a glorious deluxe pack too, featuring two CDs and two DVDs, the latter including rehearsal footage and news clips. For those of us that were lucky enough to be there (18,000 ticket applications out of 2 million were successful), this can't come soon enough. For the many that weren't, this is a chance to view history from the comfort of your own home. Essential viewing and listening. –Brett Callwood 
Rage Against the Machine
XX (2CD + 2DVD box set)
(Epic/Legacy)
Release date Nov. 22
It's mind-blowing that the debut (and best) Rage Against the Machine album is 20 years old. I mean, if you're old enough to remember where you were in '92, think how old the bands from '72 seemed back then. Jethro Tull's Thick as a Brick came out in '72, as did Deep Purple's Machine Head. Is RATM really in the same bracket to today's teens as those records were to the youth of the 1990s? The amazing thing is, it sounds like it could have been recorded yesterday. The sentiments that Zack De La Rocha spits on songs like "Bombtrack," "Take the Power Back," "Killing in the Name" and "Bullet in the Head" are as relevant today as they were was two decades ago, and there is nothing about the band's musicianship that sounds the slightest bit dated. There still isn't a guitarist out there who can make noises like Tom Morello without the aid of electronic toys. 
To celebrate the 20th anniversary of this most important of albums, it has been reissued with an awesome full disc of early live tracks, a DVD featuring a recent live show in London and all of the band's videos, and a second DVD featuring previously unreleased early live footage. It's a stunning package, though no less than the band deserves. Maybe self-confessed RATM fan Paul Ryan will get it from his wife as a commiseration gift. —Brett Callwood
Christian Marclay, Toshio Kajiwara, DJ Olive: djTrio
21 September 2002
Cuneiform 
Playing turntables, as we all should know is an art. It's best known for its populist, dance-floor contingent, but like any art, it has lower-case populists and upper-case abstractionists and others, not to mention rare types who can straddle both worlds. This vinyl-only record captures three of the hardcore abstractionist in live, three-way free-for-all group improvisations recorded a decade ago at Hirshhorn in Washington, D.C. The precedents are less dancefloors than the tape splicers of the musique concrete movement, John Cage's sound collages and the like. Unearthly sounds, unidentifiable sounds, boings, buzzes, breaths, vibraphones, distant jazz bands, snippets of old blues, Travis Bickle's "You talkin' to me?" ... and ... could that be a bit of "In-a-Gadda-Da-Vida"? ... they all intermix in the ebb and flow, and chaotic crescendos, of Christian Marclay, DJ Olive (The Audio Janitor) and Toshio Kajiwara. A gift anyone who'll be impressed that Marclay was declared one of Time magazine's 100 Most Influential People in the world (after garnering a new level of prominence and publicity with his film collage piece "The Clock"). Or anyone who's sentimental for the good ol' days of Fluxus. Or maybe you give it just to provoke a WTF reaction over the holidays. —W. Kim Heron