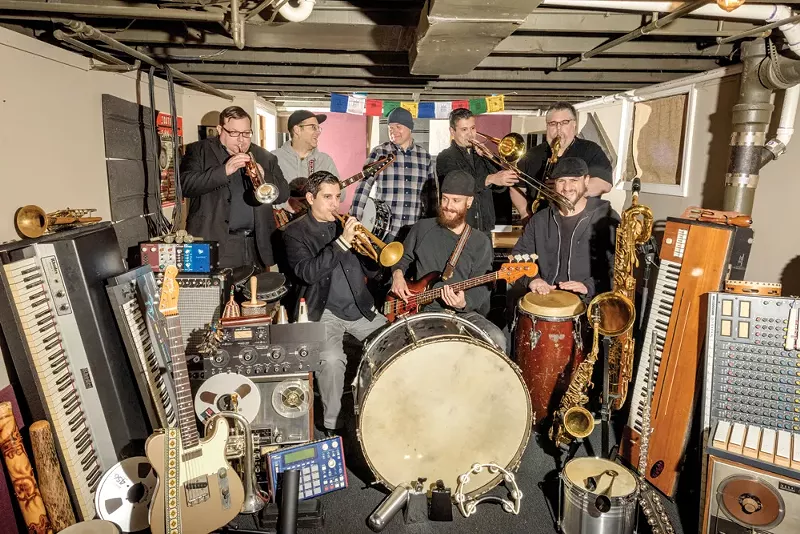 Will Sessions might be the most stylistically diverse band in Detroit. They can just as easily play classic soul, funk, Miles Davis and Herbie Hancock inspired '70s jazz fusion, or Dilla hip-hop tracks at the crack of a snare drum. They've worked with and backed up a huge list of the finest soul musicians (Rickey Calloway, Dennis Coffey, Amp Fiddler, Mayer Hawthorne), jazz musicians (Wendell Harrison, Allan Barnes), and hip-hop artists (Slum Village, Black Milk, Elzhi, Guilty Simpson, Danny Brown) around. You've probably also unwittingly heard them providing the music bed for WDET, and advertisements for everything from Cadillacs to Gillette razors.
The eight-piece band (Sam Beaubien trumpet/keys, Jason Bonaquist drums, Tim Shellabarger bass, Ryan Gimpert guitar, Eric Kacir percussion, Matt Martinez trombone, Jimmy Smith trumpet, Justin Jozwiak sax) are some of the best musicians in town — not surprisingly, you've probably seen them play in a multitude of other bands around town. Their full dance cards just got a lot more packed — the band is up for one of their busiest years ever.
This week will see the first full length release of the band's new label Session Sounds with Deluxe on April 21, a compilation of some of their much sought-after funk 45 releases. It's their first record entirely composed of original material. This summer they're touring Europe for the first time, and later this year they're releasing Kindred Live, recorded live with Detroit soul legend and George Clinton protege Amp Fiddler at Cliff Bell's. A separate collaboration album with Amp Fiddler later in the year will include the already released single "Lost Without You" backed with "Seven Mile." Not bad for a bunch of Wayne State University Department of Music students who got their start by blowing off steam from their studies at Funk Night parties.
Will Sessions band leader Sam Beaubien's main day job is as producer and engineer at WDET (making promos for the station, producing shows, and recording bands in the studio) while at night he also teaches composition at DIME (Detroit Institute of Music Education). He found some time in his busy schedule to sit with the Metro Times and talk about the band, all these upcoming releases, and starting their own record label, Sessions Sounds.
Metro Times: Tell me about the Deluxe album, out this week.
Sam Beaubien: It's a collection of some of our favorite funk singles we've put out over the years. We remastered the songs and they're the unedited full length versions of the songs. We had to edit them before to fit them on a 45. We always envisioned it as an album. We just never imagined it would take so long to put out. (Laughs)
MT: Why start your own record label?
Beaubien: We had developed a good relationship with this other label, Fat Beats. We came up with the proposal to them to see if we could do a collaboration with them as a distribution company for our label Session Sounds. Because we do a lot of different music it kind of made sense. We could have a hip-hop album. We could have a jazz album. We could have a pop album. We could have a soul album. And because the band is so big, it's really hard for us to tour. At one point, we're like all right, what are our goals? Do we want to try to do everything we can, like based off of the system that all these other independent artists do, or do we need to figure out what works best for us? So we felt like starting a label and focusing on recording and putting out a lot of music, more than a standard artist would, instead of focusing on touring all the time. We want to collaborate with a lot of people — kind of like the Funk Brothers.
MT: So who else would you like to collaborate with?
Beaubien: Our big thing, which wasn't fully intentional, is that most people that we've collaborated with have been these legendary Detroit artists. We've worked with Phat Kat, Guilty Simpson, Black Milk, Elzhi, and Dennis Coffey. I'd like to continue with that mix, work with someone like George Clinton, Carl Craig, or Moodymann. You know, I've played trumpet with George but I haven't with Will Sessions.
MT: I was thinking George Clinton, myself.
Beaubien: We would love to work with George because everything we've learned from Amp, Amp learned from George. It's all just a pretty organic thing we have going on.
MT: I forgot about the Amp Fiddler-George Clinton connection. How did your collaboration with Amp Fiddler come about?
Beaubien: The first time we collaborated with Amp was at Cliff Bell's. I had known Amp before that. We were playing at Cliff Bell's for our release party for the album Kindred, which was a tribute to the pioneers of fusion jazz like Miles Davis, Herbie Hancock, and Head Hunters. A lot of the songs had a lot of trumpet solos where it was kind of hard to play keys and trumpet. So we wanted to get someone that could really fill the role and play that style of music.
I was talking to John Arnold actually and he said, "Why don't you get Amp Fiddler? You know he'd be perfect for it." And I was like, "Oh shit, really? You think he'd be down?" He just gave me his number and I called Amp. I didn't have to sell him on it, I just kind of told him what we were doing and he was instantly down. He came over and we had like two rehearsals and we played the gig. We could tell right away that we were gelling really well together. And right after the gig was over we knew we were going to continue to work together. After that, he played keys on "The World Is Yours" on Elmatic. I had him do the piano part for that song. And I've been using him a lot for advertising gigs and jingles and different stuff. He's been getting with us and doing vocals and doing different stuff.
Last year, we had the instrumentals for "Seven Mile" and "Lost Without You" already recorded. I knew I wanted to get vocals on it at some point, but I wasn't really sure how it was going to happen. So I was just hanging out with Amp one day, we were working on a commercial, and I was like, "I wonder if this would be something you'd be interested in singing over." He liked them right away and said, "That's dope, let's do it right now." He wrote "Seven Mile" on the spot and recorded it that day. He didn't take it home and practice and write to it. And that kind of started the whole album.
He's very, very spontaneous. It's like every aspect of his life, he's like that. And I'm like the opposite of it. I'm the person that likes to plan and rehearse and practice and write. I guess it's just kind of where I came from because I started studying classically first. Amp's the kind of guy that will show up, it seems like he's unprepared, but it's intentional because he's trying to live in that moment. So every song he would just come over to my house to listen to it, and write and record it right there on the spot.
MT: What about the upcoming collaboration album with Amp?
Beaubien: We're not locked in with a title right now — we're thinking about calling it The One. And it's an album that tells a story. I don't want to say the story right now. I'm hoping people will listen to it and digest the story themselves.
But it's a concept album. The way that we made it was just like we approach anything else. We were looking at it as a style and as a palette to build off of, just like we did with fusion jazz on Kindred. On Elmatic we focused on hip-hop and Deluxe is focused on the rare seven-inch funk. Like '71-, '72-era funk. And the Amp Fiddler focuses on like the late '70s funk. Like around the time of disco, but not really a disco record. It's more like Rod Temperton, Michael Jackson's Off the Wall, late '70s Stevie Wonder, and like 1978 P-funk. It's like highly produced sophisticated funk, classic dance floor music. Like the music we grew up listening to.
Will Sessions' Deluxe is released April 21 on Session Sounds; available at all fine local record shops, or online via fatbeats.com.