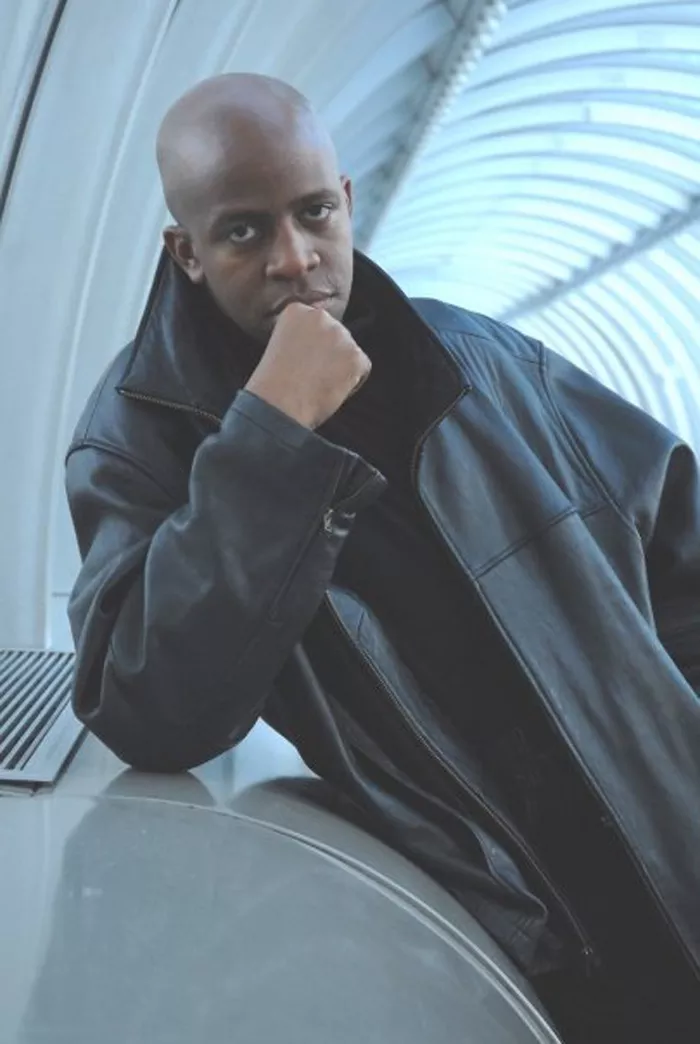 WDET's Chris Campbell, host of The Progressive Underground, is one suave dude. When we arrive at the station for this interview, he's just finished a day's work with the city of Southfield, his regular job, and he's decked out in a sharp suit complete with trilby hat. "I don't normally like people to see me in a suit," he says, coyly. He needn't be worried — he carries it well.
But that's Campbell; modest and charmingly humble, eloquent and all smiles. He could be forgiven for developing a slight ego, given the recent success that his show has enjoyed. The Progressive Underground, which is broadcast live on WDET at 8 p.m. on Sundays, and then again at 1 a.m. through the week and 3 a.m. on Saturday nights, is also streamed on Soundcloud and has been getting a huge amount of hits from electronic music fans, not just outside of Michigan but outside of the United States.
For the first 20 shows, starting in 2012, it was getting approximately 100 hits each week. There was a noticeable upward shift after techno godfather Juan Atkins was profiled; last year the show was picking up 20,000 hits. The start of 2014 saw Campbell's show pulling in numbers around 60,000, and he just recently cracked the 100,000 barrier. That's a lot of numbers to throw at you, but it all means that the show has been gaining momentum at quite an incredible rate.
"It's an international audience," Campbell says. "This past week's Soundcloud was our biggest ever. I checked it this morning and we were at 162,000 plays. We have these advanced stats where you can go on and see where the plays are coming from. The Russian Federation was one, Brazil, Kazakhstan, China — I didn't even know Soundcloud was able to play in China, but there's a huge audience there. And the UK, Germany, Japan — all that."
All of which means that Campbell's little electronic music show on an NPR affiliate in Detroit is picking up a global audience. It shouldn't be a surprise; Campbell is a talented DJ and producer capable of creating atmospheres and vibes the whole world can latch onto, without having the advantage of judging the mood in a room like a regular club DJ. But talent doesn't always equate to global success of any kind — in fact, it seldom does. So what is Campbell doing that's getting the Brits, the Chinese, and the Kazakhs in a tizzy?
"My playlist is completely built on mood," Campbell says. "Mood, vibe — I try to evoke a feeling. I just want to put together a set that will make your trip as cinematic as possible. I want to tug at your emotions a little bit, and I think that trumps who the artist is or what their status is. I guess usually my concept is kind of a mood maker. I want to get a mood going that covers a broad range. If you're at the club dancing, it's something that will still make you groove. If you're sitting in the corner reflecting, I still want to get you that way. If you're taking a road trip somewhere and need some background ambience. That's my overarching concept."
Campbell, 44, believes that overseas markets are more accepting of diverse music because the commercial radio stations haven't been homogenized, with separate stations for hip-hop, country, and rock. "Overseas, you go and listen to a radio station and they don't have the boxes that they do here," he says. "Go to Germany and tune in to a station, and you'll hear ska, you'll hear hip-hop, you'll hear calypso, you'll hear house, techno, all on one station. They don't have that homogenization, the boxes, like America does. I think that affects the way people accept the music over there. They're more open, and I think the deeper you go into the underground and indie scene, the more rabid they get over there. They just love that shit."
Campbell was born and raised in Detroit, listening to The Electrifying Mojo at an early age. He moved to New York for five years in the '90s and got involved with the electronic music scene there, but it was those early years in Detroit that pried his mind wide open. "That really colored my musical palette," he says. "[Mojo] used to play a little bit of everything on his show — techno, electronica, hip-hop, which was just kind of burgeoning at the time, but then you could hear Hendrix or some classical, some jazz. That exposed me to a lot of different genres of music at a very early age. The combination of that and WJZZ — they were another station in town. Rosetta Hines, who I consider a mentor of mine, she was another one who really blew my perspective open when it came to music."
Campbell's Progressive Underground is a wild ride; he'll usually start slowly with some DJ Shadow or something like that, and the pace will pick up, building to a beat-heavy climax before heading off in another direction entirely. The show will take in house, techno, soul, and perhaps even some acid jazz — nothing's off the table. But Campbell blends it all seamlessly. You barely notice that genre lines are being crossed.
"It's very deliberate," Campbell says. "I want to take you on a roller coaster ride. Some DJs like to keep everything pulsating. I like to take you up and down and everywhere in between. It seems to work."
This weekend is Movement festival time in Detroit and, while Campbell isn't spinning this year, he'll be busy catching multiple sets and interviewing a lot of the performers.
"I go to Movement every year," he says. "I'm a big Movement-head. I think they're trying to hook us up where we're hosting the official Movement pre-party at TV Lounge. I haven't gotten the full itinerary on that. We're supposed to have a booth at one of the stages. At Movement, we'll be grabbing mixes from people from all over the world, and we'll get it on the air."
That's Campbell — always looking for something new to present to Detroit and, as it turns out, the whole world.
The Progressive Underground airs live on WDET every Sunday at 8 p.m.