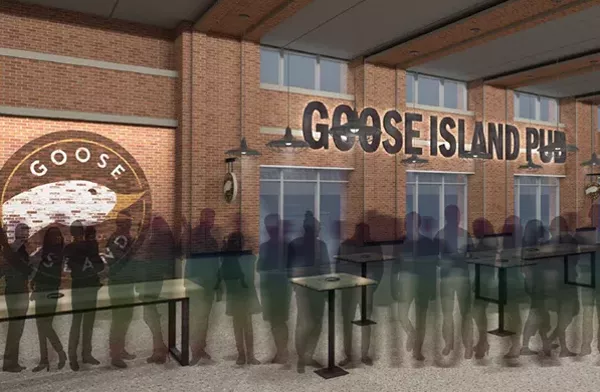 In a press release sent out this afternoon, Olympia Entertainment announced they've inked a deal with Anheuser-Busch who now have naming rights to three venues within Little Caesars Arena. Budweiser Biergarten, Goose Island Pub, and Bud Light Upper Concourse Bar will all be located inside the new arena, shilling the pale pilsner the company is known for brewing.
According to Olympia Entertainment, the biergarten will have a spacious patio and lawn area, plus a glass enclosed, four-season pavilion bar with a retractable roof to accommodate various functions and all types of weather. The pub (pictured) will be located next to the biergarten and will sell the brewery's signature hop-forward beers as well as a variety of other drinks. The concourse bar will overlook the Via.
Olympia Entertainment CEO and president Tom Wilson assures the partnership is "an enormous asset for the venue."
"Fans and visitors will love the Budweiser Biergarten, as it will extend their experience outside for a show or a game" Wilson says. "And we envision
the Goose Island Pub and the Bud Light Upper Concourse Bar as two of the most popular areas in the building. I have no doubt they're going to be fan favorites."
Little Caesars Arena is scheduled to open this fall.