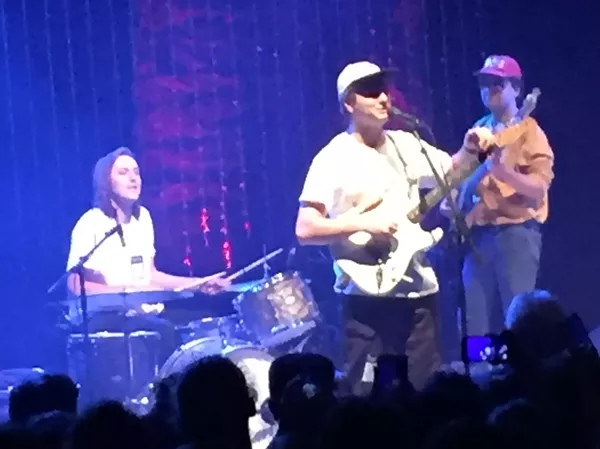 Mac DeMarco delivered laid-back jams to a sold-out crowd at the the Royal Oak Music Theater on Sunday, May 14. The night felt like a dream, thanks to both the theater's soft rainbow-colored lighting and DeMarco's newly chilled-out style, which shines throughout his brand new LP,
This Old Dog
.
I've followed DeMarco for a few years now and I first caught him at the Magic Stick in 2014 (for only $12). The year after that, I saw him at the Crofoot for $20. And last night ($35 day of show) it was mesmerizing to see how far he's come as an artist, and to see that he was playing a packed theater with barely any wiggle room.
It was different, to say the least, from the two smaller shows I've seen him play where I was so close I could see the sweat fall off his forehead. But it still delivered the sense of euphoria that DeMarco always gives a crowd.
The set started with a song off of his new full-length, "A Wolf Who Wears Sheep Clothes," that received an immediate reaction from the crowd. The soft and groovy tune fell into "No Other Heart," off of his 2015 mini-LP
Another One
which set the tranquil vibe for the rest of the show. He played the classics "Ode to Viceroy" and "Cooking Up Something Good," with energy that created a ripple effect in the crowd making everyone sway left to right while they sang every word.
After a few songs there was a mild pause where a fan asked DeMarco to read a note aloud for them, which ended up being a proposal for a girl named Peyton, so Peyton's going to prom now with that cute memory in her pocket.
After more soft tunes and slow dancing, DeMarco finished the show off with "Still Together," doing his signature sign of: taking his shoes off and jumping in the crowd where fans carried him from the front of the theater to the back.
The show felt like seeing an old friend in a new place, and it felt good to know that DeMarco's fan base is growing right along with his music.