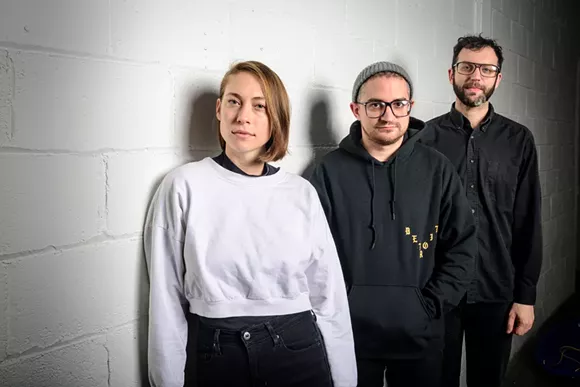 Anna Burch was just finishing up her last couple weeks as a bartender at a hip Detroit restaurant when we chatted for the first time about her music — among other things.
Burch, who was born and raised in St. Joe's and later moved to Chicago to study cinema, has only lived in Detroit for the last couple years, but she's quickly ingrained herself in the city's rich but small music community.
"I thought it was really cool when I first moved here," she says. "The summer I moved here I was on my bike all the time on Belle Isle and I was meeting new people and it was exciting because it was such a small scene. I felt like I was figuring out the scene and the city. It was exciting to be able to meet so many people who were interested in the same things as me."
But Burch has long been involved with the Detroit music scene. She was an early member of Frontier Ruckus, and though she left the band for some time she's back with the group. She also performs with Failed Flowers.
Her passion for music is obvious, though it's taken her some time to get her solo work off the ground.
"I couldn't get past hating everything that I tried to write," Burch says. "But once I realized that I love music and I wanted to make it my thing I just went for it."
Now, Burch is poised to release her first solo record this fall, which may or may not be called Quit the Curse — she's not sure yet. The name, which is the same as one of the record's nine tracks, is representative of the content. "It's about having a cursed love life," Burch says with a laugh.
Inspired by female musicians like Angel Olsen and Cate le Bon, Burch says her record will be made up of lo- and mid-fi tunes.


The album, funny enough, has already been recorded, but Burch wasn't satisfied with what she created.
"It was all recorded with people I hadn't been playing with or weren't part of arranging the song," Burch says. "We were in the mixing process and I was getting frustrated that the songs weren't coming to life the way I imagined them."
She got in touch with Zoos of Berlin producer Collin Dupuis and the two started chatting about her work.
"I talked to him, sent him over the stuff and we talked about the limitations of the recordings," say Burch.
As luck would have it, Dupuis had plans to be in Detroit in February and the two made plans to lay down new tracks.
"I just want it to be the best it can be," says Burch. "It's my first and you can only make your first record one time."
— Alysa Offman
Back to 2017 Detroit bands to watch