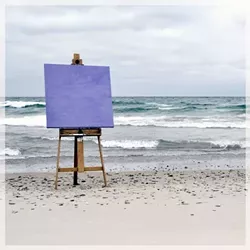 After three years in a seemingly self-imposed exile, local songwriter-producer Sean Lynch "just wants to hear the shit really loud." 800Beloved remains an uneasily categorized band, as it never really stayed under the scene's scrutinizing spotlight longer than months at a time. Lynch (with Anastasiya Metesheva on bass and Ben Collins on drums) is resurrecting the rock band (which migrated from post-industrial noise experimentation to a sugary new-wave throwback — while tying in some neo-gothic love ballads to a clean, catchy shoegaze).
Lynch — who works days at his family's funeral home and spends nights extensively experimenting, writing and recording music, most of which winds up reaching nobody's ears — admits they missed the live aspect of "connecting with an audience," when they released the resplendent (and heavily thematic) shambling-pop album Everything Purple in late 2010.
The band barely toured and its local show circuit was comparably scant, but anyone who heard the record really enjoyed it, even if they couldn't quite digest it all in one listen.
Purple was intricately dressed with trippy tone effects, sporadic interruptions of fervent drums statements and pedal-scrambled guitars. Back then, Lynch says, "We were called 'illusive' by a 'zine during the high point of when we were making an effort to be more public and social. We want to do what we didn't do before, to interact and create some type of connectivity."
How to transition audiences from the different "rooms" of their first record's macabre post-punk love songs, through Purple's shoegaze appeal and into something altogether new? "The time between helps," Lynch says, "that silence provides the change in gradient, bending blue to red." No more silence.
The 800Beloved reunion show happens Friday, Aug. 30, at the Loving Touch, 22634 Woodward Ave., Ferndale; Electric Corpse, Double Weirdo and Revoir will open the show, with DJ Something Cold; thelovingtouchferndale.com.
Jeff Milo writes about music for the Metro Times. Send comments to [email protected].