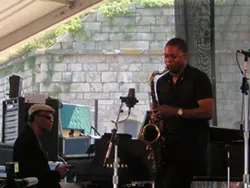 After putting together a swinging Detroit Jazz Festival in 2012, the festival's artistic director, Chris Collins, says he didn't feel pressured to top that act. It was a stunning showcase of talent, with performances by such legendary jazz musicians as Sonny Rollins, Wayne Shorter and Chick Corea, along with notable Detroit jazz musicians and a smattering of tribute concerts. But Collins' vision for the jazz fest was always for it to be an authentic jazz festival, one that offered jazz musicians the freedom to launch innovative projects.
This year that vision is more apparent. Of course, festivalgoers will experience another crop of jazz legends, including saxophonist Charles Lloyd and pianists Ahmad Jamal and McCoy Tyner. There will also be performances from some younger players who've made names for themselves in jazz, such as Grammy Award-winning pianist Robert Glasper and vocalists Gregory Porter and Cecile McLorin Salvant. In keeping with Collins' sensibility, Salvant will be spreading her wings a bit at this year's fest. The winner of 2010's Thelonius Monk International Vocalist Competition and a native of Miami, her debut album, WomanChild, was released nationwide in May, and she's expected to perform cuts off the album, backed by the David Berger Jazz Orchestra, making this the first performance in which her music has been arranged for orchestra.
Naturally, there's much more jazz in store throughout the festival. Though it's impossible to experience it all, we'd like to suggest some key performances worth catching.
Danilo Perez Panama 500
Panamanian pianist Danlio Perez headlines opening night, and he's the artist-in -residence this year. Perez is a barnburner of a pianist who caught the public's eye as a member of trumpeter Dizzy Gillespie's United Nations Orchestra. Perez has a bunch of primo recordings as a leader, including the game-changer PanaMonk. Some of Perez's best playing has been with the Wayne Shorter Quartet. Opening night, Perez performs the music of his native land, followed by a duet with Detroit pianist Geri Allen. Watch out, the duet might turn into an all-out "cutting contest."
Teddy Harris Jr. Tribute, by the New Breed Be Bop Society
This tribute to Detroit jazz legend Dr. Teddy Harris Jr., who passed away in 2005, is long overdue. Pianist-composer Harris' legacy includes a tenure at Motown, work with Aretha Franklin, and a historic performance with the Paul Butterfield Blues Band at Woodstock. Harris's New Breed Be Bop Society orchestra was a boot camp for many Detroit jazz musicians serious about making jazz their life work. The tribute is Saturday, and it will feature some of Harris' unrecorded compositions. The next day, in the Jazz Talk Tent, jazz historians will moderate a panel discussion about Harris' life and music. Drummer George Davidson, trumpeter Felton Jones and saxophonist James Carter are panelists.
J.D. Allen Trio
J.D. Allen is a tenor saxophonist from Detroit. You may remember Allen when he was a wet-behind-the-ear saxophonist in the early '90s playing with a jazz band called Legacy. If you paid attention to Allen back then, there was irrefutable proof he was destined for big things. To date, he's pumped out seven albums, Grace being the most recent. In fact, Allen has grown into one of the best saxophonists in the country. He's an improviser with intellect and imagination deeper than an elevator shaft.
The Cookers
This is the greatest jazz super-band working. Last year, the Cookers put out Believe, an outstanding album that swung from head to toe. Frankly, given all the star power that was expected, it's impossible to make anything less than a great post-bop album when the band includes Billy Harper, Gary Bartz, David Weiss, Eddie Henderson, George Cables, Cecil McBee, Craig Handy and Billy Hart. Expect the Cookers' set to be one of the jazz fest highlights.
Ravi Coltrane Quartet
Ravi's dad, John Coltrane, would be proud of the career his son has built. In a 2007 profile, Ravi told Metro Times he didn't want to make his mark playing his dad's music, and has turned down offers to record some of his dad's work. Ravi has a wonderful discography. In 2012, he made his first album for Blue Note Records, a release titled Spirit Fiction. He'll have to explain the title, but the compositions on it are mind-blowing good, representing his defining moment as a leader.
The 34th Detroit Jazz Festival runs Aug. 31-Sept. 2 at Hart Plaza. For the complete lineup and showtimes see detroitjazzfest.com.
Charles L. Latimer writes about jazz for Metro Times. Send comments to [email protected].