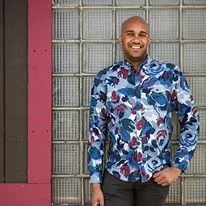 True the city's food scene is changing at rapid pace, with inventive restaurants sprouting up in once derelict buildings, introducing farm-to-table fine dining to traditionally Coney-centric palates and making national headlines for its role in shaping the "New Detroit." But that doesn't mean there aren't growing pains to be had. Local writer and foodie Aaron Foley
has made some observations
about these hiccups, naming names of several popular establishments for common service gaffes, while still recognizing others that know what's up.
Here's a snippet of some of the offenses:
Rushing me out the door even when it's not crowded. Yesterday I had breakfast at Brooklyn Street Local, a fine place that I usually enjoy. It wasn't a thousand degrees yet, so I ate on the patio. It was also super early, so barely anyone was there. So after I finish up, my server hands me my bill and says "you look like you're ready to go." Um, WTF? Didn't ask if I'd like anything else. Didn't ask to refill my iced tea. Maybe I wanted to chill out a little more and enjoy the sun? Have to admit I was caught off-guard by that. And yeah, I get it — a restaurant is not your personal lounging place or whatever, but just the assumption that I'm "ready to go" even when I'm not? Come on.

Not asking "Can I take your plate?" when you're done and just taking the plate. It's happened more than once at some of the newer places. I dunno, I think it's just bad manners when you just whisk it away from me. (Worse: Constantly asking if I'm done, even when there's still food on the plate.) Once I was having dinner with a friend at Punch Bowl Social when our server came up to us, said "I can take that from you if you're done," dumped my can of fries onto my plate before I could even respond and walked away. Rude much?


And highlights:
Making a good meal recommendation. I love when a server knows their stuff on the menu. I had an excellent porchetta sandwich at
Ottava Via
, something I never would have considered if my server hadn't pointed me in that direction.
Making accommodations in less-than-ideal dining situations. My friend and I were sitting on the roof of
HopCat
when it suddenly got windy. Our guy asked if we wanted the shields let down to block the wind. Any other place probably would have asked us to move. (Although it's insane that HopCat checks your ID at the door, and checks again when you order a drink…)
Foley acknowledges he is not a full-time critic and he understands working in the restaurant industry can be a low-paying, thankless job. Still, it's details like these that Detroiters need to be cognizant of as the burgeoning restaurant scene here comes into its own.