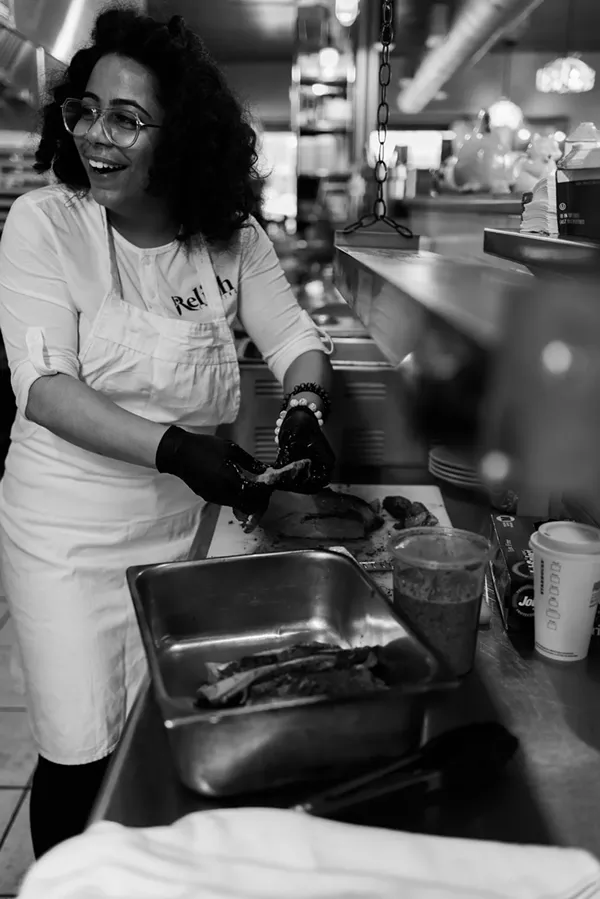 It's pretty clear that those who have the most control over Detroit's food system — its local growers, non-local growers, suppliers, producers, grocery store owners, distributors, restaurateurs, food writers, chefs, and so on — are mostly white.
That's despite that the city's population is nearly 90 percent people of color.
So it's worth asking: How would things look if the food system centered around people of color and other marginalized groups instead of white people? A new project called the
Dream Cafe and Community Food Hub
spearheaded by FoodLab Detroit and Allied Media Conference is not just imagining that, but developing a model of "food production and service that is truly equitable, sustainable, cooperative, and community driven."
And though there's a deeper goal in the Dream Cafe, the June 14 through June 19 event is a welcoming celebration that includes a temporary full-service cafe run by local black-owned businesses that will take over the Cass Cafe; a series of pop-ups featuring local and visiting chefs; hands-on cooking workshops; and an outdoor market showcasing local producers. The entire event is made possible by collaborative partnerships among urban farmers, local producers, local chefs, visiting chefs, the chefs' crews, and food sovereignty organizers. In that way, the event not only imagines how things could
look,
but also celebrates all the work that people of color who live here are already doing.
Diners will find a wide
range of foods and meals
, from a Palestinian brunch to a pan-Caribbean feast to a cooking exchange hosted by a multigenerational group of indigenous chefs. Beyond the food, there will be
comedy
, music,
meet ups
, a dance party, screenings, workshops, talks, and more.
The endgame is culinary and economic sovereignty for marginalized
groups,
and the laying of a foundation for a stronger local food economy that benefits groups the food system often exploits. In that way, the Dream Cafe is looking at food not just as "food," but as a strategy to build community resilience and autonomy.
As FoodLab Detroit director Devita Davison puts it, Dream Cafe seeks to deconstruct and decolonize the food system, and instead center it around different cultures in a way that we don't often see in Detroit, or elsewhere.
"What does it look like when you have folks not only from here but from all over the country who are black, brown, queer, nonconforming people — what does it look like when they dream about what the local food system can look like?" Davison asks. "This is what it looks like when you are dreaming about a food system that puts these people in the center, and you have a food system that represents them."
"What does it look like to tear up every single negative notion about black and brown people, about their labor being undervalued, and start talking about how we can build something better together? This is what it looks like when you tear all of that shit up and come together and build."
The project grew out of
Allied
Media Conference and Feeding Emerging Resistance Movements, Envisioning Nourishing Traditions' (FERMENT) effort to develop a food component. Last year, FERMENT held a dinner that brought together Earthworks Farms and visiting Cambodian-American chef Chinchakriya Un and her Kreung pop up, but this year's event is on a whole other level according to Ora Wise, AMC's culinary director. She notes that the program is in line with AMC's core principles that include cooperation, sustainability, network building, creativity, autonomy, and interdependence.
"We're applying that to food on an epic level this year," Wise tells
Metro Times
. "We're building out a food component intentionally designed to empower people and center the voices of people who are at the margins … and whose cultures are exploited by the food industry. And we will learn from and celebrate the brilliance and resilience of Detroit."
FoodLab is running the full-service restaurant component of the Dream Cafe and bringing together their partner businesses. On June 14, Ryan Salter of Salt + Ko and Reniel Billups of Irie Occasions Catering will prepare breakfast; Friday will see Lamont Mitchell and Viana Rickett of Simple Goodness Detroit prepare breakfast with
Le'Genevieve
Squires and
Brittiany
Peeler of Relish Catering; Jerome and Samuel Brown of Detroit Soul and
Doniss
Hicks of Nu Sol Bowls will work together on the June 16 breakfast.
FoodLab program associate
Ederique
Goudia
, who is also a partner in the forthcoming Gabriel Hall creole restaurant, bar, and music venue, notes that the collaborations between businesses and people in different parts of the food systems
is
partly what makes Dream Cafe so valuable.
"People are going to be collaborating with each other in ways that they may not have before," she says. "That's the exciting part — building a circle and building relationships with each other and farmers of color. They can build on those relationships as they continue on with their businesses."
FoodLab is also organizing the outdoor market, which will be held from 11 a.m. to 5 p.m. on June 15 and June 16 on The Commons lawn across the street from Cass Cafe. It will feature FoodLab members and black-owned businesses offering prepared foods, jams, teas, sauces, and
other fare
that one would find at a farmers market.
Among
AMC's exciting pop-ups
is
Matriarchy in the Kitchen
, which Wise describes as "an incredible collaboration by women of color across generations who are telling a story about their food." It's an effort that features the cuisine of a queer black chef from the deep south and a young Trinidadian and Jamaican chef of Supper Club From Nowhere and
Kit
an Kin.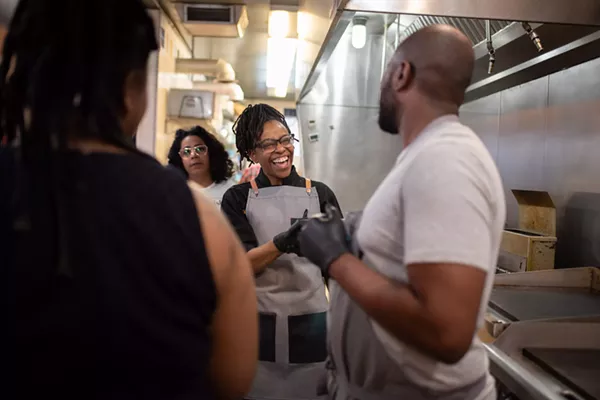 Chefs from all of Dream Cafe's events are mostly sourcing from 11 Detroit urban farmers of color, and the menus are largely designed around what those farms have available.
"We want to prioritize local growers, then work out from there," Wise says. "The idea with all of this is to build capacity and deepen relationships within Detroit's good food
movement,
and strengthen an already inspiring, living local food economy. All of us who are from the outside are excited to be a part of that with Detroit."
Stepping back and looking at the sum of it all, the Dream Cafe really appears to be creating a small model of what could be carried out on a regional and national level.
"It's 'Local Food 2.0.' This is the beta version," Davison says. "We in beta, baby, and then we going to work out the kinks, work out all the bugs and we going to go across the country with it."
Find out more information about each of the Dream Cafe's meals and purchase tickets (if applicable) at its schedule page, which is
here
.
Stay tuned to
Metro Times
for more on the event's menus and meals.
So many restaurants, so little time. Find out the latest Detroit dining news with our weekly food newsletter delivered every Friday morning.