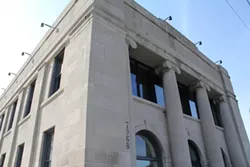 West Village continues its push as the next
it
neighborhood, with the introduction of a new wine bar (to be called Brix), sushi restaurant, and florist to occupy the newly-rehabbed Bank Building at 7960 Kercheval, at Van Dyke,
Model D reports.
The restaurant and retail space is expect to join two loft apartments, with renovations to be completed by spring next year.
Behind the redevelopment project, which was touted earlier this month by Mayor Mike Duggan as an example of the good investors are doing outside of the city's trendy, core neighborhoods, is Banyan Investments. The Detroit-based firm restored West Village Manor a few blocks away, where the popular Detroit Vegan Soul, Red Hook Coffee, and Tarot & Tea are already established.
Model D reports that in addition to the retail and residential space, Banyan is building another structure that will house a restored Detroit streetcar that will fit additional retail, as well as parking, and a landscaped piazza.
These additions mark the next chapter in a neighborhood that has been able to establish its own identity, with independent shops like Parker Street Market and Sister Pie increasingly dotting the landscape. The growth proves that Midtown, downtown, and Corktown aren't the only neighborhoods Detroiters are excited about moving to. We'll be sure to follow up with Banyan for more updates on the new space.