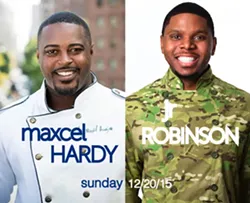 Celebrated NY-native Chef Maxcel Hardy is hitting up Hamtramck's Revolver popup venue in a big way next weekend. His "Taste of Harlem" dinner to take place Saturday, Dec. 19 quickly sold out, so he's added a second seating Sunday, this time bringing on fellow New Yorker, Chef JR Robinson.
Hardy's appearance in the Revolver kitchen comes as a special treat for metro Detroiters. His achievement are long, and include cooking for a number of hip hop and R&B artists, collaborating on the cookbook, Cooking With Amar'e, with New York Knick's superstar Amar'e Stoudemire, and write-ups like Bon Apetit and Essence.
For Robinson's part, his culinary style is inspired by his grandmother who raised him in Harlem (Hardy also hails from Harlem). His work has taken him to several kitchens in Washington D.C., including the Washington Marriott International, the U.S. Department of Energy, and D.C.'s Indulj Restaurant. He also made an appearance on Gordon Ramsay's Hell's Kitchen.
Both Hardy and Robinson are deeply invested in their communities, with Hardy having created the One Chef Can 86 Hunger foundation, which raises awareness of, and combating hunger. Robinson runs the Community Chef Experience and Kitchen Cray Kids, both of which teach young families about nutrition and healthy eating. Proceeds of the dinners go to Hardy's foundation.
As mentioned, tickets for the Saturday dinner sold out quickly (in keeping with most Revolver events), so we recommend snagging tickets, at $75 per person, ASAP. As usually, booze is BYOB and cash tips are on you. For more information,
go here.