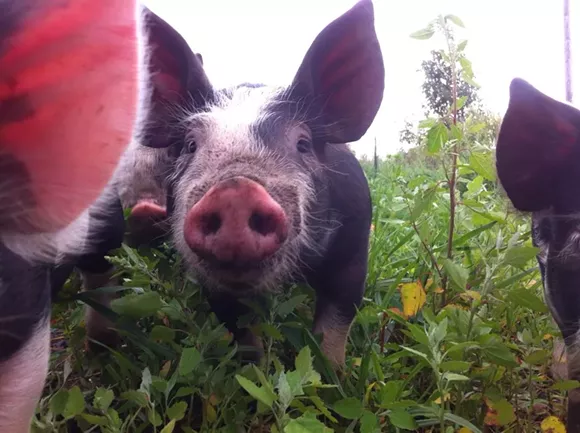 Chances are you may have enjoyed the succulent pork that has come out of Yale's Melo Farms at any number of trendy fine-dining establishments in the area (Selden Standard, Roast, etc.). Chefs like Kate Williams, Jonathan Kung, and butcher Larissa Popa sing their praises for the great care taken by Melo founders Melody and Lynne Nye into pasturing and grass feeding their pure breed Berkshire and Mulefoot pigs.
But after a year of struggling to raise funds to improve the farm's infrastructure, the husband and wife team have announced plans to significantly reduce the number of animals they raise and will cease vending at Eastern Market by the end of March, Melody Nye tells us.
"If we have to be small for awhile and regroup, that's what we'll do," Nye says.
Trouble at the farm started to build after several pieces of equipment, including their tractor (a key to their operations), broke down last year. The couple embarked on a GoFundMe campaign to try to raise $60,000. That effort resulted in just a fraction of that - about $4,000-$5,000.
Since then, several local chefs and restaurants who also swear by Melo Farms, have taken on the cause and have held pop-dinners in an attempt to help the Nyes reach their fundraising goal.
The latest to offer a hand is Filipino pop-up Sarap Detroit, who are planning a kamayan-style feast (in which you eat with your hands) on Feb. 28 at Brooklyn Street Local in Corktown. The pop-up will feature two seatings, one at 6 p.m. and the second at 9 p.m. The menu is to include lamb bistek (skirt steak marinated in soy sauce and calamansi - a Filipino citrus), crispy pata (deep-fried pork trotters), lechon kawali (deep-fried pork belly), and duck adobo (duck braised in coconut milk, chilies, soy sauce, and vinegar). The cost is $40 per person and proceeds will benefit the farm. For more information and to purchase tickets,
click here.
Sarap co-founder Dorothy Hernandez says that after she and partner/BF/Sarap chef Jake Williams visited Melo Farms last spring and saw the conditions the pigs were living in, the duo have tried to incorporate Melo Farms pork into as many of their dishes as possible.
"As food entrepreneurs, it's important for us to support farmers like Melo Farms because they give us an alternative to the industrial pork you buy at the supermarket," Hernandez says. "If you're going to eat meat, it should be the best and raised respectfully and responsibility in a way that is good for not just the farmers and chefs but also the consumers."
Melody Nye, who previously lived in farm-to-table Mecca Portland, Ore., says the support from within the food scene has reaffirmed her belief that there is a demand for humane farming practices in southeast Michigan. A few restaurateurs have expressed interest in working with the farm in the future. Trouble is, Melo Farms has immediate infrastructure needs and seems to be having difficulty with resonating with the general public.
"It's an abstract to connect to the larger market," she tells us. "Farming is a hard thing to wrap your head around from an investment standpoint."
For now, Nye tells us she is hopeful that by scaling back operations at least for the short term, that she can focus on seeking other funding avenues like grants.
"I'm committed to exhausting every single avenue because I just can't believe it can't happen," she says.